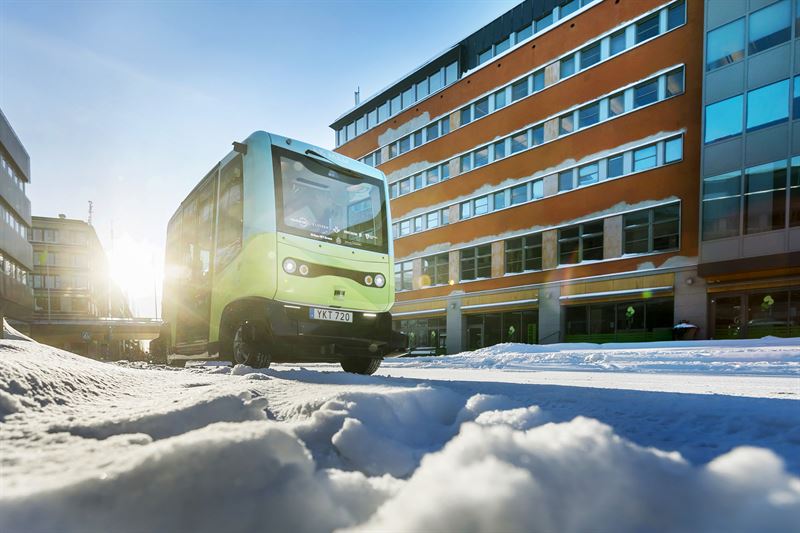 A series of trials of autonomous buses throughout the Nordics has proved the efficiency of the transport solution, even in cold climates.
Since the tests began 18 months ago, over 50,000 people have ridden on self-driving buses on public roads across the region, according to Nobina Technology, the innovation arm of Sweden's largest bus operator Nobina, which made the announcement at a panel discussion during the UITP Global Public Transport Summit in Stockholm.
The discussion featured key players from the autonomous vehicle (AV) industry including Uber and Transdev.
Nobina has successfully tested autonomous vehicles in Sweden and Norway, with its first test on public roads taking place in Kista, Stockholm in January 2018. Within three months over 10,000 people had used the service.
Peter Hafmar, Managing Director at Nobina Technology, told the audience of the particular challenges facing autonomous trials in the region.
"Most AV tests are done in southern parts of Europe or California, where sunshine is abundant. In Sweden unfortunately we have a lot of snow, and not many trials have been done in these conditions. So we decided to try it out and found that the vehicles actually work very well in the Nordic climates."
Nobina has also begun to integrate autonomous buses into the public transport network in Barkarby, Sweden, where currently three autonomous buses are fully integrated into the public transport system, which the company plans to extend to six buses over the summer months.
"The public's response to the vehicles has been really positive," said Hafmar. "They want to test and try it, so we don't have the hurdle of getting people onboard."
He also noted how elderly people in particular are enjoying the shuttles as they can interact with the host onboard and those around them.
"In many cases the host onboard greets them by name, because they live in the area and know them," he added.
"This human element is something we want to focus on. It's easy to test the product in a closed area, but if you don't take it out in public you wont get the right information and real world experience."
Moving forward the focus for the company is to understand how and when it would be best to use these vehicles, as a scheduled or as an on-demand service.
"I personally don't think they should be used as an on-demand service as they may simply add to congestion during peak rush hours," commented Hafmar.