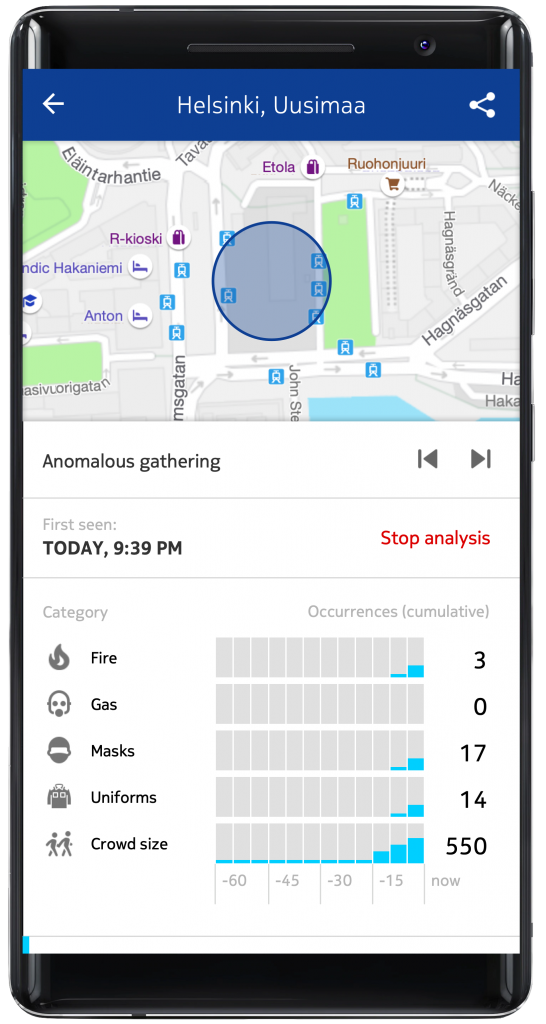 Nokia has won the Armed Forces Communications and Electronics Association's (AFCEA) Emerging Professionals in Intelligence Committee (EPIC) App Challenge for its public safety artificial intelligence (AI) prototype, '6th Sense'.
AFCEA – an international non-profit forum for military, government and industry communities to collaborate on technology –  gave companies six weeks to create an application that could analyse open-source datasets and identify anomalies such as potential natural disasters, social unrest, cyber-attacks and disease patterns, which could in turn increase the intelligence community's situational awareness.
The winning app sources mobile network cell metrics to identify concentrations of people that might indicate an event or gathering, and using anonymised data, identifies an event and triggers analysis of other relevant unclassified sources for additional information.
Mikko Jarva, Advanced Technology Group leader, Nokia Network Software told Cities Today: "The app can be used in a lot of scenarios, for example, if there is a major accident the density of people and traffic can be monitored. There are also features within the app where you can choose which data is being utilised, like certain social media feeds."
"The end user can be a city official or a government official, anyone who could benefit from accurate real-time information."
Nokia will receive a US$5,000 prize, which it plans to match and donate to a US-based educational charity.
Applicants were judged across the following criteria:
Creativity: Is this a new way to address the problem or an innovative solution?
Relevance: Would this solution provide for the needs of an IC or national security customer?
Intuitiveness: Is this solution easy to use? Does the flow make sense? Is the design appealing to the eyes?
Value: Does it actually answer the question posed and provide a feasible solution?
Impact: As the solution is explored, does it provide more or less value than you initially thought?
Feasibility: Does this app actually work? If only a prototype or proof of concept, how difficult would it be to implement it in real time?
Uniqueness: Is this an idea no one else has had? What tools did you use to make this stand out and different from other solutions?
Ability to be built upon: Could this solution be applied to other problems and expanded to provide more or other solutions for the customer in the future?
Privacy concerns 
With concerns among the public regarding biometrics, surveillance and monitoring technology, cities and companies are increasingly aware of the need to reassure citizens of how data is being used – something Nokia's US Federal CTO, Scott Robohn, said was key in designing the app.
"The app challenge didn't call out any requirements for privacy and security, this is something we brought from the outset that is built into Nokia's culture. I think it gave us an edge in the competition," Robohn told Cities Today.