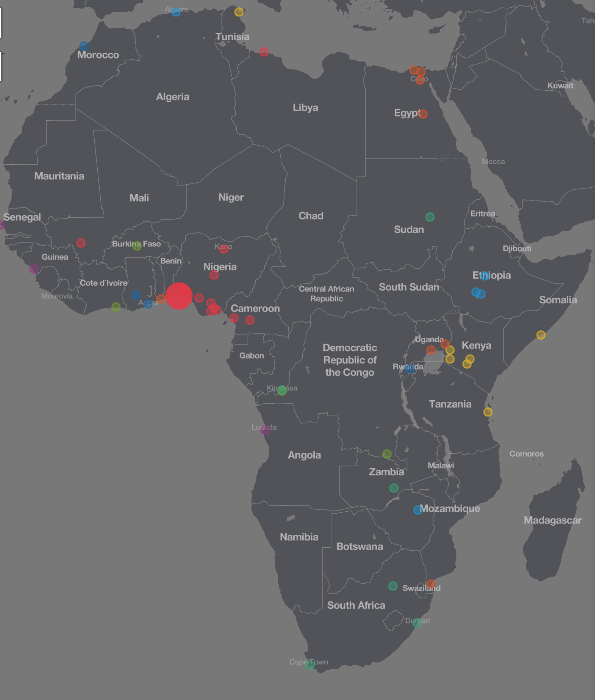 The most complete data set on African urban agglomerations has been launched during the 8th Africities Conference in Marrakesh.
Africapolis includes data on more than 7,500 urban agglomerations in 50 countries and aims to become a tool for governments, policy makers, researchers and urban planners.
The Sahel and West Africa Club–part of the OECD–and e-geopolis used satellite imagery and official census data to make Africapolis the first database to provide a standardised and comparable measure of urbanisation. It is also the first time the data for the 50 countries covered are available for the same base year–2015.
"There wasn't any complete database on cities and urbanisation in Africa," Philipp Heinrigs, Senior Economist, OECD, told Cities Today. "Africapolis is a geospatial database that helps [city leaders] better understand their territory, what are the dynamics, where is the emergence happening, and what are the processes that lead to urbanisation."
The platform allows users to browse, download and reuse more than 200,000 data points, including data on population numbers and densities, geo-location of urban agglomerations, built-up areas and average distances between urban agglomerations ranging back to 1950. In addition to the raw data, users can also use the embedded data visualisation tools, including maps and charts, to explore and compare urbanisation dynamics within and between countries.
Heinrigs explained that most existing databases have a much higher threshold of integrating agglomerations.
"The UN measures cities as above 300,000 inhabitants but 97 percent of all urban agglomerations in Africa have less than 300,000 inhabitants," he said. "[Africapolis] provides a more complete picture of urbanisation and agglomerations in Africa, in particular small towns and intermediary cities."
He added that the new database can help city leaders in forward planning and to better understand urban dynamics, and the collaboration and synergies between cities.
The data has also revealed that urbanisation and the emergence of large agglomerations are not necessarily the result of a rural exodus. The urban agglomeration of Onitsha in Nigeria officially has a population of 1.1 million but Africapolis estimates that in reality the urban agglomeration spreads over an area 80 times larger than the city itself with a population of 8.5 million.
An update will be provided in 2020 with new census data, improved methodology and tools.
Key insights from the data
The five biggest cities in Africa are Cairo, Lagos, Onitsha (Nigeria), Johannesburg and Kinshasa.
Of the 50 cities with the biggest urban sprawls, 20 are in Nigeria and Kenya. Nigeria also has the biggest urban population in Africa at 98 million.
The fastest rate of urbanisation has been in Rwanda, where the share of people living in towns or cities rose from 5 percent in 1990 to 56 percent in 2015.
Of the 50 urban areas with the highest density in terms of inhabitants per square kilometre, 45 are in Egypt.
Kinshasa is the African capital with the highest population density–16,900 inhabitants per km². Dakar is second with 15,000 inhabitants per km².
The vast majority of towns and cities in Africa are still relatively small: 97 percent of them have fewer than 300,000 inhabitants.
In Namibia, the average distance between towns and cities is 134 kilometres, the highest in Africa.