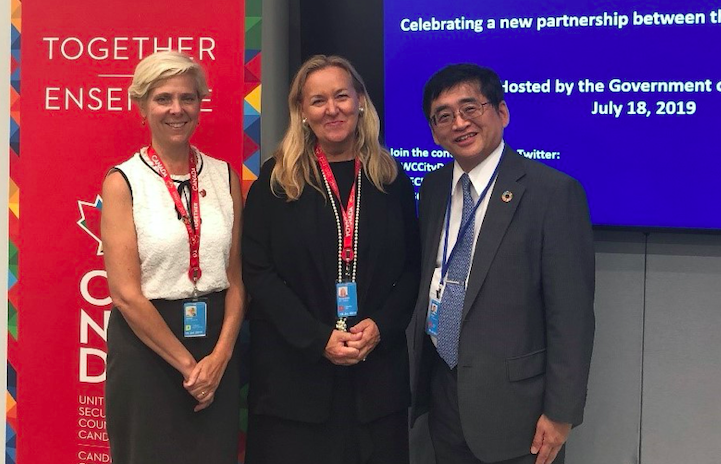 A new partnership on data is set to help cities monitor progress on the Sustainable Development Goals (SDGs), use data as a tool for policy dialogue and, ultimately, to improve policies.
The Memorandum of Understanding between the World Council on City Data (WCCD) and the OECD focuses on the 2030 Agenda to localise and operationalise the SDGs in city halls across the world.
"The success of each of the 17 Sustainable Development Goals rests with cities and regions where these goals and targets are truly being operationalised," said Dr Patricia McCarney, President and CEO, WCCD during the launch in New York. "This WCCD-OECD partnership will be based on the centrality and importance of high-calibre, globally comparable and harmonised city-level data to support smart, sustainable and resilient city development worldwide."
The Council, formed in 2014, has worked with almost 100 cities worldwide, helping these cities to adopt ISO 37120–the first international standard for city data.
The reporting mechanism for the standard is based on the jurisdiction of the city government, the administrative boundary, but through the new partnership with the OECD, data from the functional urban area can now be aggregated and harmonised with the administrative data.
"Urban populations are spreading beyond their old city limits rendering the traditional municipal boundaries and the traditional governing structures and institutions of our cities outdated," added McCarney. "In my home city, Toronto, citizens live in multiple municipalities across a vast territory of the Greater Toronto Area."
As a first concrete step of the partnership, the two organisations will test the aggregation and data harmonisation in case study cities including the Regional Municipality of Reykjavik, Iceland and discussions are underway with Los Angeles to consider ISO-certified data scaled to the 88 different councils that make up Los Angeles County.
Last month ISO published the second standard, ISO 37122, Indicators for Smart Cities, and in the coming months ISO 37123, Indicators for Resilient Cities, will be published. The OECD is also preparing a new initiative on smart cities.
"We share very common ground on the SDGs and our desire to localise these goals for effective action in cities," added McCarney. "Localising and operationalising the SDGs are very much our common and shared values."
The OECD estimates that at least 100 of the 169 targets underlying the 17 SDGs will not be reached without proper engagement of and coordination with local and regional governments.
The OECD Localised Indicator Framework for SDGs will allow 601 regions and 649 cities in OECD and partner countries to measure progress on the SDGs at the local level. It includes more than 100 indicators, coming from its regional and metropolitan databases, UN statistics and other sources such as the Gallup World Poll, Global Human Settlement population and built-up area grids.