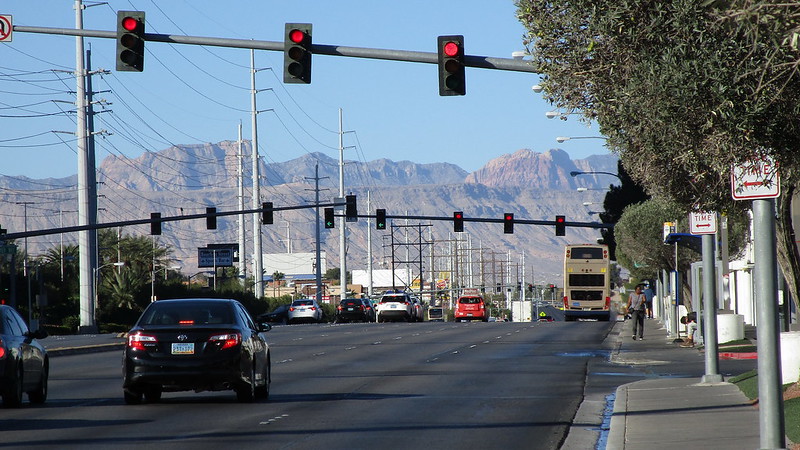 Photo: Image: Reinhard Link (Flickr)
Nevada AI trial sees reduction in crashes and speeding
22 June 2021
by Christopher Carey
The use of artificial intelligence (AI) to inform the strategic placement of police and dynamic messaging signs along high-risk Nevada highways has helped to reduce dangerous driving, according to a new report from transit data provider Waycare.
The findings detail an average drop in speed of two miles per hour, contributing to an 18 percent reduction in crashes and a 43 percent drop in speeding along key corridors.
The collaborative project between Waycare, Nevada Department of Transportation (NDOT), the Nevada Department of Public Safety (DPS) and the Regional Transportation Commission of Southern Nevada (RTC) ran between October 2019 and December 2020.
Waycare used proprietary AI algorithms on historic traffic data, speed sensor data and aggregated connected vehicle data to identify specific corridors and times where there is a higher risk of crashes.
This informed the placement of strategic traffic management sites (STMS) where NHP enforcement officers were periodically stationed. The RTC activated dynamic traffic signs to reinforce the speed limit and alert drivers of upcoming law enforcement presence, encouraging them to slow down. The signs also provided advance warning of upcoming lane closures and crashes.
"As NDOT continues to build wireless infrastructure throughout Nevada, programmes leveraging crowdsource technology such as Waycare may prove to be a cost-effective strategy in providing quick and proactive incident response," said Kristina Swallow, Director of NDOT.
COVID-19
The impact of the pandemic affected some of the pilot's parameters. "Due to the precipitous drop in traffic volumes, it was not possible to compare 2020 data to 2019 without skewing the results," the report states.
To portray the data more accurately, Waycare compared crashes that took place when preventative activities (PAs) were in place to those that happened when PAs were not present in selected corridors – assessing the data month-by-month.
The programme was also paused between March 28 and May 19 due to COVID-related factors.
"Educating drivers and changing roadway design is not enough to combat the rising number of fatalities on our roads," said Noam Maital, CEO of Waycare. "AI offers an opportunity to change the rules of the game — we can leverage predictive analytics to proactively prevent crashes."
Costs
The report says an estimated US$3 million in economic benefit and savings resulted from the drop in crashes and the decreased severity of the ones that did occur – far exceeding the programme's  US$188,970 cost, which was funded by the National Safety Council's Road to Zero grant,
"The combination of emerging technologies together with the collaboration of law enforcement has proven to be successful in enhancing safety, preserving capacity and effectively communicating with Southern Nevada drivers," said M.J. Maynard, RTC CEO. "The use of AI-based insights helped identify potential target areas, allowing us to increase safety and plan for preventative actions in the future."
Image: Reinhard Link (Flickr)