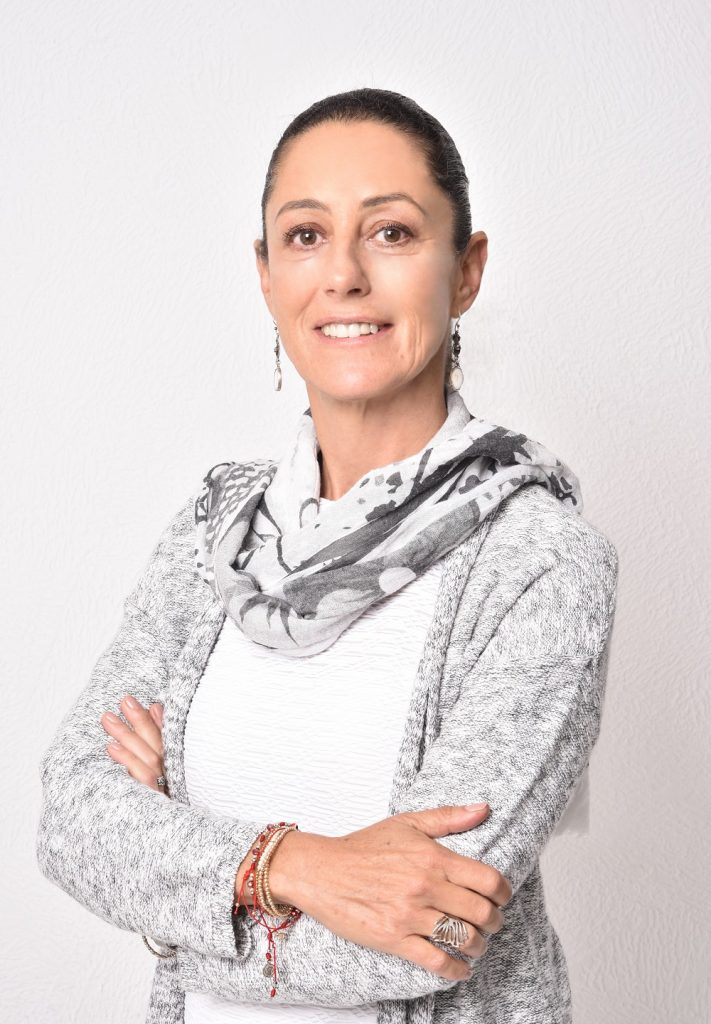 In July 2018, Mexico City elected its first female mayor, Claudia Sheinbaum Pardo. She took on the role of running the largest city in Latin America in December last year. Manuel Manrique spoke to her about her top priorities
Upon receiving the official document that endorsed her victory at the polls from the Electoral Institute of Mexico City, Sheinbaum said: "We are going to rescue the city of hope for Mexico."
For the new mayor, this hope will come through a focus on modernising public transport, reducing insecurity and speeding up bureaucratic processes and procedures.
Since July 2018, Sheinbaum has been dedicating her time to refining her coalition government's plan and defining responsibilities under the slogan 'Together we will make history'.

"The objective is to not only manage with honesty and efficiency," she explains. "We also want to reduce the enormous inequalities that exist in the city, expand social rights, and strengthen respect for human rights within the framework of a secular government that promotes what is established in the new constitution of the city. "

A scientific approach
The new mayor's childhood and student years helped define her vision. She witnessed the participation of her parents–a chemistry student and a biology student–in the student movement at the end of the 1960s, which called for better education for all. 
Sheinbaum has a degree in physics, and a master's and PhD in energy engineering and environmental engineering from the National Autonomous University of Mexico, UNAM. It was at university that she began writing scientific articles about the environment, energy and sustainable development. A focus on transport and the Mexican steel industry launched her interest in politics.

"But good politics, not the traditional one we all know," she says. "That's where my vocation as a public servant comes from: I see politics as an instrument of transformation."

Her first opportunity to take public office was in 2000, when she accepted the position of Secretary of Environment of the Federal District, during the administration of Andrés Manuel López Obrador, current president of Mexico.
She was in charge of the construction of the Metrobus–a BRT system inaugurated in 2006–which includes seven lines integrated into other transport modes and moves more than one million people a day. Sheinbaum was also responsible for the construction of a 60-kilometre network of cycle paths, and the Periférico, a 58-kilometre mega structure through which 50,000 vehicles pass every day. This supervía [super-highway] was built progressively between 2002 and 2015.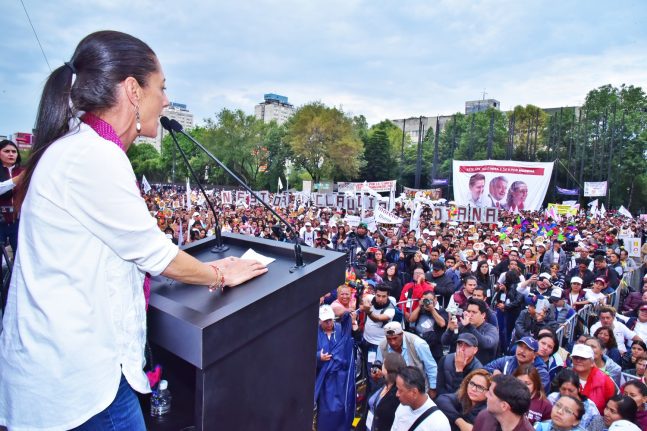 At the end of her time in office, air pollution had fallen by 30 percent, a million seedlings had been planted in the capital and the Bosque de Chapultepec, the largest urban park in Latin America at 686 hectares, had been restored.
"You can't think of solving environmental problems without the help of science or technology," she explains. "Public policies are needed but you can't plan if you do not have knowledge."

Scientific knowledge is her forte. As a member of the Intergovernmental Panel on Climate Change, she received the 2007 Nobel Peace Prize for contributing technical and socio-economic assessments of the risk of human-induced climate change and the possible environmental consequences and options for mitigating their effects.
Other achievements include her incorporation into national and international institutions, such as the Mexican Academy of Sciences and the Commission for Development Policies of the United Nations, and her taking charge of the Tlalpan district in 2015.
Tlalpan is the most extensive delegation, or district, in the city. In two years she created 21 cyber schools–distance education centres for all ages–for young people to complete their studies for free, and implemented a hydraulic system to bring water to peripheral areas which weren't catered for. Before finishing her role in that administration, she stood for the leadership of her capital city and was elected mayor, receiving more than 2.5 million votes.
Through the city government's plan Juntos Haremos Historia (Together we will make history) the creation of a Digital Operation and Innovation Agency is planned, which will focus on four main aspects: open government, digital government, technological governance and analysis, and strategic use of information.
Digital resources will be key to promoting transparency within the government, closing corruption loopholes, simplifying procedures, and deploying technology to improve public policies.

According to Sheinbaum, hers will be a government willing to innovate by taking advantage of existing technological resources to improve communication with people through the expansion of public access networks to the Internet.
Initially, the Digital Operation and Innovation Agency will focus on procedures, services and transparency in bids, contracts and expenses in an integrated manner with the 16 districts of Mexico City.
"The objective of the [agency] is to have an open, digital government and offer better services to the public," she says. "The agency will be linked to all the secretariats, depend directly on government headquarters, and drive the capital as an intelligent, connected city. A city where indicators of urban violence, the environment or mobility can be evaluated in real time."

Forging links with European cities
During the transition period, the mayor travelled to Spain and France to meet with leaders of other major cities and with whom she has identified priorities and shared interest on matters such as public space, mobility, sustainability and gender equality.
In Paris, she signed cooperation and exchange documents with the mayor, Anne Hidalgo, on sustainable and inclusive urban development, recovery of public spaces and climate change. Her meeting with the mayor of Barcelona, Ada Colau, served to strengthen cooperation between the two cities in culture, management of public space and participation and citizen security. 
Likewise in Madrid where she was received by the mayor, Manuela Carmena, at City Hall, Sheinbaum had meetings with representatives of the municipal transport agency. In the company of the general director of Public Space, Works and Infrastructure of Madrid, José Luis Infanzón, she visited the restoration and pedestrianisation work in the historic centre.
On her return from Europe, Sheinbaum began a Commitment and Acknowledgments Tour for the 16 town halls in Mexico City. For two weeks, she met with neighbours and local organisations in community, sports and cultural centres to ratify her campaign promises and listen to the demands of the communities.
"The elected government of Mexico City is committed to improving, in a comprehensive manner, the public transport system with a twofold intention: to encourage people to leave their car at home and to shorten the time and cost of transport for people who do not have their own cars, which are the majority of the inhabitants in Mexico City," she explains. "We want to encourage the use of bicycles and walking to improve people's health, in addition to expanding low-emission mobility options with the introduction of clean transport."
Mexico City has had electric trolleybuses since 1951, and still operates eight lines, which is small compared to other modes of transport for a city with nearly nine million people.
"Electric transport will be expanded and improved from the existing infrastructure in the city," she adds. "At the same time we are planning the construction of new low-emission forms of transport such as the cable bus for the most remote and marginal areas of the city."
The secretariat in charge of mobility knows that to improve the transport of people and cargo within the city it needs to focus on reducing traffic, the time and cost of travel, environmental and noise pollution, and traffic accidents.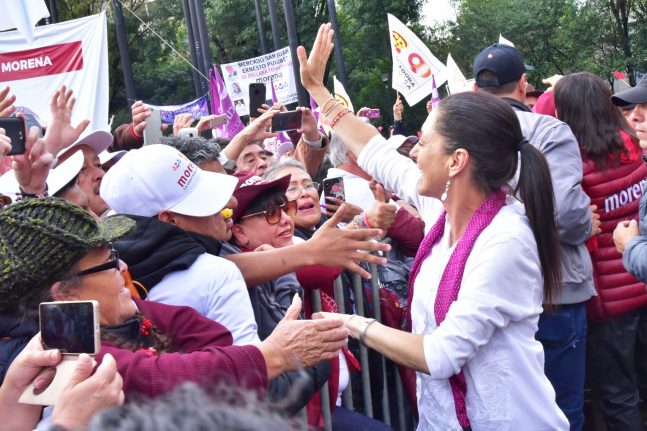 In addition, the secretariat will need to think about infrastructure expansion such as more stations or transfer centres and more cycle path networks to connect the city because, according to an Institute for Transport and Development Policies (ITDP) study, while 43 percent of the population has access to a mass transit station less than 800 metres from their home, the remaining 57 percent have stations that are, in some cases, more than five kilometres away.
Having an integrated transport system is an achievable goal and Sheinbaum knows that the data generated will be useful for better planning, especially for descriptive and preventive analysis, related to mobility.
"We are evaluating different ways to make greater use of information and communication technologies to improve aspects like security and mobility," she says. "We are studying different information and communication protocols to meet the specific needs of the population in the provision of public services."
Additional efforts will be necessary to improve the quality of life of the almost nine million residents and for Mexico City to be considered an intelligent city, although Sheinbaum considers that her city has already reached that level.
"Mexico City is already an intelligent city," she affirms. "Important investments have been made to make the best use of the tools provided by information and communication technologies in security matters and in the provision of public services. And the new government is considering strategies to maximise the use of such technology."
According to the mayor, there are big opportunities to improve the design and implementation of public policies to help close the inequality gaps that persist in Mexico City and place it as a smart city that is constantly learning.
Sheinbaum has set challenging and ambitious goals for Mexico City. A faithful defender of the Paris Agreement, she will have six years to implement her government's plan and achieve results aimed at a population that is hungry for change.