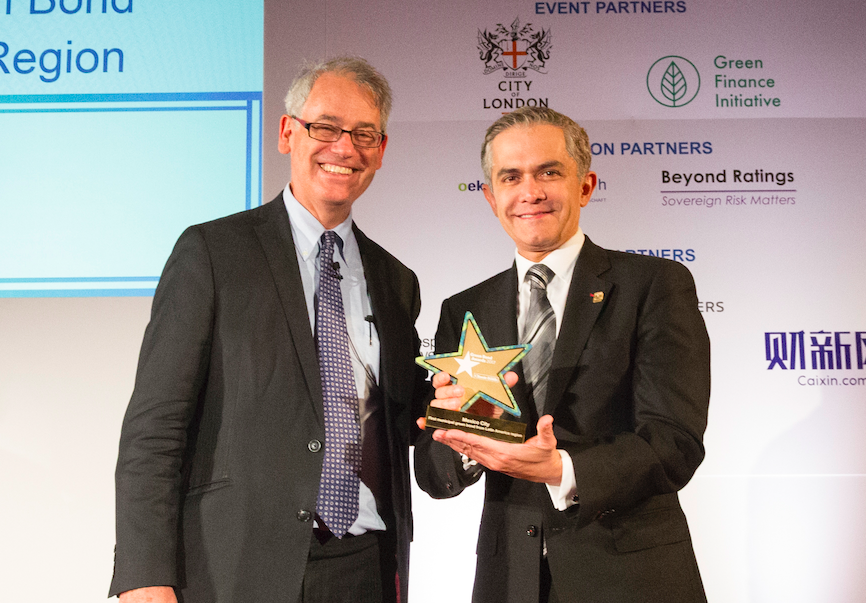 The Mexican capital has been recognised for issuing the first municipal green bond in Latin America.
Mexico City won in the category of regional sub-sovereign award at the second annual Green Bond Pioneer Awards, organised by the Climate Bonds Initiative.
"As the impacts of climate change are already happening in cities, it is our responsibility to find concrete local solutions to this global challenge," said Miguel Ángel Mancera Espinosa, Mayor of Mexico City. "I wish to thank the Climate Bonds Initiative for its recognition of Mexico City for being the first city in Latin America to issue a green bond and for taking actions to tackle climate change in a decisive and innovative way as a local government."
Last year Mexico City launched a US$50 million municipal green bond which was oversubscribed by two and a half times. With a five-year maturity, the bond will finance climate-resilient infrastructure including access to potable water, wastewater systems, energy efficient public lighting and transport infrastructure. The bond was the fourth green bond to be issued from Mexico and was its second to be issued in local currency paving the way for further issuances from Mexico City throughout this year.
"The second Green Bond Awards honour the organisations that over the past year have been leaders in the global financial sector, mobilising the capital needed to address climate change, limit carbon emissions and finance the green infrastructure of the future," said Sean Kidney, CEO at the Climate Bonds Initiative. "This year's awards in part reflect the diversification of issuers and acceleration in the green bonds market that has taken place over the past year."