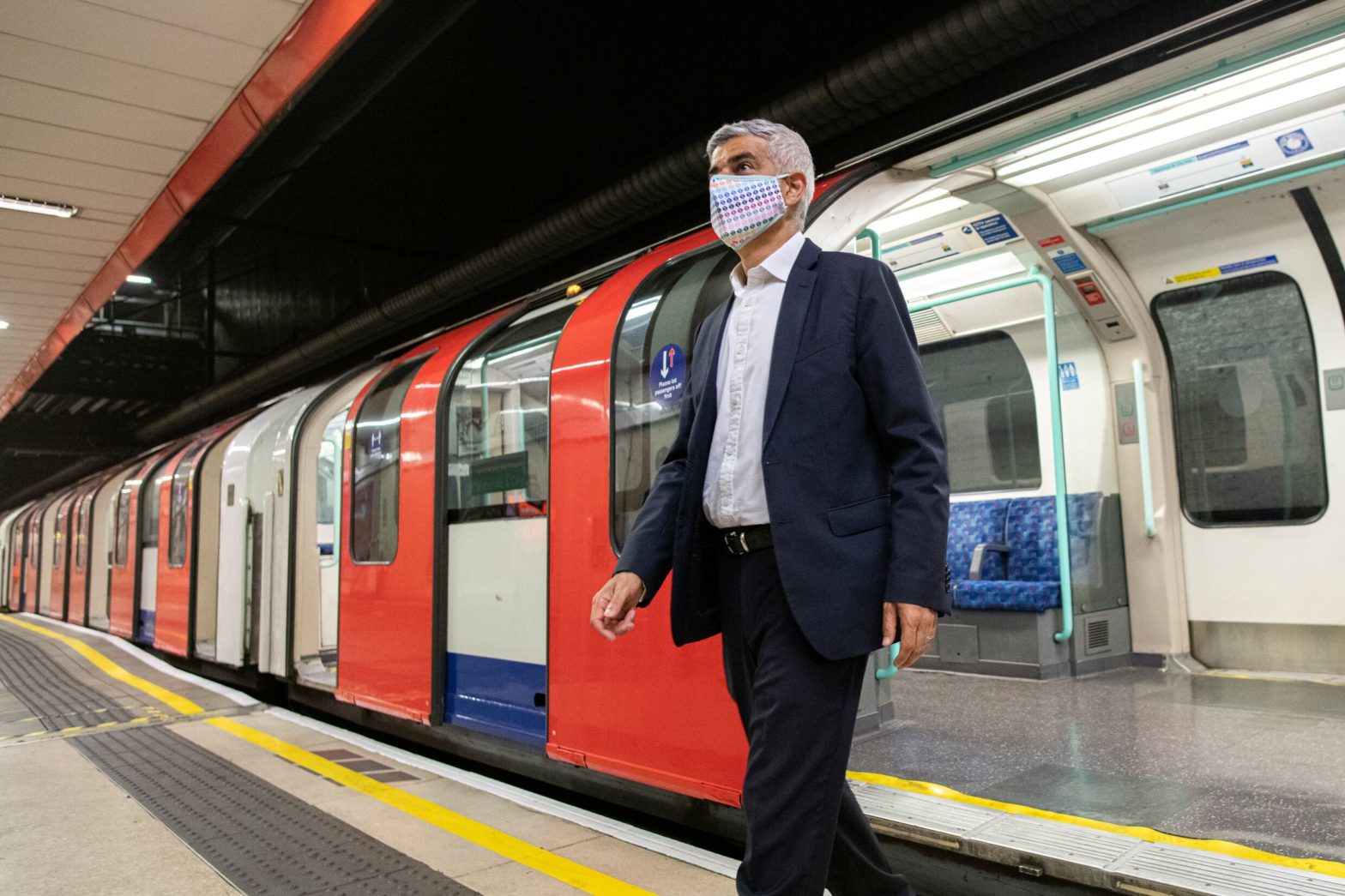 Photo: Greater London Authority
Masks to remain compulsory on London's bus and tube services
14 July 2021
by Christopher Carey
London Mayor Sadiq Khan has said face masks will remain compulsory on all Transport for London (TfL) services as the UK prepares to exit COVID-19 lockdown restrictions next week.
Khan said the measure would reassure Londoners and visitors and protect transport workers.
"I've repeatedly made clear that the simplest and safest option would have been for the government to retain the national requirement for face coverings on public transport," he said. "I'm not prepared to stand by and put Londoners, and our city's recovery, at risk.
"This is why, after careful consideration, I have decided to ask TfL to retain the requirement for passengers to wear a face covering on all TfL services when the national regulations change."
The move is at odds with the UK government's current plan to make face masks optional in most public places from July 19, meaning the transit operator will have to make the rule 'a condition of carriage', rather than a legally enforceable law – though Khan said efforts to pass a bylaw are underway.
Conditions of carriage are contractual conditions between passengers and TfL, which include not consuming alcohol.
Enforcement
TfL currently employs over 400 enforcement officers, who have to date stopped 212,000 passengers from boarding services until they put on a face covering.
Almost 14,000 people have been prevented from boarding after refusing to do so, and around 3,200 have been ejected from services.
In total, 4,300 fixed penalty notices – which can lead to fines starting from £200 (US$276) for a first offence – have been issued by the transit operator since the government's legally enforceable mask-wearing rules were introduced last summer.
But with national rules changing from next week, it remains unclear what powers the officers will have to prevent passengers not wearing a mask from using public transport, with refusing entry to services the only tool at the operator's disposal.
UK Prime Minister Boris Johnson has called on the public to exercise "personal responsibility" and continue to wear masks in "crowded and enclosed spaces". Transport Secretary Grant Shapps has backed Khan's decision, saying he "expected and wanted" train firms and bus operators to insist on their customers wearing masks beyond 19 July.
However, outside of London, most train and bus industry bodies have said they will not require passengers to wear face masks on services from July 19, and will follow legal government guidance on the issue.
While TfL operates most public transport services in the UK capital, it does not operate train services running through the city, meaning passengers could face two sets of rules.
Commuter confidence
The World Health Organization and several leading health bodies, including the Centers for Disease Control and Prevention, have all recommended the use of face masks on public transport to reduce the spread of COVID-19.
But besides the scientifically backed benefits, mandatory mask wearing also has the potential to improve commuter confidence.
A poll from UK travel watchdog Transport Focus earlier this month found 56 percent of Londoners said they will not use public transport "unless passengers are required to wear a face covering".
Anthony Smith, Chief Executive, Transport Focus, warned that the new government guidance on mask wearing has the potential to create confusion among passengers.
"We know people are divided between not wanting to wear face coverings, and not wanting to travel if they aren't worn.
"The lack of consistency on rules is going to cause some uncertainty and confusion. It could also make enforcement trickier. Clear information before and during journeys will be key."
Image: Greater London Authority