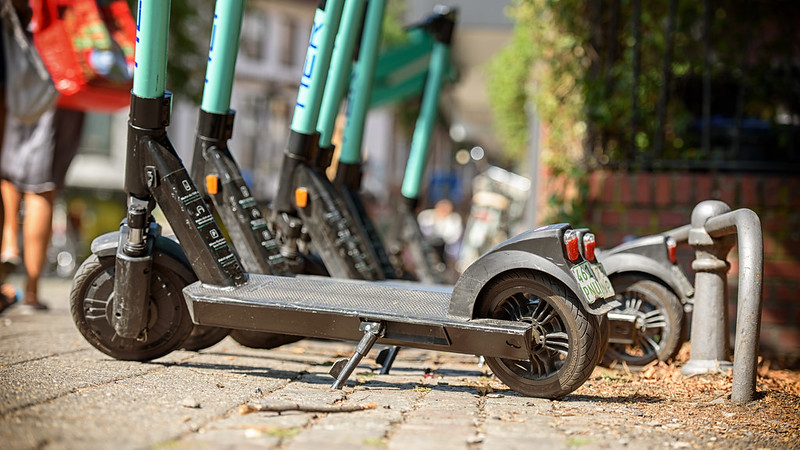 Photo: Dirk Vorderstraße (Flickr)
Mandatory tests introduced for e-scooter users in Singapore
12 July 2021
by Christopher Carey
From 1 January 2022, e-scooter and power-assisted bicycle (PAB) riders in Singapore will have to pass an online theory test.
The new rules – mandated by Singapore's Land Transit Authority – are being introduced to boost safety, with tests aiming to improve awareness of active mobility rules, codes of conduct and safe riding practices.
Riders have been able to register for the tests since 30 June, and will have to score at least 80 percent to pass.
Tests are available in four languages (English, Chinese, Malay and Tamil), and applicants can prepare using an e-handbook.
From next January, riders will be required to show their digital certificate when requested by enforcement officers, and those caught riding without the certificate can be fined up to SGD$2,000 (US$1,480), jailed for six months or both for the first offence.
Repeat offenders can be fined up to SGD$5,000, jailed for 12 months or both.
96 percent pass rate
Those who register for the test from 30 June to 30 September 2021 will pay a discounted fee of SGD$5 per test, with a free reattempt should they fail in their first try. Riders who register to take the theory test after 30 September will pay SGD$10 per test attempt.
E-scooter riders must answer 30 multiple-choice questions in 30 minutes, while PAB users will have 40 minutes to tackle 40 multiple-choice questions.
Those who pass will receive a digital certificate with no expiry date.
As of the end of May, there were 6,671 registered e-scooters and 31,660 registered PABs in Singapore.
The Straits Times reported that approximately 96 percent of the 177 people who took their test on the first day passed.
Singapore's Active Mobility Advisory Panel (Amap) first proposed a mandatory test for e-scooter and PAB users in September 2019 following a spate of accidents involving mobility devices and the death of a cyclist after a collision with a speeding e-scooter rider.
E-scooter study
A recent study by academics from Future Urban Mobility (FM), an interdisciplinary research group at the Singapore-MIT Alliance for Research and Technology (SMART), suggests that e-scooters can provide an important alternative mode of transit, particularly in urban areas.
The study, E-scooter sharing to serve short-distance transit trips: A Singapore case, explored the growing use of e-scooters as a micromobility service in Singapore, and was published in the Journal of Transport Research Part A: Policy and Practice.
Lead author Zhejing Cao acknowledged there were safety concerns about the use of e-scooters, but also stressed the benefits.
"The safety concerns around e-scooter use and the safety of all road and footpath users are of utmost importance.
"Nevertheless, given the numerous benefits that e-scooters bring to the mobility and transport ecosystem, we hope that our work will help inform policymakers on facilitating the safe and regulated use of e-scooters as an emerging but important micromobility service."
Image: Dirk Vorderstraße (Flickr)