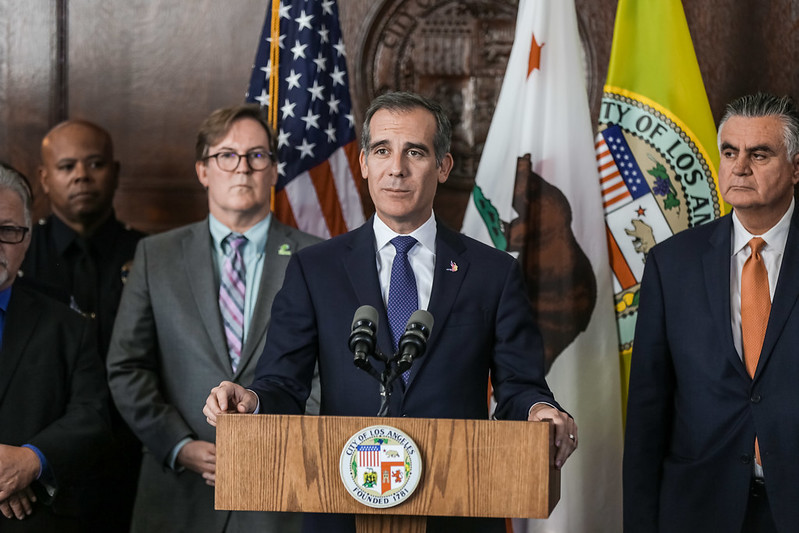 The mayors of Los Angeles and London have signed an agreement to work together on some of the biggest issues facing transportation globally.
Through the 'Innovator Cities' initiative, announced on Monday, both cities plan to collaborate on innovation challenges to identify where similar problems exist and ensure solutions developed in either city can work elsewhere in the world.
The scheme also gives companies the opportunity to take part in 'start-up exchanges', which would allow start-ups to pitch their best ideas in both London and LA.
Michael Hurwitz, TfL's Director of Transport Innovation, told Cities Today: "We're in touch with LA about a range of issues, everything from dockless bikes to e-scooters, congestion to freight.
"California is an amazing hotbed of innovation and tech talent, and London is Europe's biggest tech centre, so we thought any start-up that wants to propose an idea is going to be that much more motivated if they are given the opportunity to make a success of it in one city and then given the chance to pitch to a global market."
The new agreement will be first trialled through the London FreightLab Innovation Challenge–which launched last month–calling on innovators to come up with ideas which make freight delivery in London safer, cleaner and more efficient. The FreightLab call is one of three opportunities offered through the Civic Innovation Challenge, the Mayor of London's programme for open innovation and the winning start-ups for the freight challenge will also be given the opportunity to pitch their solution to the LA Mayor's Office.
The FreightLab Challenge offers funding (£120,000 in total), land sites, and subject matter expertise during the pilot stage for up to six innovative ideas, working with partners including UPS and Royal Mail.
The six start-ups are set to be chosen over the next 6-8 weeks, with practical trials expected in June/July.
"I was at a conference in LA in November and one thing that really struck me was that we were talking about the same problems and wanting to take a similar approach, no one has a monopoly on great ideas," added Hurwitz.
Speaking at the announcement, Los Angeles Mayor Eric Garcetti said: "Our partnership with London is about putting the best concepts in the world onto our local roads and railways, taking steps together to help us reduce traffic, cut carbon emissions, and build resilient cities for the future."
Last November the city co-launched Urban Movement Labs-dubbed America's first public private partnership for transportation innovation-that aims to provide private sector and community innovators with opportunities to test solutions in real urban conditions in Los Angeles.
Founding partners include the mayor's Office of Economic Development, the Los Angeles Department of Transportation, Los Angeles World Airports, the Port of Los Angeles, Avis Budget Group, the L.A. Cleantech Incubator, Lyft, Verizon, and Waymo.
London and Los Angeles hope to expand the 'Innovator Cities' concept to more cities.