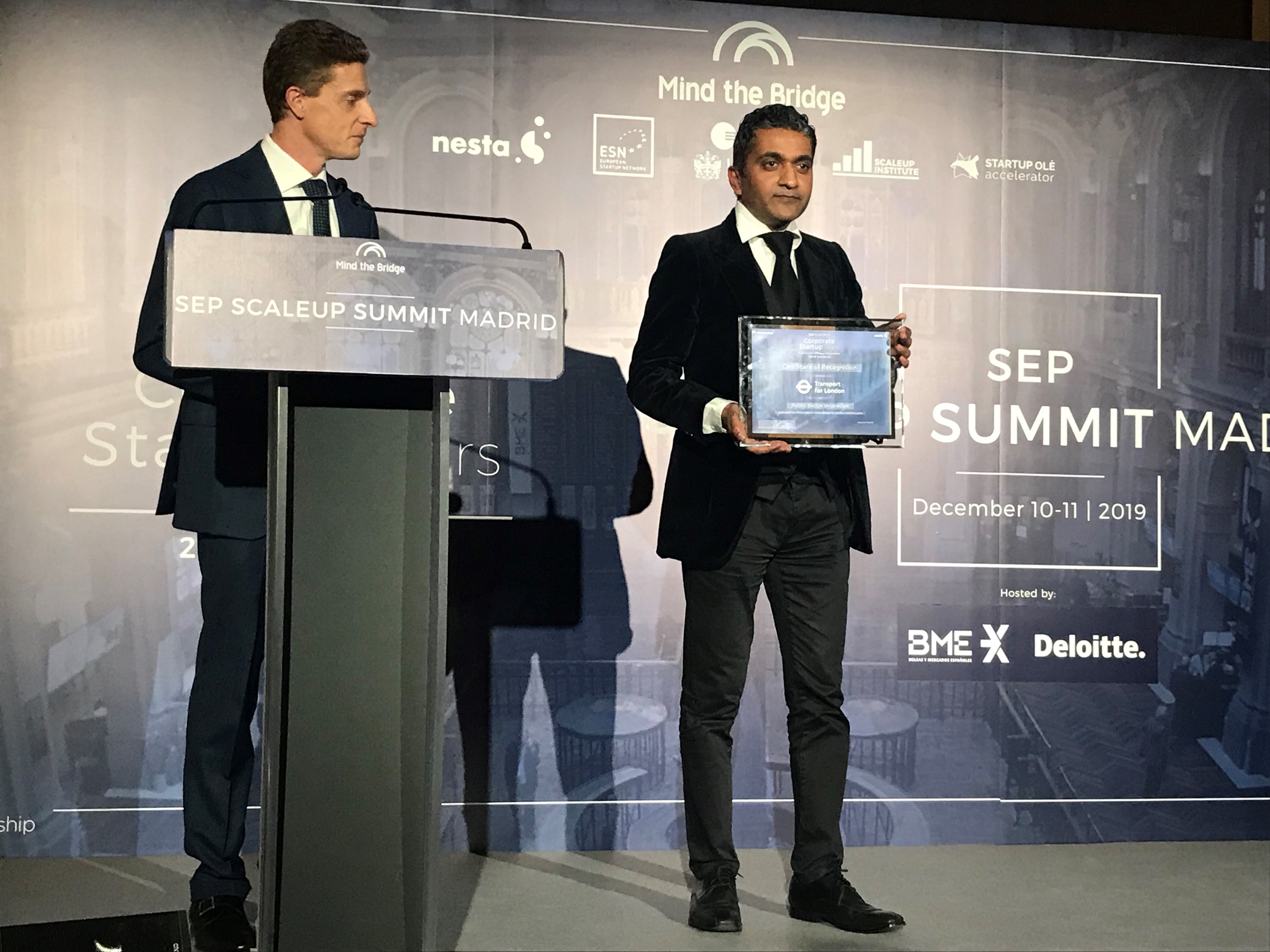 Transport for London (TfL) were recognised for their innovation efforts at the 2019 Corporate Startup Stars Awards in Madrid last week, receiving the 'Public Sector Innovation' certificate for its work on "moving into the open innovation space."
The awards–organised by innovation advisory firm Mind the Bridge and Nesta under the European Commission's Startup Europe Partnership (SEP) initiative–are given to companies that have established the most successful, mutually beneficial partnerships with startups through procurement, licensing, partnerships, accelerators, direct investment, acquisitions or other dedicated programmes.
Rikesh Shah, Head of Commercial Innovation at TfL accepted the certificate from Alberto Onetti, Chairman of Mind the Bridge, SEP Coordinator.
"We are always looking at the brilliant innovators and technology that's out there, and how we can start using some of that technology and apply it to bring that innovation into TfL," he told Cities Today. "Ultimately we want to do things quicker, cheaper and better, while creating value for Londoners."
One example of the transit operator's innovative work can be found in its London RoadLab project which was launched in November 2018. The scheme, hosted at the Plexal innovation centre in East London, invited local innovators to help make roadworks in the capital smarter and safer through innovation.
During the 10-week programme, nine startups received £20,000 and mentoring to scale their solutions at pilot sites together with TfL, Plexal and a consortium of some of the nation's largest utilities providers.
TfL has since entered into ongoing commercial negotiations with four members from the cohort: Mobilized Construction, Route Reports, Immense Simulations and SAM.
"If you're a small company it can be difficult to navigate large city authorities," added Shah. "This programme gives start-ups a way in."
On Wednesday the transit operator announced it will trial a sound alert system on its electric and hybrid buses to ensure all road users can hear the vehicles at slow speeds.
The sound–which will be played through special speakers at the front of the buses–is intended to improve safety, as the new generation vehicles are almost silent and could potentially pose a safety risk, particularly for people who are blind or are partially sighted and even cyclists.
A trial will run on the 100 bus route from January 2020, and comes ahead of artificial sound becoming a regulatory requirement for all new 'quiet' running vehicles in 2021.
It also forms part of the city's wider vision zero goal to have no deaths or serious injuries on London's roads by 2041.