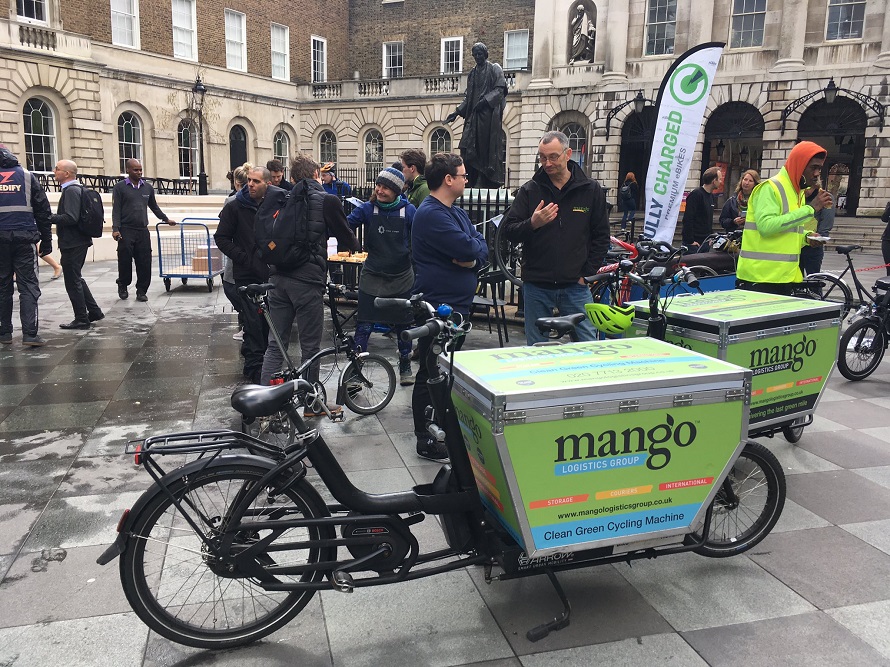 Businesses in central London are being encouraged to use sustainable modes of transport before the UK capital's Ultra Low Emission Zone (ULEZ) comes into force on 8 April.
The new zone will initially operate in the same central area as the congestion charge and aims to further reduce emissions with what Sadiq Khan, Mayor of London, dubbed the "toughest emission standards of any world city."
Businesses are being encouraged to adapt to the change to avoid the £12.50 daily charge. 'Bikes for Business', a new TfL-backed scheme run by business interest group Team London Bridge, is aiming to get businesses to take up e-cargo bikes for freight deliveries.
IKEA and Sainsbury's have come on board, and more businesses are being urged to consider e-cargo bikes as a cheaper, faster and more environmentally-friendly way to deliver goods.
Speaking at its launch this week, Jack Skillen, Director of Team London Bridge said: "We're really keen to put cycling at the heart of the ongoing transformation of London Bridge as a transport hub and a place for modern commerce. E-cargo bikes provide a real opportunity for businesses to be both efficient and sustainable."
TfL has provided £29,000 for the project through its Healthy Streets Fund for Business–designed to promote more efficient deliveries in central London to ease congestion and lower pollution.
Subsidies of up to £600 are in turn being offered to businesses through Bikes for Business to small businesses to trial e-cargo bike services.
Skillen added:"The more [business delivery] journeys switch, the more money we'll give. I suppose in some ways we are buying clean air for the area."
Bikes for Business will initially target 60 businesses in London Bridge to ensure they are prepared for the introduction of ULEZ, and is part of the Mayor of London's overall strategy to reduce the number of vans and lorries in central London by 10 percent by 2026.
Emily Herreras-Griffiths, TfL's Travel Demand Management Programme Director, said: "We've seen the value added by making small changes to the way businesses receive or make deliveries and other services. Selecting providers who use bikes can help reduce congestion, as well as improve air quality and save money."
Companies providing e-cargo bike deliveries have sprung up all over London in the last few years as public awareness has grown.
"For businesses using our services it's not just about saving money, the environmental benefit is also relevant because it's relevant to their customers," said Clare Elwes, co-founder of e-cargo bike delivery company e-cargobikes.com.
While e-cargo bikes may be viewed as an effective solution to the delivery of small goods in central London, ULEZ is due to be expanded to cover most of the city by October 2021.
A scrappage scheme of £23 million was announced in February to encourage small businesses, charities, and health services to scrap heavy-polluting diesel vehicles.
It is estimated that if 15 percent of large goods vehicle journeys in the capital were replaced with cargo bikes, 500 lives could be saved each year.