Nick Michell spoke to John Trujillo, Public Works Director, City of Phoenix, about the city's efforts to become more resource efficient and move towards a circular economy
Why in 2013 did Phoenix decide to set a goal to increase its waste diversion rate by 40 percent by the year 2020?
The City of Phoenix has been a leader in solid waste with managed competition, automated collection and single stream recycling, however, the city realised that not much effort has been dedicated to the diversion of solid waste. With the projected increase in population doubling by the year 2050 and our solid waste trucks driving 7 million miles (11.3 million kilometres) each year to take trash to the landfill, the city felt it wasn't a sustainable way to manage the city's solid waste resources.
As the 6th largest city in the United States, we wanted to demonstrate our commitment and leadership when it comes to sustainability and waste management. A few years ago, Phoenix had a 16 percent waste diversion rate, which was dismal for a modern, metropolitan city. We needed to change that if we wanted to be viewed as a sustainable desert world-class city.
In 2013, Phoenix set a goal to increase its waste diversion rate. And with the guidance and approval of our Mayor and City Council, Phoenix launched its Reimagine Phoenix initiative with a goal to increase the city's waste diversion rate from 16 percent to 40 percent by the year 2020 and zero waste by 2050. We believe that Phoenix can achieve this by focusing on three areas: expanding community and educational outreach, enhancing and adding solid waste programs and developing public-private partnerships.
How important is it for Phoenix to move towards a circular economy and what are the main obstacles?
It is very important. The city of Phoenix and surrounding metro area are projected to experience a continuous population growth for the next 30+ years. While we may have the means, the capabilities and even the funds to manage solid waste right now, we might not be in the same position a few years from now. Continuing to adopt a linear economy, which is "take-make-use-dispose," is not sustainable and actually has many shortcomings. The linear model results in inefficient use of our scarce resources, increases harmful emissions and generates increasing amounts of waste from the whole value chain.
Having a circular economy, which is "take-make-use-recycle/repurpose," is regenerative by design and can be achieved through excellent and well thought out designs of systems, or products and materials. The circular model stirs the economy and has the ability to create the jobs as well. This is what we want for Phoenix. We want to eliminate waste not only because it's great for the environment and saves our resources, but it can create jobs that can only be positive for our local economy.
The main obstacles we currently face are getting entrepreneurs or businesses interested with working with Phoenix to utilise our resources to create products for use in our economy.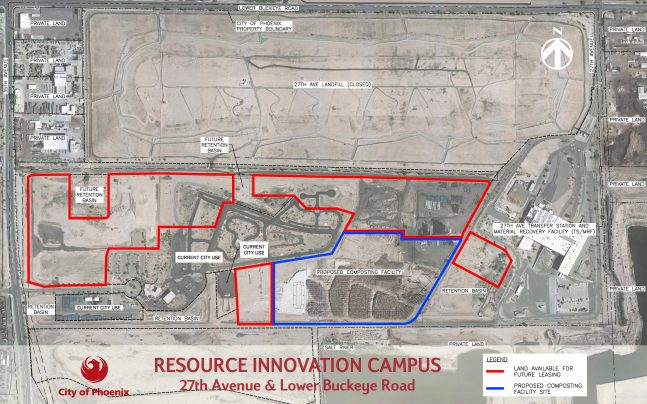 What impact has the Resource Innovation Solutions Network had?
The Resource Innovation Solutions Network (RISN) helps the city facilitate public-private collaborations that promote efficiency and restorative use of natural resources. Locally, for example, we have quarterly meetings with other municipalities throughout the state to discuss best practices, ideas and possible solutions to a more sustainable solid waste management solution. Collectively, representatives from the different municipalities can pool their resources together to request changes in policies on a county or even a state level that could set mandates and enforcement on solid waste collection procedures.
Additionally, RISN actively engages with its public and private partners in projects that support improvements in material effectiveness and transition to renewable energy and a circular economy.
Phoenix has a citywide goal of utilising 15 percent of renewable energy by 2025. Is this on course to be achieved?
Phoenix is currently ahead of the interim target of 5 percent by 2015 (of the overall 15 percent by 2025) by having nearly 7.5 percent renewables generated by solar project activities through 2015. In addition, with projects currently under development we anticipate exceeding the 2025 goal by as early as 2018, and are considering raising the renewable energy target even further. One of the projects is the Desert Solar Plant, located in the southern section of the Phoenix owned SR-85 landfill. This plant occupies 118 acres of the land and can produce enough solar energy to power about 2,500 homes.
Food waste is a major concern in the United States, how is Phoenix tackling this problem and how important is educating citizens to improving the current situation?
We recently partnered with a local food scraps collection company to collect up to 20,000 pounds (9,000 kilogrammes) of food scraps from three city-owned buildings—Phoenix City Hall, Phoenix Fire Station 1 and the Calvin Goode Building. Food scraps collection and diversion are quite new to us but this partnership helps us understand the intricacies of food scraps collection and will better prepare us for when the Phoenix Public Works Department is ready to take the food scraps collection and diversion programme citywide.
Currently, we have a pilot composting facility where we process food scraps from local grocers and other businesses. This pilot composting programme also helps us better understand the science and process of composting. We are testing the finished product produced from this pilot composting facility through a Turf Study we are conducting with Arizona State University and our Parks and Recreation Department. In a nutshell, we are supplying our city parks with compost we have produced and comparing the growth and health of the soil with its current state using another compost product. The study is in its initial phase, but the immediate results seem truly promising.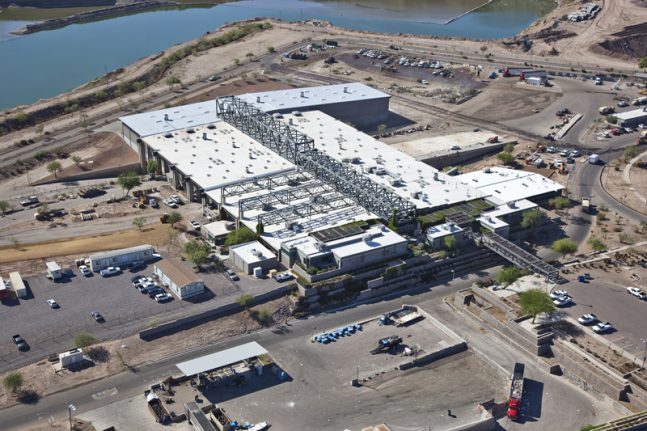 By spring of next year, the construction of our actual composting facility should be completed. This new facility, located at our 27th Avenue Transfer Station, will have the ability to process up to 55,000 tonnes of green organics and food scraps, but has the potential to process 110,000 tonnes as the need increases. This composting facility is a key piece of the food scraps collection puzzle that we need to expand our food scraps collection and diversion.
Educating our residents about the food waste situation is paramount. They need to understand that food scraps is a resource and can be reused for composting for more food production. Phoenix residents need to realise that half of what we throw away in the trash, and eventually to the landfill, is compostable materials–materials that can be processed to make mulch and compost. Composting food scraps and green organics can certainly help Phoenix reach our 40 percent waste diversion goal, but also has the potential to create jobs in compost manufacturing or even in renewable energy.