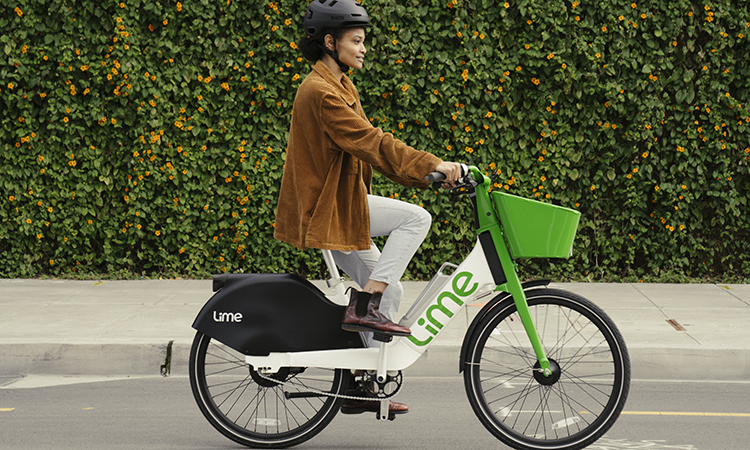 Micromobility provider Lime has announced plans to invest US$50 million (£35.8 million) in its e-bike fleets and double the amount of global cities it operates in by 2022.
The bulk of the investment will be focused on Europe, where the company plans to bring its shared e-bikes to 15 new cities in France, Germany, the UK, Italy and Spain.
The firm has also unveiled its new 'next generation' e-bike model which has a more powerful motor, a phone holder for navigation and a swappable battery.
"As we build out the Lime platform to serve any urban trip, e-bikes are a key piece of the puzzle as a perfect option for medium-length trips," said Ghassan Haddad, Head of European Affairs for Lime.
"It's why based on the feedback we heard from cities, we're making substantial investments to upgrade our e-bike and bring it to more European [metropolises].
"Shared micromobility is playing an essential role in getting cities moving again safely so we see this as a critical moment to double down on e-bikes as an open-air, socially distanced transportation option."
In November, Lime announced its first quarter of profitability, despite a huge decline in revenue at the beginning of the COVID-19 pandemic.
Two million rides
Lime's latest generation e-bike includes a swappable battery — which is interchangeable with the firm's Gen4 scooter.
The interoperability of the battery has been described as a "game changer" for the micromobility industry by Lime as it allows the company to streamline operations across more markets, reducing the frequency of charging and rebalancing vehicles.
The swappable battery also yields environmental benefits by cutting down trips from operations vans.
Lime says its European riders took almost two million trips on e-bikes last year, and expects that number to grow significantly in 2021 — spurred by an increased emphasis from cities on socially distanced, environmentally friendly modes of transport and the gradual return to workspaces and offices.
The company also claims the average duration of trips taken by riders has doubled since the pandemic started, with their main purpose being either a daily commute or shopping errands, instead of recreation or social activities as was the case in previous years.
In January Lime said it was in "active talks" with Paris and Washington D.C. regarding the rollout of e-moped pilots this spring, signalling its desire to diversify the micromobility services if offers.
Image Matthew Reamer/Lime