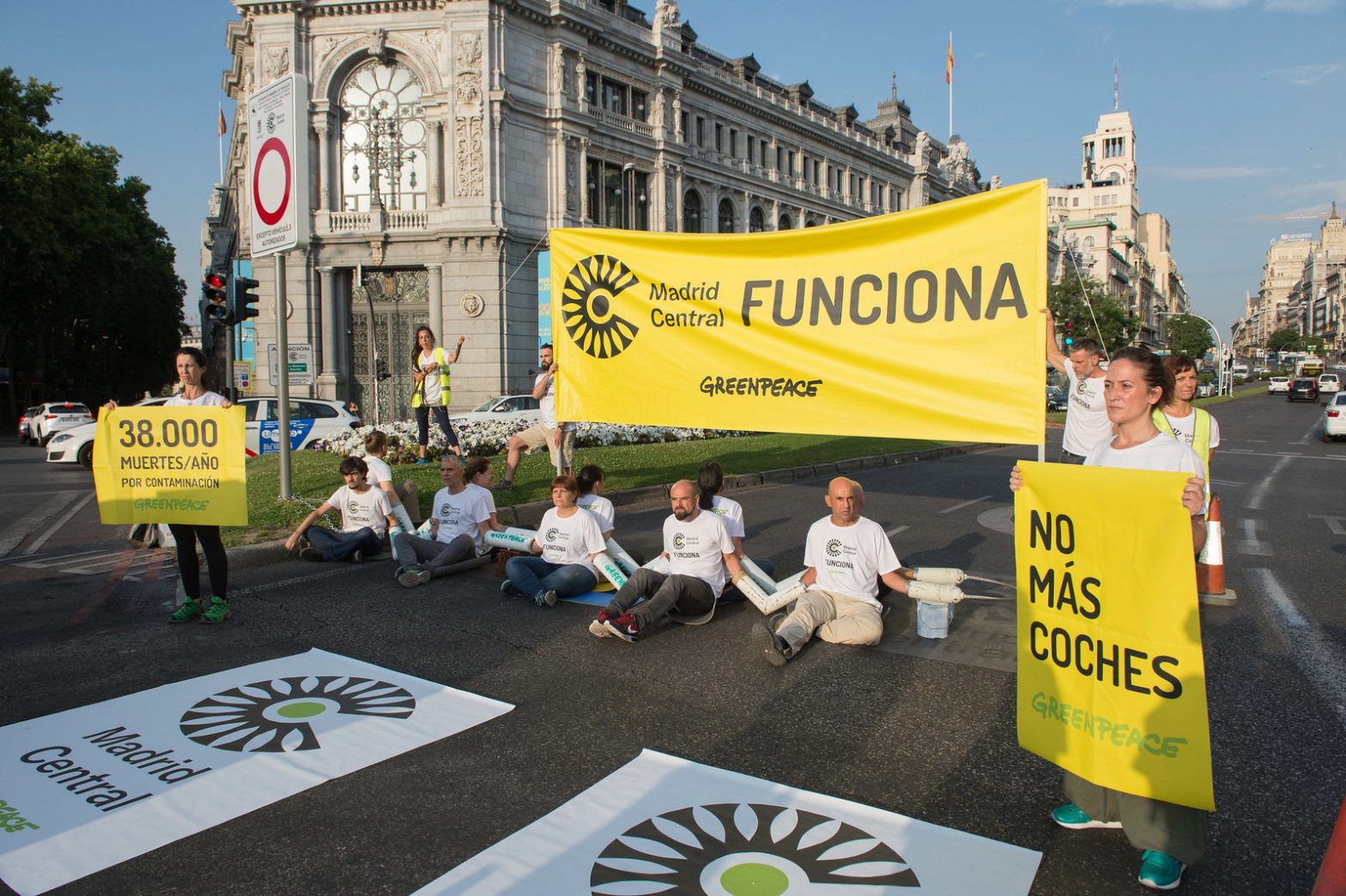 Photo: greepeace
Judge orders reinstatement of Madrid's low emissions zone
11 July 2019
by Christopher Carey
Less than a week after Madrid's new mayor suspended the city's low emissions zone, a judge has reinstated its validity.
The attempt to scrap the zone, known as Madrid Central, was reversed on Monday and non-exempt drivers were once again liable for a €90 fine if they entered a 2.9 square kilometre area of the city centre.
Petrol vehicles registered before 2000 and diesel vehicles registered prior to 2008 were banned from the zone, which is monitored by 115 cameras that record and cross-reference vehicle licence plates. Exemptions were made for electric vehicles, public transport and some delivery vehicles, with permits issued for the zone's residents and their visitors.
José Luis Martínez-Almeida, Mayor of Madrid, had previously stated that he was "not going to accept a single lesson from the left in the fight for air quality" after claiming that pollution in the capital had actually increased since the introduction of the zone in November.
Adrián Fernández, mobility campaigner at Greenpeace Spain, told Cities Today: "We are very happy with the judge's decision. We thought that the mayor's moratorium on the zone was illegal, because it was a decision not voted on in the plenary, it was just taken a few days after he was elected."
Madrid Central, which was introduced by Manuela Carmena, the city's previous mayor, had been attributed to a drop in pollution levels in the Spanish capital.
According to a report in Spanish newspaper El Pais, emissions of nitrogen oxide fell by 38 percent in Madrid's centre during the first month of the zone's operation, while carbon dioxide emissions dropped by 14.2 percent.
The report, based on a study by the Technical University of Madrid, found that emissions also fell across the city, with NOx and CO2 emissions falling by 9 percent and 2 percent, respectively, in December.
The reversal of the low emissions zone was high on the agenda of Martínez-Almeida's Popular Party (PP), who won the city election with the support of far-right party Vox.
After the election results were announced in May, Vox secretary-general Javier Ortega Smith had warned: "From tomorrow, Madrid Central is over."
A three-month moratorium on enforcing the zone, which began 1 July, led to a spike in traffic and thousands of protesters took to the capital's streets last weekend to voice their opposition to the move.
The Spanish Socialist Workers' Party along with several environmental organisations launched a court appeal which was heard on Monday.
Fernández added: "We explained to the judge that the mayor doesn't have an alternative plan to the low emissions zone. We know he [the mayor] wanted to make some changes, and we are happy to discuss what these changes could be and start a debate about the future of the zone, but we cannot accept that it [Madrid Central] will be finished with no consultation."
In making his decision, D. Jesús Torres Martínez, the presiding judge, said that the "health of Madrid" was more important than the "right to travel by car."