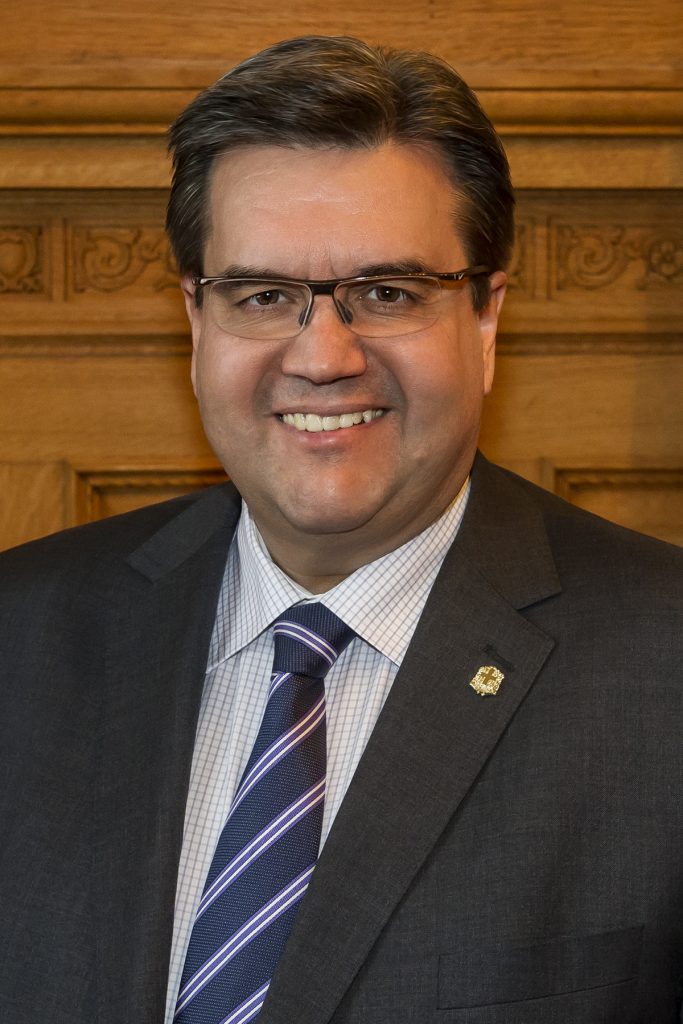 The Intelligent Community Forum named Montreal as Intelligent Community of the Year 2016. Jonathan Andrews met with Denis Coderre, the mayor, to discuss his ambitious plans to make the city one of the smartest in the world
Montreal recently announced a C$100 million (US$76 million) fund for startups, with some money coming from the city. How will that money be spent exactly?
On 10 June, I announced the creation of Capital Intelligent MTL, a group made up of 23 venture capital firms, financial institutions and corporations who have stepped forward to help encourage startups to work towards the creation of Montreal as a smart and digital city. These 23 members have made C$100 million in private capital available for the financing of innovative businesses who will contribute not only to building the smart city, but also to the development of know-how and to employment creation in Montreal.
The city is not participating in the financing of startup projects but rather, is contributing C$400,000 for the administration of Capital Intelligent Mtl from now until 2018, C$300,000 of which comes from Quebec government funding granted within the framework of Entente Montréal 2025, administered by the Secrétariat à la région métropolitaine du ministère des Affaires municipales et de l'Occupation du territoire.
A lot of startups fail, is there a risk for mayors to fund startups and the ecosystem as it could be seen by citizens as a waste?
Public administrations like municipalities have to take initiatives to stimulate economic growth and to some extent it implies taking controlled financial risks on promising innovative projects.
That is exactly the mission of PME MTL, Montreal's network of entrepreneurship centres. Spread over six locations and employing over 60 professionals, these city-funded centres not only provide business counselling to aspiring and established entrepreneurs but also provide access to a C$30 million fund. The PME MTL fund is often the first investment a startup will receive and can often attract investment angels or accelerators necessary to complete the project financing. So yes, I think the city has to take a certain amount of risk because that is the nature of the entrepreneurship game. If we want to create an entrepreneurship culture in Montreal, the city's administration has to lead by example.
To prove it, since October 2015 PME MTL has supported more than 170 companies with C$7.3 million in loans and C$1.5million in grants. The city has also taken financial role in the creation of three accelerators: InnoCité MTL, Canada's first smart city accelerator, GamePlay Space, dedicated to independent gaming startups and Notman House, specialised in information technology and communications, and the startup ecosystem's unofficial headquarters.
I believe in entrepreneurship and innovation. Montreal has a vibrant startup community which is building a reputation world-wide. We see this with Montreal's StartUp Fest which is expanding to other markets including Hong Kong and Toronto. The Montreal ecosystem has created impressive startups like Breather, Lightspeed, Frank & Oak and Smart Halo, to name only a few. Montreal ranks among the 20 best startup ecosystems in the world, according to the 2015 Global Startup Ecosystem Ranking. And, as FounderFuel's Sylvain Carle said recently in an interview with Les Affaires, while it's true that many startups do fold, they create a kind of 'compost' that nourishes the economy as a whole.
As employees, former entrepreneurs add great value to the companies they join. In the startup world, failure is not a negative. It's part of a process that is necessary for innovation. We know that by investing in Montreal's startup community, we're investing in the minds that will drive projects today and tomorrow.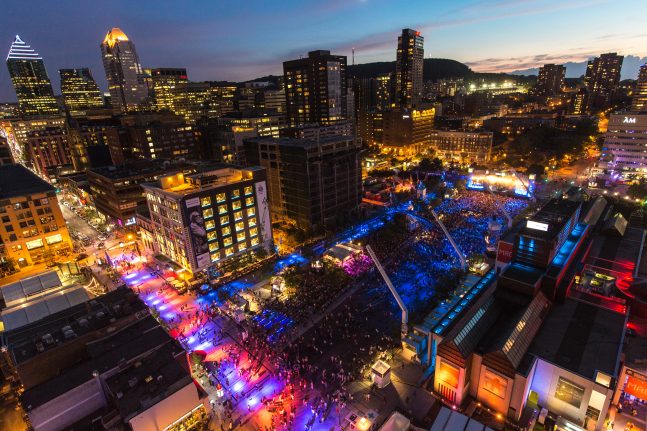 Montreal has been named Intelligent Community of the year by the Intelligent Community Forum. Although each city is different, what are some things you have implemented to advise other mayors on creating a vibrant socio-entrepreneurial ecosystem?
The community has done a great job of creating Montreal's vibrant socio-entrepreneurial ecosystem, and we support several of these initiatives through our funding and, more importantly perhaps, to begin to remove the barriers to innovation. InnoCité MTL is not a typical accelerator. Its special connection to the city means that city employees have taken their place among those who mentor these budding entrepreneurs.
The silos are breaking down and we're facilitating unprecedented access to our specialists. What's more, our 'open by default' data policy means that startups can benefit from the availability of the raw material which is municipal data. This is part of the transparency that is a cornerstone of Montreal Smart and Digital City. The combination of all these factors results in a stimulating environment which helps startups succeed while encouraging innovators to turn their attention to smart city solutions.
We've also encouraged the creation of a vibrant ecosystem through the creation of 'je fais mtl' [I make Montreal], which was established to support the energy and commitment of different project initiators throughout the city. Réseau PME-MTL is another example of an organisation which provides support to entrepreneurs. Between 2007 and 2014, this network of business development centres provided startup consulting services to over 19,500 businesses, awarded grants between C$1,000 and C$100,000 to more than 1,500 young entrepreneurs, and advised more than 56,000 entrepreneurs.
In June, you launched the International Observatory of Mayors on Living Together which aligns 28 cities with their respective universities to work on cohesion, inclusion and urban security. Was there a gap in this area and do you think universities have been 'missing from the table'?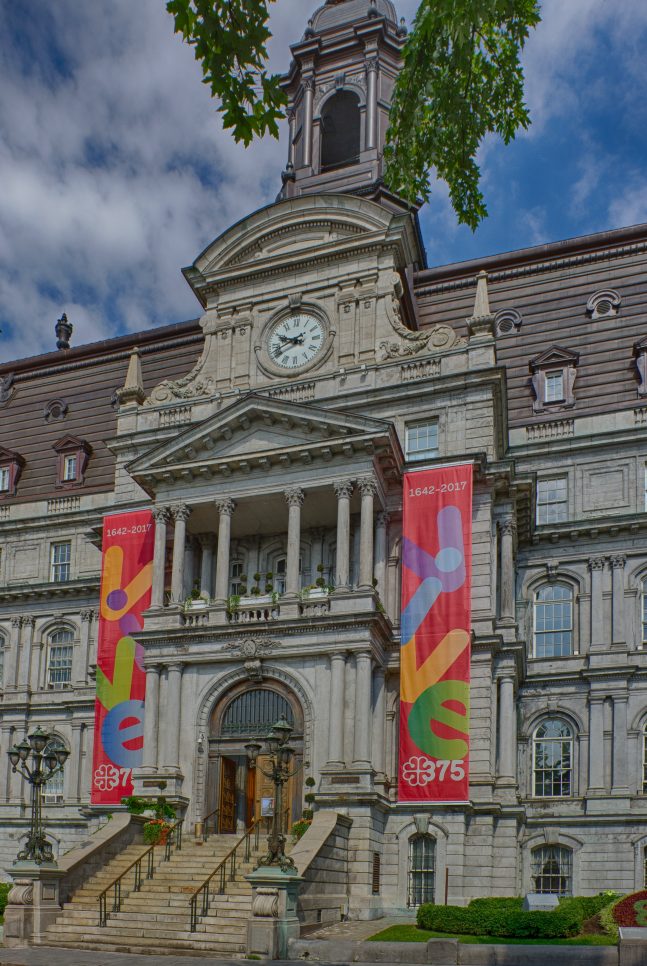 Yes, there is somehow a gap. We are too used to working in silos. 'Alone we go faster, together we go further.' If we want to be able to address today's urban challenges, we have to be innovative and we have to collaborate. Our universities and our research institutions are driving forces that generate precious knowledge about our cities in fields such as diversity, social development, urban planning, and so on. We all work for the same purpose, which is to improve the quality of life of our cities.
At the Observatory, every city that becomes a member commits to create a 'board of partners', a city-university alliance where researchers and city staff sit at the same table. In Montreal, for instance, all universities are represented in this board of partners: they identify 'best-practices' together and they also collaborate to produce original research. For example, in Montreal, an Anthropology Research Laboratory, in close collaboration with the City Department of Libraries, produced a 'case study' about a community outreach programme focused on newcomers' needs.
Today, more than a dozen cities have already created their board of partners. And, in some cases, these boards have been formalised by their city councils. So, little by little, we are contributing to develop a culture of collaboration between cities and universities.
Do you think cities should be building and creating their own apps or should this be given to the citizens and the city's role merely an enabler?
Both. There is a lot of talent out there. It can at times be more expedient for a city to build apps in-house or through an RFP [request for proposal], but we also want to be sure Montreal benefits from the creativity of the entire talent pool. It's one of the factors which motivated me to take steps to make municipal data 'open by default' and one of the reasons we run challenges like Info-Neige and Dé vélo Montréal, while supporting others such as StartUp Fest's Hackerfest hackathon.
Open data and the opening of digital services must allow companies to supply the tools and applications which meet a portion of our citizens' needs–and this includes corporate citizens. At the same time, the city will continue to offer services online, including through web and mobile applications, in order to ensure that the basic services we've all come to expect are available.
The Montreal Smart and Digital City Action Plan aims at positioning Montreal as one of the world's smartest cities. Which cities inspired you the most when putting this together?
As we began to develop the Montreal Smart and Digital City strategy and action plan, a number of cities stood out for us:
1. First of all, Barcelona, an uncontested leader in the smart city space. Its Innovation District Project and urban laboratories definitely inspired us.
2. Columbus, Ohio, which has just won the US Department of Transportation's Smart City Challenge, is another city which inspired our action plan. Columbus' accelerator programme helped fuel the thinking which led to InnoCité MTL, Canada's rst smart city accelerator. The smart city as a source of economic prosperity is key to our initiative.
3. Eindhoven in the Netherlands, the 2015 Intelligent Community of the Year winner, has also inspired us through its Living Labs and Brainport programme.
4. New York's Hudson Yards project and its digital services for citizens.
5. Closer to home,Toronto's waterfront development programme which offers widespread Wi-Fi and fibre optic solutions.
6. Finally, we benefit from close ties with Lyon, another source of inspiration, with its smart mobility initiatives.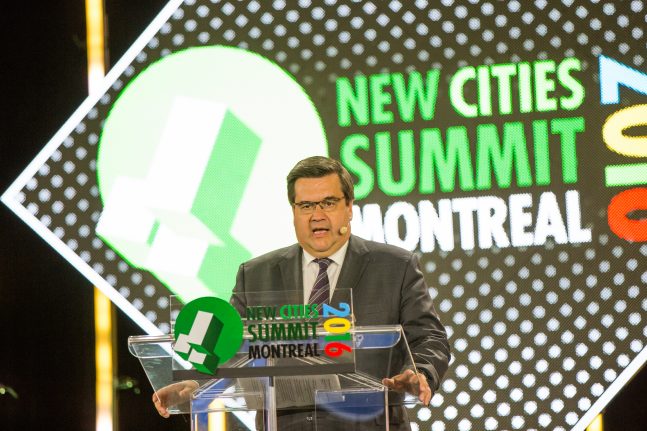 One issue brought up here during the New Cities Summit was that the typical PPP model has to change. Historically they involved 30-year tenures meaning the city avoids most of the costs and the company avoids the risk. Yet in a market that is continually evolving, particularly the digital economy, this structure really no longer works. In what way is Montreal adapting to financing structures and the digital economy?
Unlike the Quebec [provincial] government, City Hall still cannot forge public-private partnerships on major road contracts. Through the present, we have been confined to traditionally funded infrastructure projects that must be fully designed prior to tendering. This traditional model may, however, yield certain benefits, particularly when it comes to phased rollouts of technology.
For example, the underground infrastructure along our number one shopping street–Rue Saint-Catherine–is getting a vast makeover. First, of course, the city notified the community, followed by consultation and coordination sessions with various players, including people in the streets. This process will be repeated in future phases, as well.
Montrealers have asked for a variety of technological enhancements in their lives. And the city wants to accommodate all constituents, while optimising our long-term investments. During the current phases of construction beneath Saint-Catherine, we must consider the sustainability and the obsolescence of technological programmes aimed at revitalising our street life. We must meticulously plan such technological choices to ensure they generate long-term, robust and smart investments in our streets. We shall promote gradual deployment
of these new services, while also ensuring that they are supported by the appropriate infrastructure.
Public-private supply models should be adapted to give the city greater leeway with apps and innovations–with some give and take between service providers and buyers. Such an initiative shares risk, while offering vendors the chance of working with Montreal.
You were the minister for immigration and citizenship during the 9/11 attacks in the US, what experience can you bring from that role to being mayor?
My time served as Canada's Minister of Immigration and Citizenship, which coincided with the 9/11 attacks, has inspired my Living Together vision and its importance for Montreal. I have always viewed diversity as a great asset. As mayor, I am focused on building an inclusive city for all of its inhabitants and on building bridges between and within communities. I have often said that I view the Living Together initiative and the challenge before me and my fellow mayors as a way to strike the right balance between inclusion and vigilance.
Historically politicians would become mayor and use it as a stepping-stone to national politics. Do you think as cities play a greater role that the position of mayor is attracting a different type of person/politician?
The population is increasingly identifying itself primarily through cities. Cities are the future. As the UN Secretary General, Ban Ki-moon, once said: 'If you want to get something done, ask the mayor.' I fully agree with that vision. Everyday, I see cities making a significant difference on issues, for people.
As President of Metropolis, what role is the organisation taking during the Habitat III discussions that will conclude in Quito?
Habitat III will be an opportunity for cities around the world to develop the urban vision and policies we need for the next 20 years to answer our challenges. It will be a major opportunity for cities to consolidate their role as global actors.
For over 30 years, Metropolis has developed expertise on how to respond to these challenges through strategy sharing. Metropolis will be a central figure in the development of the New Urban Agenda that will be adopted in Quito. We will present, for instance; concrete examples from our Metropolis members, on integrated urban planning. Those urban projects can today be considered as a concrete laboratory for the New Urban Agenda.