The eighth Smart City Summit & Expo (SCSE) successfully concluded on March 26 at Taipei Nangang Exhibition Center Hall 2.
Despite the strict entry control on the number of attendees, the four-day event drew over 80,000 visitors. The organiser, Taipei Computer Association (TCA), also invited delegations from more than 50 industrial and business associations to the event. Many local governmental agencies sent delegations to join the hustle and bustle of the marketplace. During this time when many international fairs are called off, SCSE brings a silver lining to the economy devastated by the pandemic. In addition, the livestreaming forum sessions have taken down cross-border walls to reach international professionals and city leaders. This kind of physical-virtual hybrid form appears to be a 'new normal' for the future of conferences.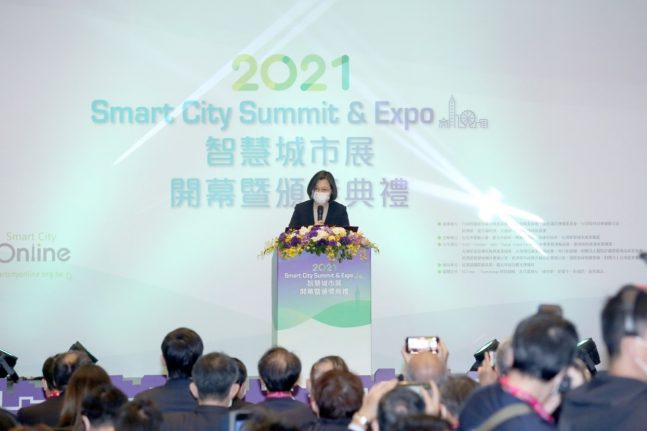 As a young tradeshow, SCSE is growing fast year after year. President Tsai said during the opening ceremony that Taiwan is speeding up its development in the post-pandemic era, and with all the strength built up in the past editions, SCSE is certainly able to bridge domestic industries with our south-bound neighbouring countries.
Frank Lin, Chairman of the Taiwan Smart City Solution Alliance (TSSA), announced that 2022's edition of SCSE will be held from March 22 to 25. While Kaohsiung City government has joined as one of the organizers, it will partner with the TSSA on hosting SCSE concurrently in Kaohsiung as a twin event, marking a new milestone in the history of SCSE next year.
Yun-pei Huang, Vice President of TCA, pointed out that as many as 10 local city governments  joined the exhibition, including the City of Taipei, New Taipei, Taoyuan, Taichung, Kaohsiung, Hsinchu, County of Pintung, Yilan, Taitung, and Kinmen, making this a record edition for city government exhibitors.
In addition to the opening ceremony where city mayors attended in person, Wen-je Ko (Mayor of Taipei), Wen-tsan Cheng (Mayor of Taoyuan), Chi-mai Chen (Mayor of Kaohsiung), Chih-hui Wang (Vice Mayor of Taitung County), and Chih-chien Lin (Mayor of Hsinchu), led their colleagues as visiting delegations to the exhibition. Chen-wei Hsu, Mayor of Hualien County, even brought 54 delegates from the government to have a closer look and learn from the smart city solutions in the exhibition, showing their ambitions in city management. In addition, Chia-lung Lin, Minister of Transportation and Communication, also led a delegation of over 20 delegates for the opening of ITS Expo and learning at the event.
Vice president Huang of TCA said that there were over 50 visiting groups from associations such as the Council for Industrial & Commercial Development, Club of Industrial and Business Secretary-generals, Taiwan Council of Shopping Centers, Chinese Professional Management Association, Hong Kong Business Association in Taiwan, Taiwan Display Union Association, Taiwan Smart Textile Association, ITS Taiwan, Cloud Computing Association in Taiwan, and more. In the face of the COVID-19 impact, the large-scale cross-domain networking and collaborations are expected to bring prosperity among industries.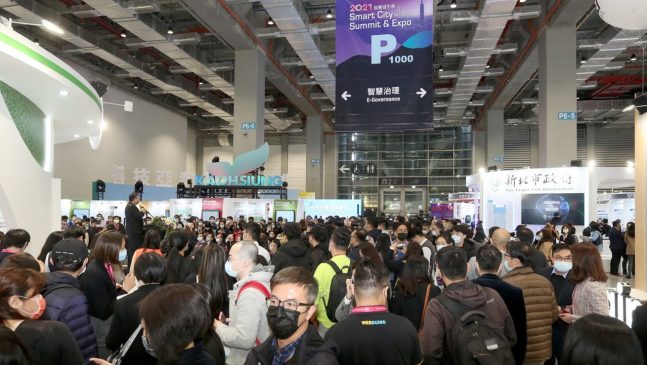 Under the partnership with Taipei, Taoyuan, and Kaohsiung, the TCA event conducted bilateral government-business webinars with partner cities from Poland, Malaysia, Colombia, and Nigeria, while 45 smart-city-related companies from abroad joined the online matchmaking event, fostering opportunities for Taiwan IoT industries.
At the same time, foreign associations such as the Asian-Oceanian Computing Industry Organization (ASOCIO), Thai IoT Association, Ho Chi Minh City Computer Association, Philippine Software Industry Association (PSIA), Federation of Indian Chambers of Commerce & Industry (FICCI), Indonesia IoT Association, International Trade and Forfaiting Association of Nigeria, Fedesoft of Colombia, have signed MOUs with Taipei Computer Association (TCA) and other partnering associations online.
The Smart City Online resource will continue the showcase until the end of this year, aiming to reach over 600,000 views from 160,000 online visitors across 150+ countries/regions worldwide.
The SCSE 2021, presented as a hybrid event, really took a lead in shaping new directions and new opportunities for domestic tradeshows.
Brought to you by:

About this Content