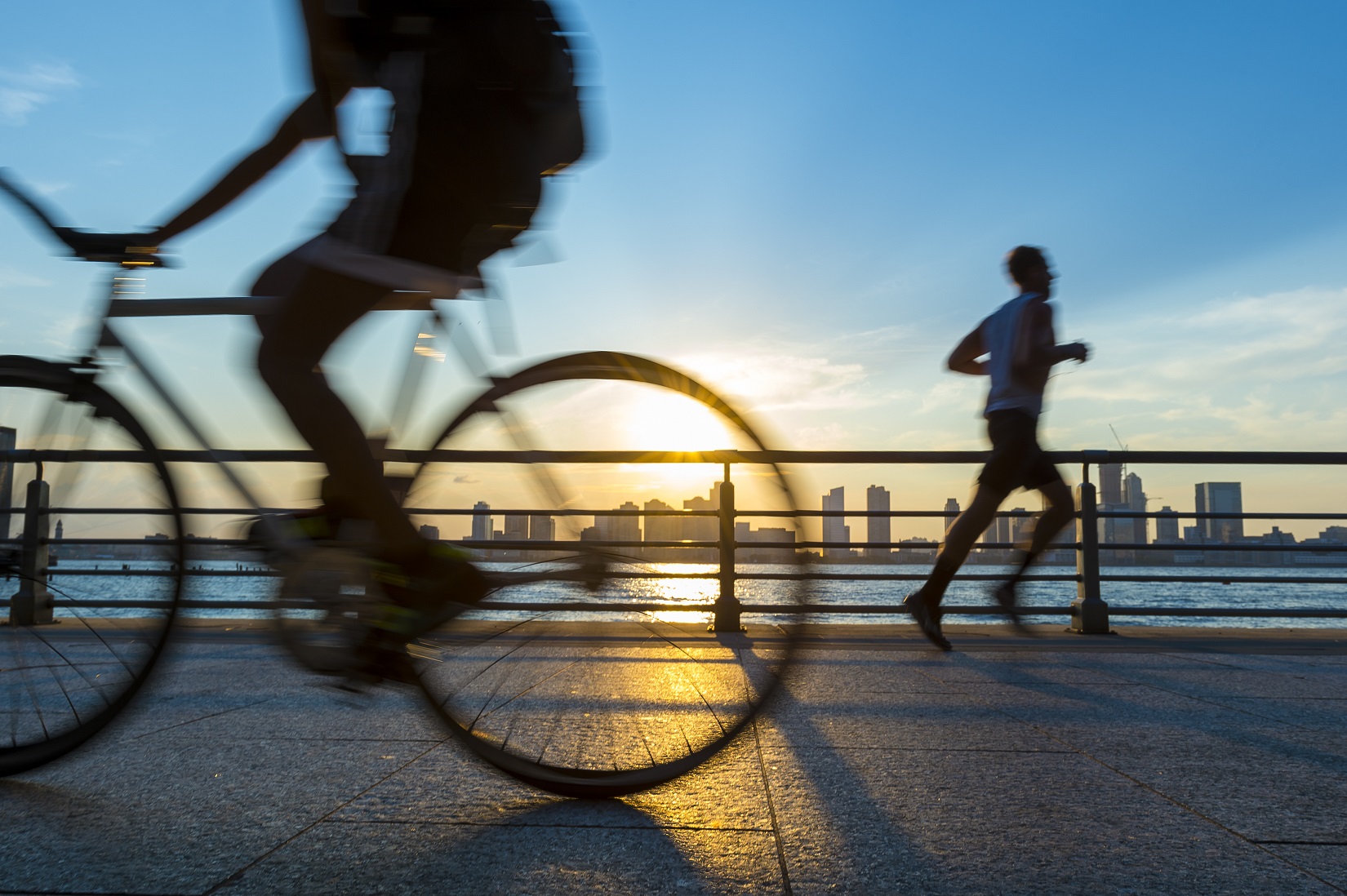 The JLL City Momentum Index for 2018 identifies the world's most dynamic cities, with a new focus on those cities best poised to maintain their competitiveness in a rapidly changing, technology-based global economy.
Along with analysing 131 established and emerging business hubs for their short-term economic and real estate momentum, the index also ranks these cities by their potential for future, continued growth. This potential for future-proofing is determined by factors such as capability for innovation, world-class higher education, high levels of technology start-ups and scale-ups, and the quality of the urban environment, from liveability to public transport infrastructure.
While the global gateways of San Francisco, New York and London are ranked as the most future-proofed cities, the list also features many medium-sized metro areas with strengths in education, liveability and sustainability, such as Melbourne and Stockholm. Toronto was ranked in the top ten supported by its world-leading ability to commercialise new technology and the city government's commitment to urban innovation such as the smart neighbourhood development Quayside. `
Jeremy Kelly, Director in Global Research at JLL said: "The pace and scale of change in today's globalised, digitised economy is leading to an unprecedented transformation of our cities. Developers can contribute to city success by producing projects which facilitate the creativity, innovation and sustainable communities that are now in demand, while investors and businesses stand to gain from understanding which cities have the robust future-proofing qualities to attract and retain skilled workforces."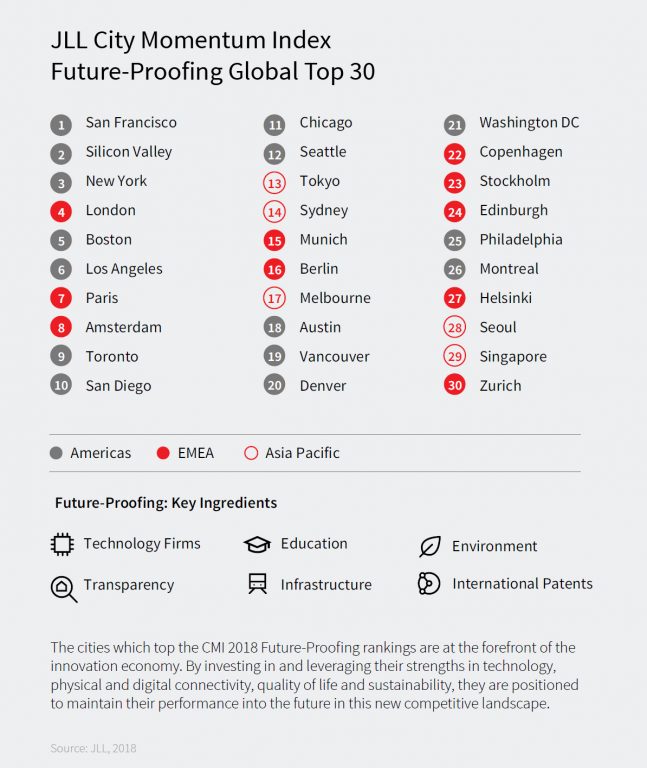 Six key attributes of a future-proof city:
Dynamic technology ecosystem
The world's most future-proofed hubs–San Francisco (1st), Silicon Valley (2nd), New York (3rd) and London (4th)–are also its top technology centres with vibrant tech and creative sectors that have among the highest concentrations of 'unicorns' (start-ups valued at over US$1 billion) globally. Amsterdam (8th) has one of Europe's fastest-expanding tech scenes, underpinned by global connectivity and a multilingual, highly educated workforce. In Singapore (29th), government support for research and openness to new technology such as the world's first autonomous taxi service has fuelled its highly developed tech sector, home to one of Asia's largest start-up scenes.
Talent
With a unique concentration of some of the world's leading research institutions, Boston (5th) is a global leader in research and technology, attracting highly skilled talent and topping the rankings for education infrastructure and impact. Los Angeles (6th) and San Diego (10th) similarly underpin a substantial growth in technology talent with world-class university systems, translating into significant potential for homegrown innovation: all three cities are among the most prolific sources of patent applications in the world.
Infrastructure
North Asia's largest urban economies Tokyo (13th) and Seoul (28th) are investing in high-tech infrastructure projects such as Tokyo's upcoming autonomous public transit systems and Seoul's Pangyo Techno Valley to enhance urban quality of life and further evolve these cities' rich technology and innovation ecosystems. In Paris (7th), a significant investment into the Grand Paris transit system is expected to contribute to its continued momentum, while Amsterdam and Stockholm (23rd) are supported both by sustainable city development and efficient public transport networks.
Innovation Capabilities
Tokyo and Seoul are also global research leaders filing the most international patent applications, underpinned by world-leading digital connectivity and high concentrations of innovative global firms that attract and nurture talent. Europe's research engine Paris accounts for the most international patent applications on the continent, along with the largest high-tech workforce.
Quality of Life
A high quality of life, well-developed public infrastructure and sustainability initiatives put Copenhagen (22nd), Munich (15th), Berlin (16th) Edinburgh (24th) among the most future-proof European cities, attracting vibrant clusters of innovative companies and exceptional levels of high-tech employment. Smaller tech- and knowledge-intensive cities Austin (18th), Vancouver (19th) and Denver (20th) are attracting people and corporations with overall liveability and strong education while in Asia-Pacific, Sydney (14th) and Melbourne (17th) are also well-poised for future growth thanks to excellent liveability, strong education systems and robust tech sectors.
Market Transparency
The world's most transparent real estate markets–such as Sydney, London and Toronto–reflect the benefits of strong governance and market transparency, which acts as a facilitator of new investment and business activity.  Open, business-friendly policies and continued enhancements to transparency levels will help them to maintain their competitive edge in the coming years.
Methodology
The City Momentum Index is constructed from 46 variables to assess short-term momentum and longer-term potential for 131 cities chosen by a combination of weighted index of population, GDP, corporate presence, air connectivity, real estate investment activity and commercial real estate stock. Variables measuring longer-term potential–the future-proofing credentials–include higher education infrastructure, innovation capability, international patent applications, technology firms, infrastructure and environmental quality. To learn more about cities and real estate, see www.jll.com/cities-research.
About this Content