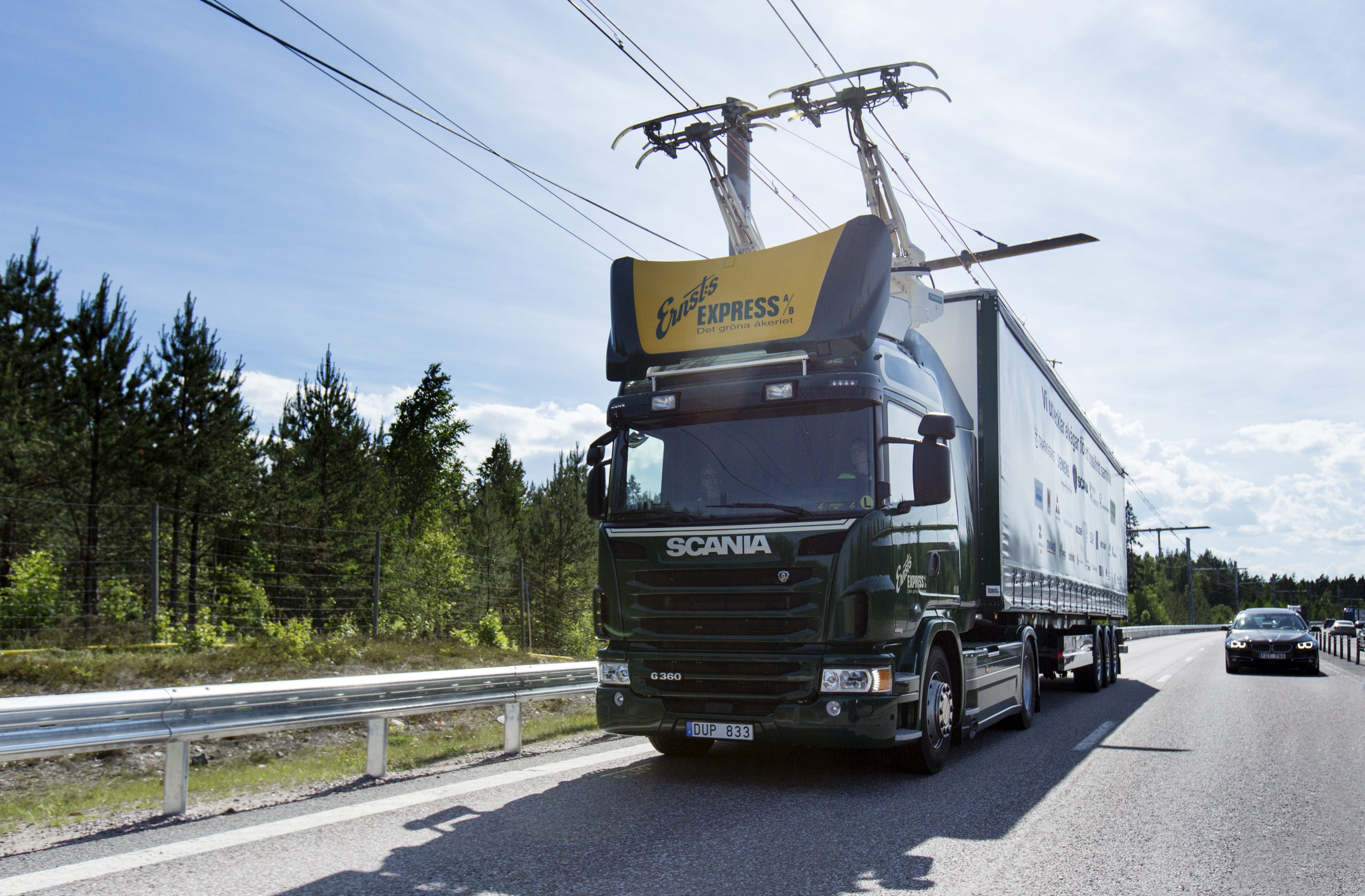 New overhead lines normally used to transmit electricity to trains and trams have been unveiled on a stretch of highway outside Stockholm to power trucks.
The catenary system aims to cut energy consumption in half and reduce local air pollution. It was officially opened on a two-kilometre stretch of the E16 highway north of Stockholm, as the Scandinavian country strives to create a new, independent, fossil free transport sector by 2030.
"With the potential to significantly reduce carbon dioxide emissions by making operation based on renewable energy possible, and by providing double the efficiency compared to conventional diesel trucks,  eHighway technology is an important milestone on the way towards the goal of a fossil-independent transportation fleet in Sweden by 2030," said Anders Bylund, Head of e-Mobility Business Development at Siemens.
The new trial in Sweden is the first to apply the catenary system to public roads. Developed by Siemens, it will be tested by two hybrid vehicles provided by Swedish truck manufacturer, Scania.
At the core of the system is an intelligent pantograph–a framework for sending electric currents to vehicles–that will work in unison with a hybrid drive system. A sensor system will enable the pantograph to connect and disconnect from the overhead line at speeds of up to 90 km/h, while there is also the possibility the system will be able to run on either batteries or natural gas.
Transport accounts for more than one third of Sweden's carbon emissions, with almost half of its footprint coming from freight transport, and the hybrid nature of the system is expected to offer the flexibility to integrate conventional trucks by allowing them to operate outside contact lines.
Meanwhile, as freight industry forecasts point to continued growth, the pioneering two-year trial of the eHighway is seen by Swedish Transport Administration Trafikverket and Gävleborg County as a means of establishing whether the Siemens system is a commercially viable transport model.
Siemens is currently developing another eHighway project in California with Volvo and the South Coast Air Quality Management District. Tests will run throughout 2017 to see how different truck configurations interact with eHighway infrastructure in the ports of Los Angeles and Long Beach.
About this Content