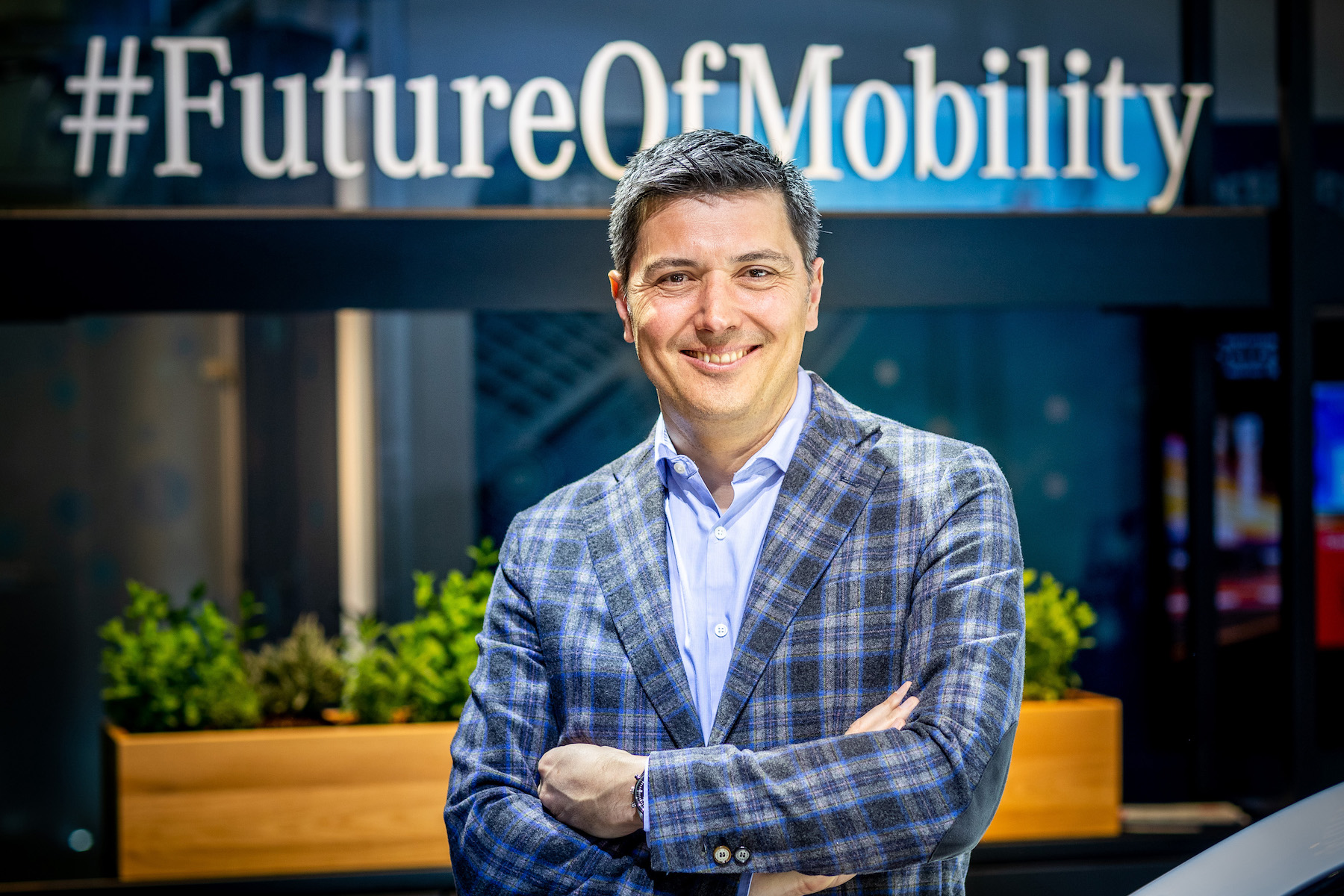 By Mark Wessel
Have you heard the news? Daimler is no longer a car company.
Or at least, not just a car company… a reality that Daimler spokesperson Daniel Deparis confirms without hesitation.
"Everybody knows Daimler makes cars, but what we really want to promote is mobility and to be known as a mobility company," he says.
Deparis is helping to shape not only how Daimler is perceived as a corporation, but how the company serves the multi-modal needs of cities in his capacity as head of Daimler's urban mobility team.
As he sees it, the fact that Daimler is first and foremost a mobility company is old news rather than a recent development.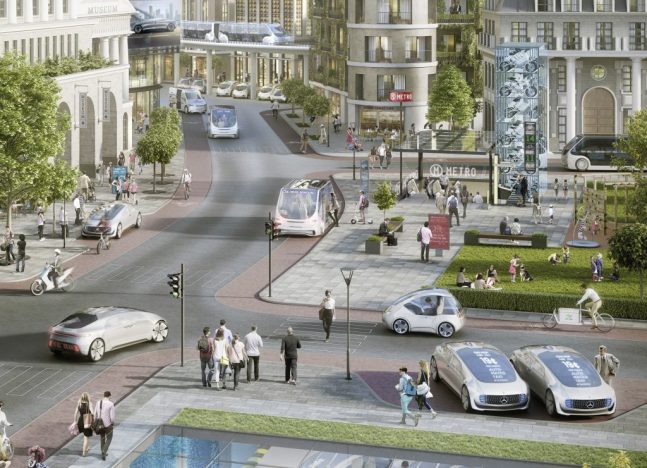 "The topic of urban mobility is not new at Daimler… for decades we have had a strong presence in cities worldwide with our buses and vans, being a trusted partner of public transport companies and providing solutions for urban goods transport. Our activities in new mobility solutions started something like seven or eight years ago, when we launched car2go, the first free-floating carsharing solution. And since then, Daimler has invested a lot in mobility, including most recently, our joint venture with BMW, with the five NOW joint ventures."
Daimler and BMW announced their partnership in February of this year, committing US$1.13 billion tied to the goal of radically transforming the future of mobility. Change that will be driven–literally, by five separate companies: REACH NOW for multimodal services; CHARGE NOW for EV charging; FREE NOW for ride-hailing; PARK NOW for parking; and SHARE NOW for carsharing.
The over-arching goal of these companies is to improve quality of living for the everyday person, making city life easier in the process, according to Deparis. He will be sharing his unique perspective on the future of urban mobility at the upcoming Urban Future Global Conference in Oslo, in the session playfully called Taking Your City on a Ride.
"We believe in urban mobility and offering the everyday citizen the right mobility solution in the right context," he adds. "So it's not just about driving around the city every day, but also people commuting and having very different needs. We need to work with public transportation in order to come up with the best solutions for cities."
Of course dealing with parking issues is just one aspect of a much bigger challenge of how best to get people and goods from A to B in order to make cities more liveable. Daimler's response to this challenge is tied to a four-pillar strategy, focussing on: connectivity, autonomous driving, shared mobility and electric mobility.
Within the realm of shared mobility, Deparis says: "I really believe in peer to peer or free-floating sharing. For example with [such services as] SHARE NOW, you use the car and then just park it anywhere–you don't have to pay for parking. And then someone else uses it."
So not unlike some of the free-floating bike sharing services where you locate, book, ride, park and lock until the next user comes along–only for cars.
While SHARE NOW is an established service that's now available in several major cities, Deparis says peer-to-peer car sharing is a newer, but increasingly popular mobility option that is beginning to gain traction with consumers as well.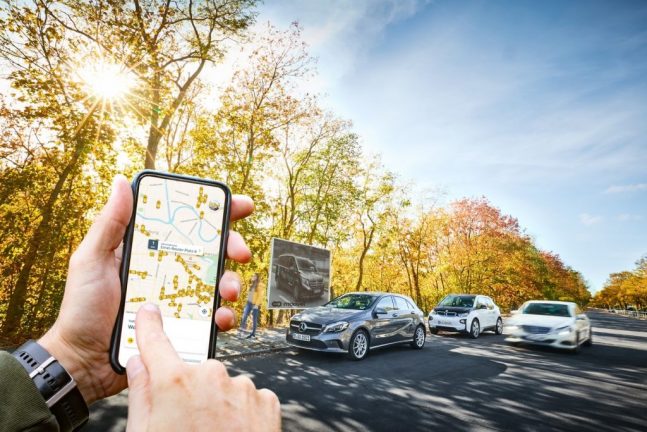 Peer-to-peer car sharing typically involves having one owner, but multiple users who have the option of borrowing the owner's car for as little as a few minutes, a few hours or from day to day. As Deparis explains: "Let's say I'm the owner of a car and you're my neighbour. If I'm not using the car and you want to use it, I accept you in my closed community and you can book my car."
Although it may seem counterintuitive for the spokesperson of a company that makes cars to encourage consumers to share cars versus owning them outright, Deparis says it makes good economic sense for at least some consumers, particularly those burdened by rising living costs.
"If the statistics are right, the average use of a car is six percent. That means 94 percent of the time a car is sitting around. So if you share a car, you make more people happy than just the owner."
He says the same analogy can be used for transporting goods with such programmes as VAN2SHARE, whereby businesses can book delivery vans when needed, versus having dedicated vehicles that often aren't being used. A solution that also complements city initiatives such as Oslo's car free downtown core, by reducing the overall number of vehicles on the road as well as the space needed for parking.
Far from being just car or van-centric in their approach to mobility solutions, arguably Daimler's most innovative solution in addressing the proverbial 'how best to get from A to B' challenge, is the company's moovel app.
Using moovel, commuters can quickly determine the most ideal way to get from one location to another, via multiple means of transport. For instance the app might recommend to consumers that the best option for a particular journey might be a combination of walking and either a rental car or taxi. Another time of the day, the app might recommend a rental bike and train combination for the same trip. And depending on local services available within each community, any combination of rental bikes, rental cars, car sharing and public transit can be tied in as potential mobility options.
To some, all of this may sound a bit like the Wild West… an analogy that fits in well with the fact that finding the right urban mobility solution for each city is a road less travelled–at least for now. "I guess you could say we are a bit like pioneers," admits Deparis.
WORDRAP
Daimler is first and foremost… a mobility company
I really believe in… peer-to-peer or free-floating (car) sharing.
In helping major cities come up with urban mobility solutions… we are a bit like pioneers.
There is no 'one size fits all'… when it comes to finding mobility solutions for different cities.
We need to work with public transport… in order to come up with the right mobility solutions.
Our overall goal… is to improve quality of living.
About this Content