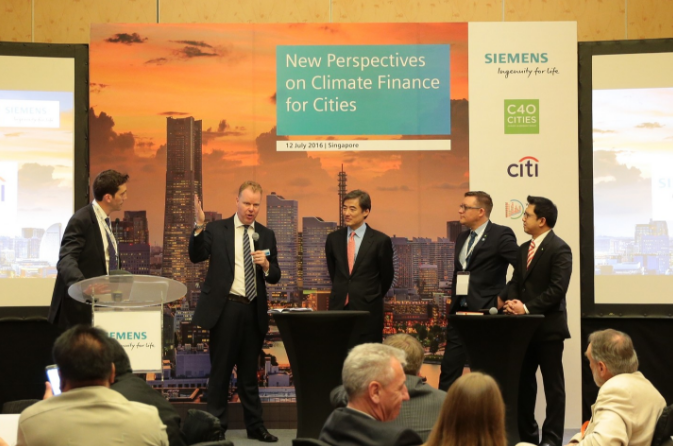 Siemens, C40 Cities and Citi, reveal in a new report that cities need to invest US$57 trillion in infrastructure in order to accommodate both their existing needs and projected growth.
Launched at the World Cities Summit 2016 in Singapore, New Perspectives on Climate Finance for Cities, highlights the global efforts needed by nations, banks, cities and the private sector. It provides potential financing options for climate change programmes and projects in cities, the lead times and steps required to access different types of climate finance, and the lessons learned from cities around the globe.
Underscoring the importance of partnerships, Martin Powell, Head of Urban Development at Siemens Global Centre of Competence for Cities, said: "This joint report provides a spring board for urgently-needed financing solutions and captures the synergistic efforts of the most innovative climate actions taken by cities around the world. Siemens has been instrumental in driving successful infrastructure projects around the world by providing business-to-business financial solutions and intelligent infrastructure to cities."
Transformative financing options
To maximise impact, the report recommends six innovative financing mechanisms–and likely finance providers–for mobilising investment for cities and looks at the benefits and challenges of each approach.
Emission trading schemes: According to the report, 12 percent of global greenhouse gas emissions are covered through regional, national and sub-national trading schemes. While emissions trading schemes offer flexibility, they can be vulnerable to unexpected economic impact.
Green bonds are useful for funding large infrastructure or aggregated programmes over the medium to long term. Many cities are now looking at issuing their own green labelled bonds following the pioneering efforts of Gothenburg and Johannesburg.
International Financial Institutions (IFI) and agency finance have broad policies to support certain sectors and market development. In some cases, IFIs may invest in projects that are considered too risky by commercial banks.
International and regional climate funds: The Green Climate Fund, for example, has over US$10 billion to invest in the developing world. More city governments are also establishing their own funds to attract other sources of financing to private sector projects.
City government-backed funds can de-risk or open up new markets where the private sector is unwilling to lend directly on its own. With this approach, cities can ensure that funding is directed towards their own priorities.
Equity capital: Institutional investors alone are managing US$71 trillion of assets in the OECD. Some cities are providing equity to projects to encourage further private sector funding as debt or equity.
"New financing models can support sustainable infrastructure development and corresponding investments in cities," said Kenneth Hsi Jung Koo, Deputy General Manager and Citi Chief Representative, Citi Orient Securities. "The key is to understand and embrace new approaches to infrastructure and devise enabling financing solutions that will benefit each city according to its specific needs and economic situation."
Following the Paris climate agreement, Seth Schultz, C40's Director of Research, Management and Planning urged bold action to be taken to protect future generations.
"The only way to do this is dramatically increasing climate financing and attracting more investments," he said. "By providing an introduction for cities seeking to understand climate finance options, this report is a first step in that direction. It identifies possible routes for supporting climate-related projects and programmes, including bonds, where the market in labelled green bonds has risen substantially from US$0.8 billion in 2007 to US$42 billion in 2015."
About this Content