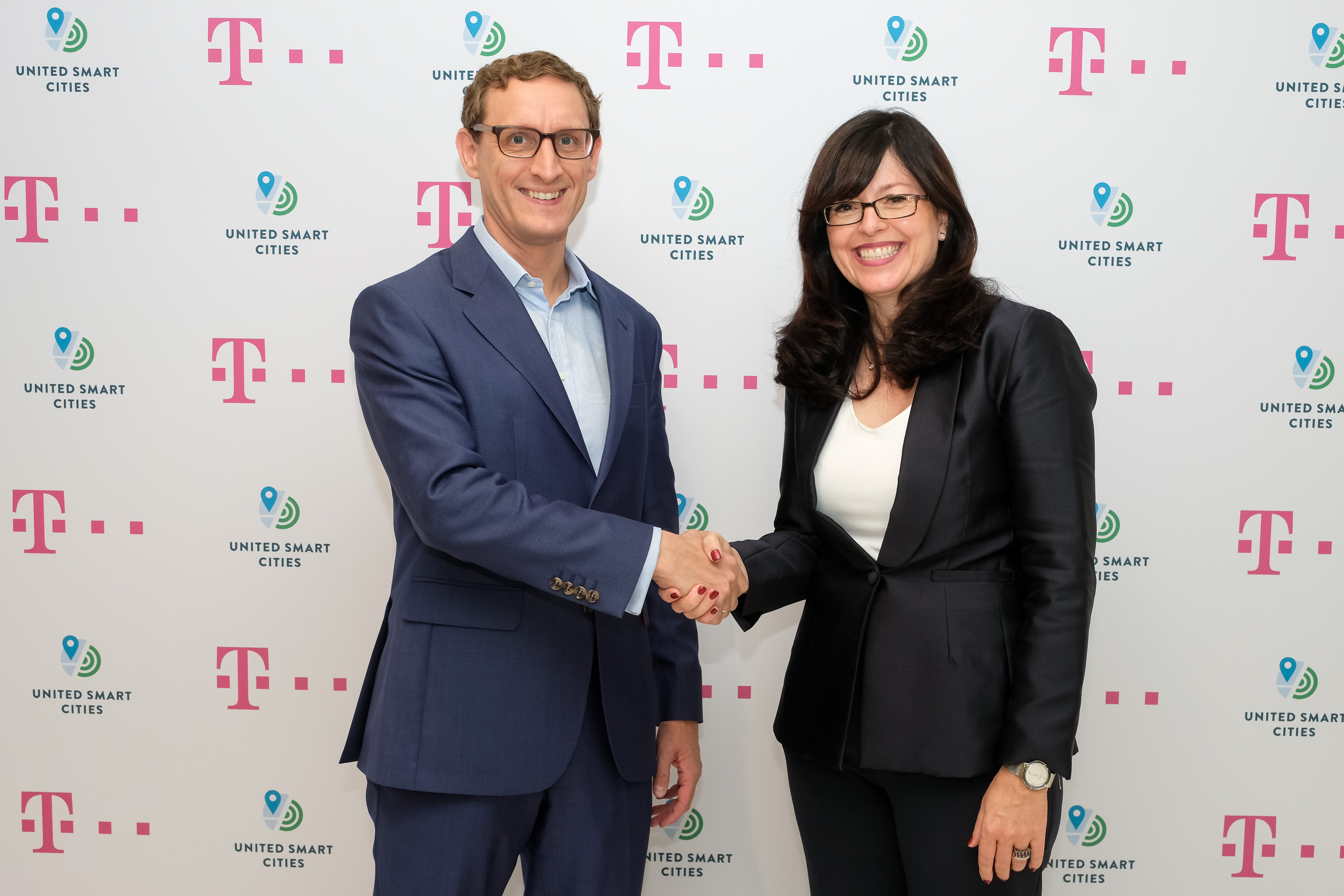 What is United Smart Cities and what's the aim?
Kari Aina Eik, General Secretary of the Organisation for International Economic relations (OiER) & Executive Director United Smart Cities:
United Smart Cities (USC) is a programme set up by the United Nations Economic Commission for Europe (UNECE) and OiER in 2014. Building up smart and sustainable cities, improving life for all citizens and managing upcoming challenges are part of the United Nation's Development goals. USC is set up as a Global City Solution Programme, heavily involving the private sector in improving sustainable infrastructure. USC is aiming to set up a holistic ecosystem to support our cities of the future. All cities independent of size or location are welcome to join the programme.
Why should companies and cities get involved? What's the joint effort?
The key to success is the USC cross sector focus and the concrete partnerships being established between the city stakeholders and especially the technology and finance providers. Based on the city evaluations, USC facilitates these partnerships with the aim to accelerate smart city project planning and implementation, benefiting both the cities involved as well as the private sector partners. All urban sectors are being targeted through this facilitation, and the main areas are mobility, housing, energy, waste and water management, with ICT and digitalisation as cross cutting aspects.
Why did you partner with Deutsche Telekom?
Deutsche Telekom brings in the innovation aspect of digitisation. The smart and sustainable use of ICT is a core issue of the USC Programme and City Evaluation. USC therefore needs credible partners covering all urban sectors with substantial knowhow of the public sector, as well as having integrative experience and technology. Deutsche Telekom is fulfilling all these criteria for us. Moreover, Telekom has a global footprint and experience in Smart City Business for more than ten years already. Our joint aim is to help a large number of the United Smart Cities becoming smarter and more sustainable faster.
What does DT offer in terms of Smart City?
Markus Keller, responsible for Smart City at Deutsche Telekom:
Information and Communications Technologies are at the heart of every smart city. Deutsche Telekom is not only a leading telecommunications company but a strong IT player as well through its T-Systems subsidiary. We provide innovative smart city services and concepts to improve environmental sustainability, economic viability and citizen well-being. We host Smart City projects and products in more than 23 cities and ten countries. Digitisation is a key contributor to more efficiency in smart city areas. Our solutions cover the full range from mobility and traffic management, to safety, the environment, e-government, and providing the right digital infrastructure.
How does an implementation with DT/ USC look like?
The cooperation between USC and Deutsche Telekom will develop through several phases, each having a different focus and delivery.  We will align this with the different phases of smart city development that a partner city will go through. First, we will focus on implementing specific solutions that solve the current pain points a city might have like street lighting, air quality and parking. This is a basic data-gathering phase. As the city gets more comfortable with the smart city concept and understands the financial benefits, it moves towards combining data from multiple solutions to create new services and use cases.
This forms the groundwork for a smart city and for us is our platform-based business. Moving forward, cities will expand their data sharing and combining to include industry players, universities and other groups to further innovate and look for solutions to more complex issues.  USC and Deutsche Telekom will support this step by providing a data market place, which enables data sharing with different users based on a city's defined data access policies.  
What are DT's experiences in regard to Smart City?
Being among the first leaders setting up a smart city approach already ten years ago (T-City Friedrichshafen), we can build on many successful projects in Europe. We implemented smart city solutions across various domains and with different communication technologies, depending on the individual needs of cities. Taking into account that every city is unique and has a different background, we can help them to design a smart city strategy and find the best solution for their pain points. Moving on from today's largely standalone solutions, the future will be about building and contributing to the emerging global smart city ecosystem, acting not only locally at city level, but also regionally, nationally, and even internationally. We consider ourselves a long-term partner for cities on their road to becoming smart and sustainable.
Deutsche Telekom takes part in the United Smart Cities Global Industry Advisory Board alongside companies like Siemens and Schneider Electric
About this Content