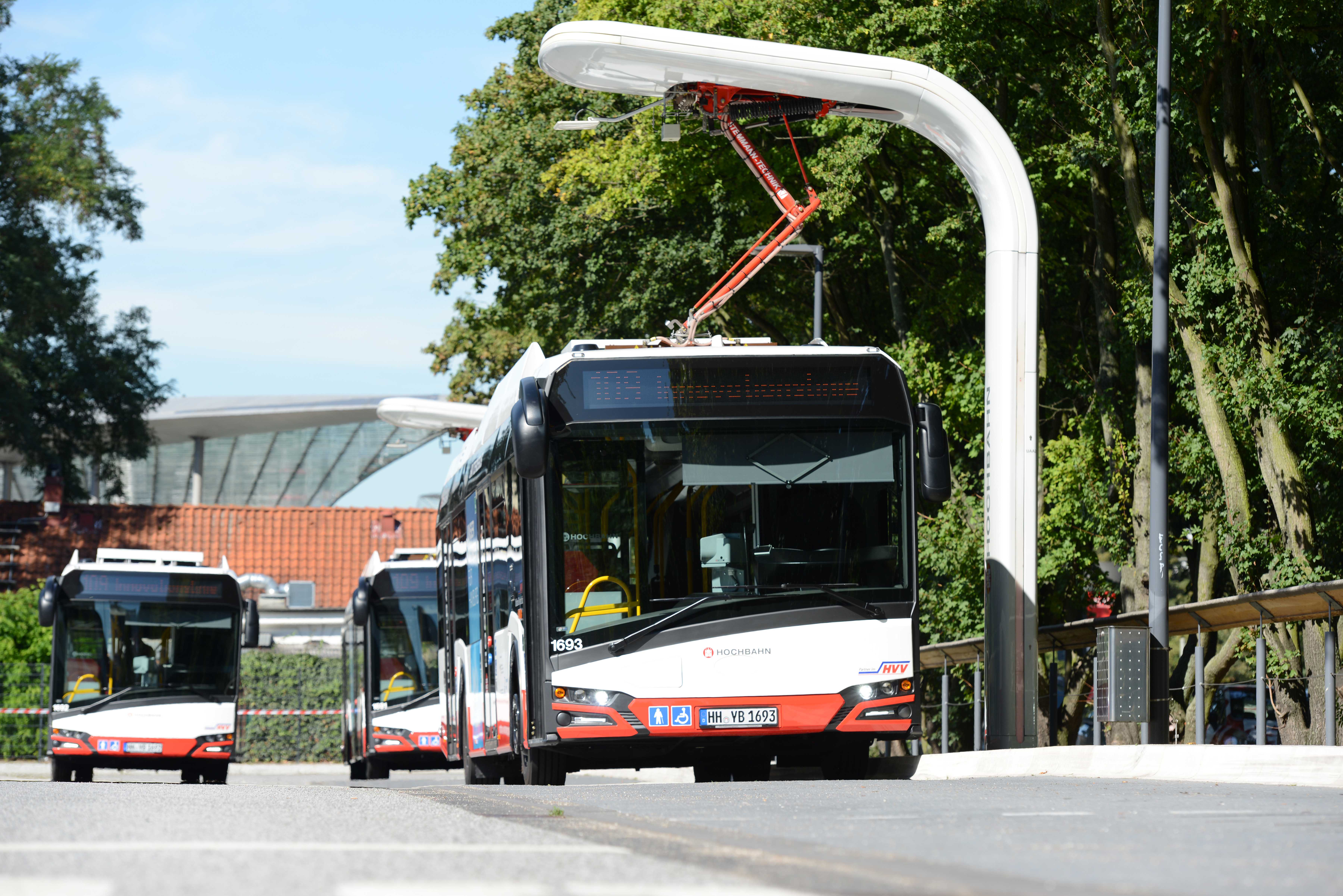 Hamburg has become the first city in the world to use the same charging stations to provide electricity to public e-buses produced by different manufacturers.
The German city's charging stations are produced by Siemens and have been used by Volvo's plug-in hybrid buses since 2014. For the first time last week, they were also used to discharge power to three new Solaris-built buses operating transport company Hamburger Hochbahn AG's 'innovation line 109' service, which runs between Hamburg's central bus station and the nearby suburb of Alsterdorf.
"Many cities are implementing electric bus systems," explained Sandra Gott-Karlbauer, CEO of Siemens Business Unit Urban Transport. "It's therefore essential that we ensure the interoperability of electric buses through charging stations and infrastructure that reduces the cost and impact of transport systems, and creates more flexibility and reliability for operators."
The two 300-kilowatt charging stations in Hamburg and Alsterdorf are capable of providing enough power for an e-bus to make the 9-kilometre journey between the two terminals for a full day, in approximately six minutes.
In addition to the charging stations, the interoperability of Hamburg's e-bus charging infrastructure is made possible through the installation of Siemens' on-board charging systems onto the buses themselves. The on-board charging systems use open international electrical standards IEC 61851 and ISO 15118 and can be fitted to any model of electric bus wanting to connect to the city's quick-charge stations.
Siemens' charging systems are fully automatic and are designed to be used by electric bus, electric bus rapid transit, and plug-in hybrid vehicles. The charging stations and on-board systems are usually supplied as turnkey solutions for municipal transport services and allow operators to select e-buses independently of the charging infrastructure installed in the city.
Having both the onboard equipment and charging infrastructure provided by one supplier not only makes interoperability possible, but optimally harmonises the systems.
In 2009, the City of Hamburg launched an initiative to encourage electric-powered mobility and by 2015 there were 140 public charging points and nine fast chargers in the municipality. The next phase of the initiative will expand the network to 592 charge points and 70 fast chargers.
About this Content