The successful management of urban mobility will ultimately determine how well cities of the future thrive to ensure the quality of life of their citizens.
The two European Union (EU) navigation programmes, EGNOS and Galileo, are helping to achieve this by using EU-owned infrastructure that gives citizens reliably robust positioning of the vehicles and goods on which they depend daily. These solutions, which draw on the principle of multimodality, also empower mobility providers and public authorities worldwide.
Mobility schemes are evolving faster than ever, mainly due to social, economic and technological changes. The democratisation of smart mobile devices is allowing for new business models based on sharing goods and services. This shift is coined in the phrase 'The Sharing Economy'.
Its growth in recent years reflects a shift from owning mostly material goods towards accessing them for short periods of most need. Shared mobility services are one instance of this form of ownership to have grown exponentially during the last few years.
While car sharing still dominates shared mobility, other services such as bike sharing and ride hailing are also gathering momentum. Services accessed through mobile apps that match demand and offer and aggregate different transport modes are increasingly commonplace in urban life.
These developments have created a second phrase that describes the potential for an integrated system to drive market innovation: Mobility as a Service (MaaS). MaaS is still in an early stage of development, though aims to bring a wide variety of transport services through a single front-end app service.
Cities such as Vienna, London and Paris use contactless public transport tickets that aggregate different offers to public transport users. Private start-up initiatives in others such as Helsinki or Gothenburg provide the complete MaaS package, while the European level MaaS Alliance works to foster the development of the concept.
This is without a doubt a market that is still immature and the alignment of interest among stakeholders remains uncertain. The services will operate in a cooperative environment, with ubiquitous communication between vehicles and road infrastructure. This interaction is the domain of Cooperative Intelligent Transport Systems which will allow road users and traffic managers to share information and use it to coordinate their actions. This cooperative element is expected to significantly improve road safety, traffic efficiency and comfort of driving, by helping the driver to take the right decisions and adapt to the traffic situation.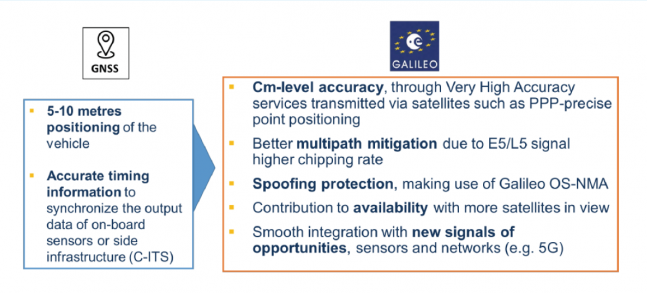 More stringent requirements for geo-location
Geo-location of users and vehicles by means of satellite navigation technologies (GNSS) has been widely used and it is a key enabler for most of the services. Indeed, smartphones are now widely used in mobility services for urban users (for example, with vehicle sharing) which require increased navigation performance the ability to broadcast vulnerable road user presence to vehicles in V2X communication. This raises the question whether the performance of satellite navigation technology should be similar to safety relevant applications.
However, satellite-based solutions based on only one single constellation, such as GPS-the US constellation, are not sufficiently reliable. These GNSS solutions lack of satellite visibility in certain areas of the city where most of these services are offered and are vulnerable to positioning errors, such as signal reflections.
On the other hand, the complementarity of GPS with Galileo will improve signal availability, enhancing continuity of service for shared mobility services in urban or challenging environments. By contributing to multi-constellation solutions, Galileo can satisfy the need for higher accuracy, availability and fast fix of the position.
In addition, the expected signal authentication feature of Galileo due by 2019 will leverage for secure and reliable location, by detecting interference attacks. EGNOS can meanwhile provide accuracy and contribute to the integrity of the positioning in the European region.
Demonstrating the benefits of Galileo for MaaS
The European Commission and the European GNSS Agency for satellite-based technologies are funding the project Galileo For Mobility from the Horizon 2020 programme. This aims to support the introduction of Galileo technology within the MaaS context. It includes the analysis of the needs of geo-location for the different stakeholders and demonstrates the benefits of Galileo through eight small-scale pilots involving a larger number of transport operators and public authorities, including the International Association of Public Transport (UITP).
UITP, the association of worldwide urban, suburban and regional passenger transport operators, their authorities and suppliers, is located in Brussels. It comprises more than 1,400 member companies, 18,000 contact members from 96 countries, and 14 liaison and regional offices, bringing together a forum of transport operators to exchange information and ideas. UITP enables innovation in specific topics related to all modes of transport like digitalisation, security and safety, combined mobility and Mobility as a Service or automated road transport.
Brought to you by:

About this Content