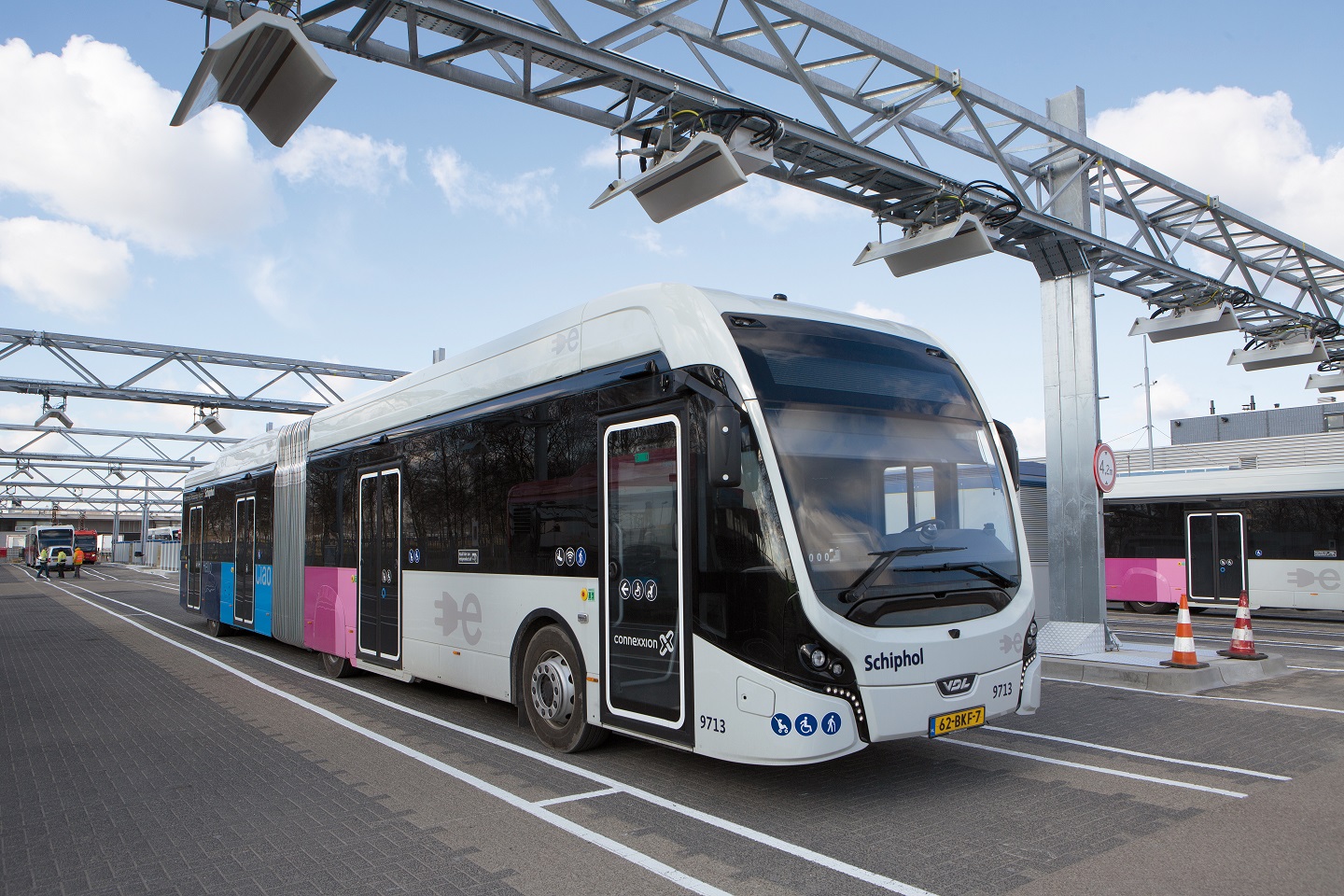 Photo: VDL-Citea-SLFA-Electric-Schipholnet
Electric buses fuel zero-emission transport at Amsterdam's Schiphol Airport
Electric buses are leading the way to making public transport at and around Schiphol Airport cleaner and quieter.
In April 2018, 100 electric articulated VDL Citeas buses were launched at Schiphol airport, Amsterdam, and on public transport lines in the Amstelland-Meerlanden region through a partnership between public transport company Connexxion, the Amsterdam Transport Region, Schiphol airport and VDL Bus & Coach.
The 100 electric buses are the first phase of a transition to a total of 258 zero-emission buses by the end of 2021. Besides being an airport, Schiphol is also one of the largest public transport hubs in the Netherlands. Every day, thousands of travellers, commuters and employees use a bus to and from Schiphol. The cooperation with Connexxion and the Amsterdam Transport Region is a major step towards their ambition of being CO2 neutral by 2040.
The 100 electric VDL buses travel 30,000 kilometres per day, and are in service on six lines, 24 hours a day, powered 100 percent by Dutch wind power. The operational availability of the electric buses has been maximised through an optimised rapid charging concept, and their batteries have an energy capacity of 169 kWh and can be charged with up to 420 kW power. A fully discharged battery is recharged and ready for the next trip in 20 minutes or less, keeping charging downtime to a minimum.
Future ready
Bart Schmeink, CEO of Transdev Netherlands, the parent company of Connexxion, said: "I am extremely proud of this huge accomplishment. Achieving this would not have been possible without the excellent collaboration with Amsterdam Transport Region, the municipality of Amsterdam, Schiphol and VDL. With this concession and this fleet, the municipality of Amsterdam is ready for the future." (April 2018)
VDL Bus & Coach also played an important role in the project management involved in the implementation of the electric bus fleet. Connexxion and VDL have cooperated closely since the contract was awarded, looking beyond just the practical implementation to consider where the best opportunities for infrastructure development could be found. VDL Bus & Coach has overall responsibility for the fleet, and in a complex project of this type, close collaboration between various parties is an absolute prerequisite for successful implementation.
With the deployment of these 100 zero-emission buses, the public transport at and around Schiphol is now more environmentally friendly, and the buses emit no harmful substances and make considerably less noise than regular buses.
The Amstelland-Meerlanden concession is set to run until December 2027.
Brought to you by: