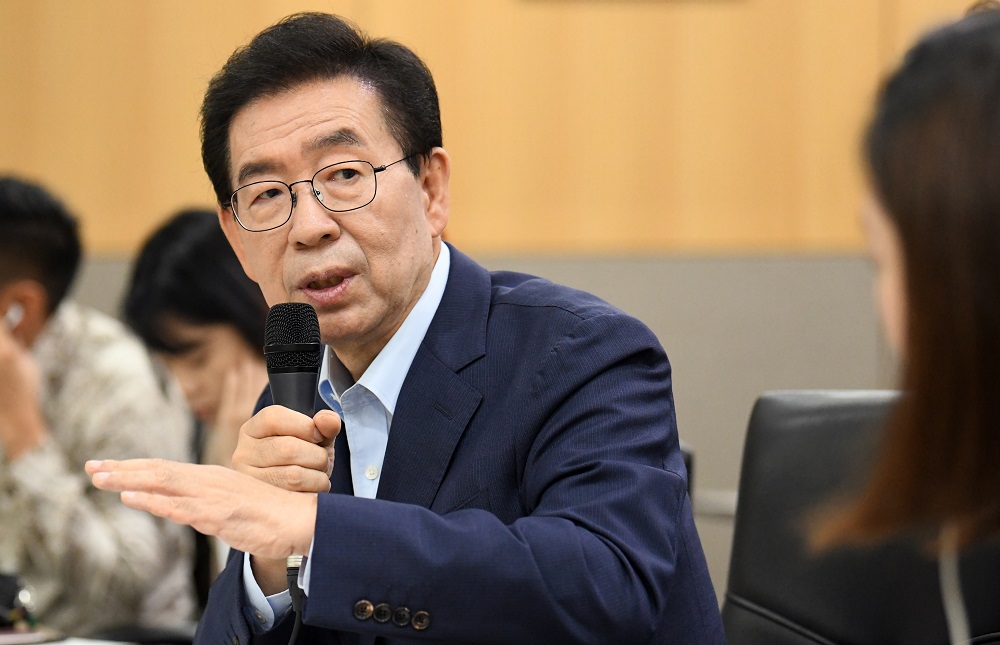 Park Won-soon, Mayor of Seoul, has said that transparency and speed have been two key factors that helped the city, and South Korea, "bend the curve" against coronavirus infections through pre-emptive countermeasures.
In an open letter, the mayor reflected on and shared the city's actions to contain the virus which has kept COVID-19 infections to 361 cases without any fatalities.
"What many global news media highlighted was Korea's open democracy and mature citizenship respecting the community spirit," he said. "They also complimented Korean citizens for their voluntary participation in the two-week social distancing campaign… and citizens' strong personal hygiene has contributed to effective quarantine efforts."
South Korea was one of the first countries to face an outbreak of COVID-19 after China. According to Johns Hopkins University the country, to date, has recorded 9,241 cases of the virus but only 131 deaths.
Park attributes this low infection and death rate to early actions the city and country took. The Seoul Metropolitan Government began operating the 24-hour Disaster and Safety Countermeasures Headquarters from the early stages of the outbreak in mid-February.
It was able to implement preemptive countermeasures and shared information including COVID-19 confirmed case status, confirmed patients' movement history and screening clinic information through a website and via emergency text alerts.
The emergency text alerts have raised privacy concerns however, as many included embarrassing revelations about infected people's private lives, fuelling social stigma and even accusations of extra-marital affairs.
Other efforts were made to communicate with foreign residents in different languages including the translation of screening clinic information, COVID-19 infectious status and disease prevention guidelines. This extended to operating shuttle buses for foreign students from the airport who had arrived from a country with confirmed cases and offering temporary accommodation to international students who showed symptoms.
"Rapid containment of COVID-19 is the key to all problems at hand such as the economic situation and livelihood of citizens," he said. "The Seoul Metropolitan Government will maintain its function as a city and take preemptive administrative measures to contain the disease with the voluntary cooperation of citizens."
The South Korean and Seoul governments will share their best practices with the international community and "are committed to supporting the international community in overcoming this pandemic."
Other efforts taken:
Temperature checks at all immigration ports of entry

Providing drive-through screening stations for quick testing

Testing 15,000 samples daily.
*If you are a CIO, mobility head, or sustainable/resilience officer of a city and would like to contribute and share your experiences with your peers regarding the coronavirus pandemic, please email: editorial@cities-today.com to speak with one of the Cities Today team