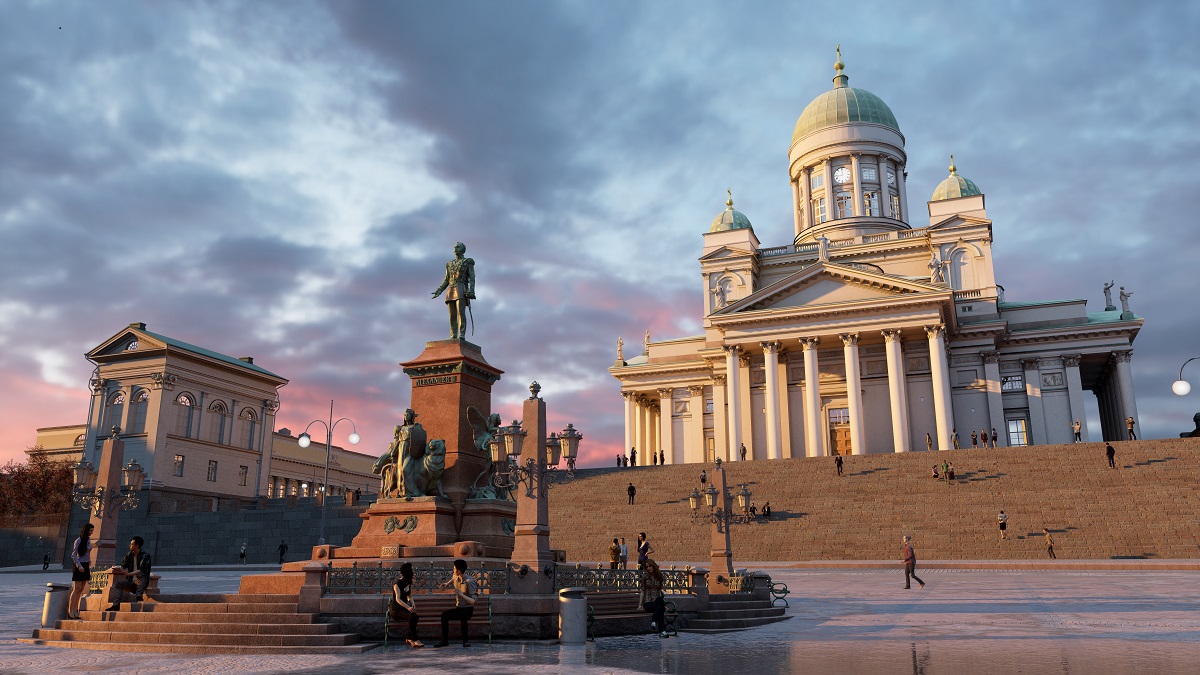 The Finnish capital of Helsinki is expanding the use of its virtual twin, Virtual Helsinki, to deliver online events and remote experiences as the Coronavirus (COVID-19) lockdown continues.
"The world will be a very different place post-COVID-19 and cities need to be innovative when it comes to creating new ways to provide experiences," said Jan Vapaavuori, Mayor of Helsinki. "Helsinki wants to be the city that pioneers this digital innovation to create solutions. Virtual Helsinki demonstrates the opportunities for this kind of technology to change how we experience cities and destinations in the future."
For this year's annual May Day celebration on 30 April, Helsinki is inviting citizens to attend an online concert by one of Finland's most popular bands, JVG, who will perform live from a studio using green-screen technology, appearing as if they are in Senate Square in the centre of Helsinki.
The city says this is the most ambitious use of its Virtual Helsinki platform to date.
Gaming-inspired
Inspired by virtual gigs which have taken place on the gaming platform Fortnite, the event will be powered by the Virtual Helsinki platform and developer Zoan's Burst Live technology. Citizens will be able to tune in with a smartphone or computer (virtual reality headsets are not required), choose an avatar, and watch and interact with the band using gestures, applause and emojis that the performers will see in real-time. The more audience members interact, the closer their avatars will be able to get to the band.
The event will kick off with the traditional crowning of the Manta statue – also via virtual reality (VR).
Mayor Vapaavuori commented: "May Day is one of the largest public holidays of the calendar year, normally bringing together many of Helsinki's 650,000 residents to celebrate. This year will be a very different May Day as we are forced to celebrate apart. However, even though we won't be physically together, we can still enjoy May Day as a community, together in spirit."
VR tourism
The city is developing the Virtual Helsinki platform to host other events related to art, music, business and international conferences to demonstrate "the possibility of VR for citizen and visitor experience, and how [it could] bolster a city's resilience to global issues like the COVID-19 pandemic."
The Virtual Helsinki initiative has also been used to recreate experiences of the city's most famous landmarks through VR, which the city sees as important to its goal of promoting sustainable tourism and becoming carbon-neutral by 2035.
"While VR and 360-degree videos are used as a marketing tool by many destinations, Virtual Helsinki goes a step further, allowing visitors to move about freely in the digital simulation of Helsinki to explore at their own pace and create their own experiences in past, present and future time," a statement from the city said.
Virtual Helsinki is a key part of Helsinki's digital strategy, which aims for the city to become "the virtual capital of the world". The platform was developed over two years through a partnership with Helsinki-based studio Zoan. The tool was built using 3D modelling from open data provided by the city, which Zoan merged with drawings, hand-crafted modelling and imagery. Zoan used Unreal Engine software, which has also been used to create the Fortnite game.