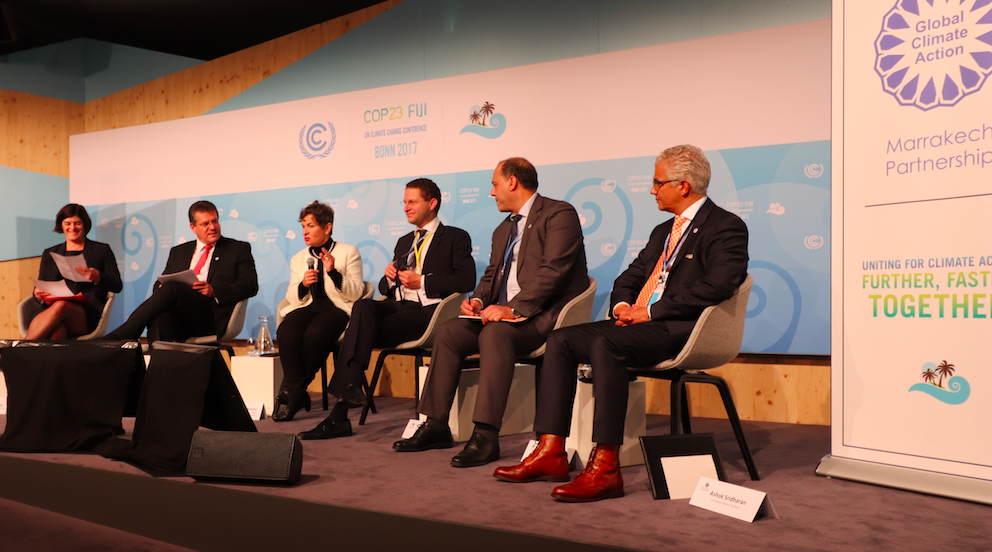 A new global standard for reporting cities' greenhouse gas emissions inventories has been announced by the Global Covenant of Mayors for Climate and Energy during the Climate Summit of Local and Regional Leaders at COP23, which took place on November 12 in Bonn, Germany.
The reporting framework is a harmonised protocol for local-scale greenhouse gas reporting and will allow cities to track their contributions and impacts in a transparent and quantifiable way. It will be designed to be consistent with national government reporting requirements and the UNFCCC, and adjustable to local circumstances.
"When the IPCC put out their methodology it was nationally based and was not specific to city requirements," said Christiana Figueres, Vice-Chair of the Global Covenant of Mayors for Climate & Energy, during a press conference. "This global standard will allow us to aggregate and allow us to go into detail. We will be able to ground truth by the data that is reported every year by national governments."
A period of consultation with cities and local stakeholders will begin in early 2018 to refine the standard and ensure it effectively supports local efforts to take action on climate change. It will include key areas that most cities are responsible for such as mobility, buildings and stationary energy, waste, and energy generation. The first group of cities will begin reporting in January 2019.
"Having a standardised methodology will be extremely helpful in terms of transparency, effectiveness and being a tool for local governments to have better access to finance for climate change action," said Mauricio Rodas, Mayor of Quito and Board Member of the Global Covenant of Mayors for Climate & Energy.
Rodas explained that his city has started measuring emissions and found that 56 percent of emissions come from the mobility system and that is the main reason why the city is building its first metro line, and cable car line and integrating these with five BRT corridors.
"This is why by 2020 we want our historic centre to be a clean public transport area. We want to then replicate this and scale it up to cities across Latin America," he said. "We are doing this through the Global Covenant of Mayors platform. To start action on climate change you have to start with symbolic and emotional areas of a city."
As a backdrop, a report on member cities' collective potential was released–the first such report since the merging of the Compact of Mayors and the EU Covenant of Mayors in 2016. It reveals that the overall potential of the 7,494 commitments made by Global Covenant of Mayors cities is equivalent to reducing nearly 1.3 billion tonnes of CO2e emissions per year by 2030. Together, cities committed to the Global Covenant of Mayors have the potential to achieve a cumulative reduction of 46 Gt of CO2e by 2050, reaching a global average of 2.19 tonnes per capita.