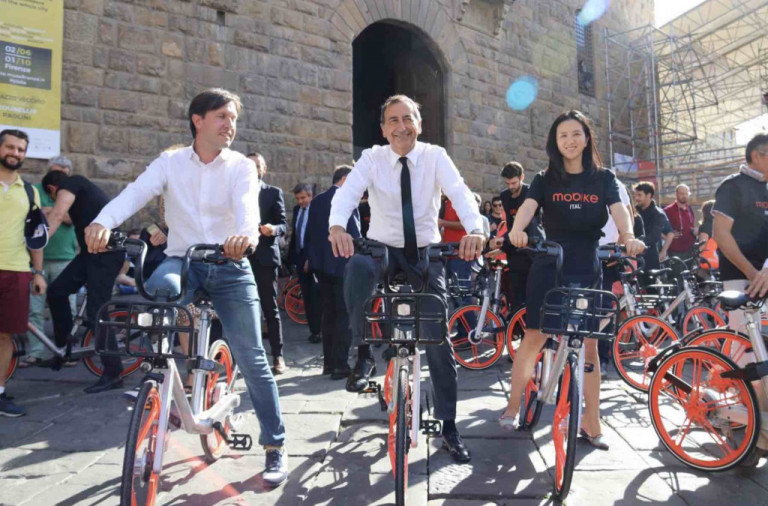 Milan and Florence have joined forces with bike-sharing company, Mobike, to launch 'free floating' bike-sharing schemes in each city.
Locals will be able to pick up and ride a bike around the city at any time by downloading the app, finding a nearby bike and scanning a QR code. To complete their ride, users can park the bike at any authorised bike parking area near their destination and manually close the lock on the bike.
"We first introduced the traditional bike-sharing system, with docking stations, into the city in 2008," Valentino Sevino, Director, Agency for Mobility Environment and Territory, Milan, told Cities Today. "This service has made bicycles a real transport option in Milan, especially during the working day to run the last mile to and from work. We already have 4,650 bikes in the city, with 20,000 rentals daily, and this new dockless scheme will just add to this and get even more people cycling."
The bicycles will be placed in strategic locations across each city to help alleviate traffic and encourage the use of different modes of transport.
During the initial trial operation phase, several hundred of the bikes were launched in selected high-demand areas with a promotional rate of €0.30 per 30 minutes, for users to experience the service, and for Mobike to collect feedback. Formal services were then provided to all of Florence and Milan in August with the plan to introduce around 4,000 bikes in each city.
"Before the launch of the bike-sharing service, bicycles were mainly used for leisure," added Sevino. "Now the bicycle is a real public transport option, helping our citizens discover the advantages of multimodality. We are confident that the bike-sharing system in Milan will develop more thanks to the free floating system. We are sure that both options (docking stations and dockless) will operate in synergy with the other sharing systems."
Every bike is equipped with smart-lock technology and built-in GPS connected via the the company's IoT network, which helps locate and monitor the health of each bike to ensure a constant supply. It identifies location-based demands for bikes in real-time.
Additionally, the data it generates can provide urban transport insights for cities and local communities, to manage location-based bike demand and inform infrastructure planning.