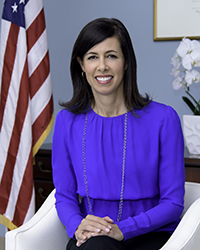 The Federal Communications Commission's Jessica Rosenworcel has announced a new taskforce dedicated to implementing "long overdue" improvements to the agency's broadband data and mapping tools.
"The Broadband Data Task Force will lead a cross-agency effort to collect detailed data and develop more precise maps about broadband availability," said Rosenworcel, who was appointed as FCC Acting Chairwoman last month. She named Jean Kiddoo, who also leads the agency's Incentive Auction Task Force, as Chair of the initiative.
The taskforce will coordinate the Commission's broadband mapping and data collection efforts across agency teams, including the Office of Economics and Analytics, Wireless Telecommunications Bureau, Wireline Competition Bureau, Consumer and Governmental Affairs Bureau, International Bureau, Office of Engineering and Technology, and Office of the Managing Director.
Plugging gaps
The FCC has faced accusations over recent years that its data has overstated broadband availability in the United States. One key criticism is that if a Census block has a single household with Internet service, the entire block is counted as covered.
As people have been forced to work and study at home during the Covid-19 pandemic, the digital divide has shot to the top of cities' priority lists. Some have undertaken their own measures to get an accurate picture of connectivity in their communities, from exploring the use of data modelling and AI to putting GPS tools on rubbish trucks.
In March, Congress passed a bill to improve the accuracy of the FCC's broadband availability maps through strengthening the process by which broadband data is collected. Funding of US$98 million was approved for the effort in December alongside money for other broadband affordability and accessibility programmes.
The FCC will use a new process called the Digital Opportunity Data Collection (DODC) to create more granular, precise maps on the availability of fixed and mobile broadband service. This will take place twice a year but has not yet started.
New rules specify which service providers must report availability and/or coverage data and include requirements for reporting speed and latency for fixed technologies.