MIT Digital Transformation, Value Creation, and Breakthrough Innovation
When:
26th July 2021 – 28th July 2021
all-day
2021-07-26T00:00:00-04:00
2021-07-29T00:00:00-04:00
Where:
Live Virtual - Short Course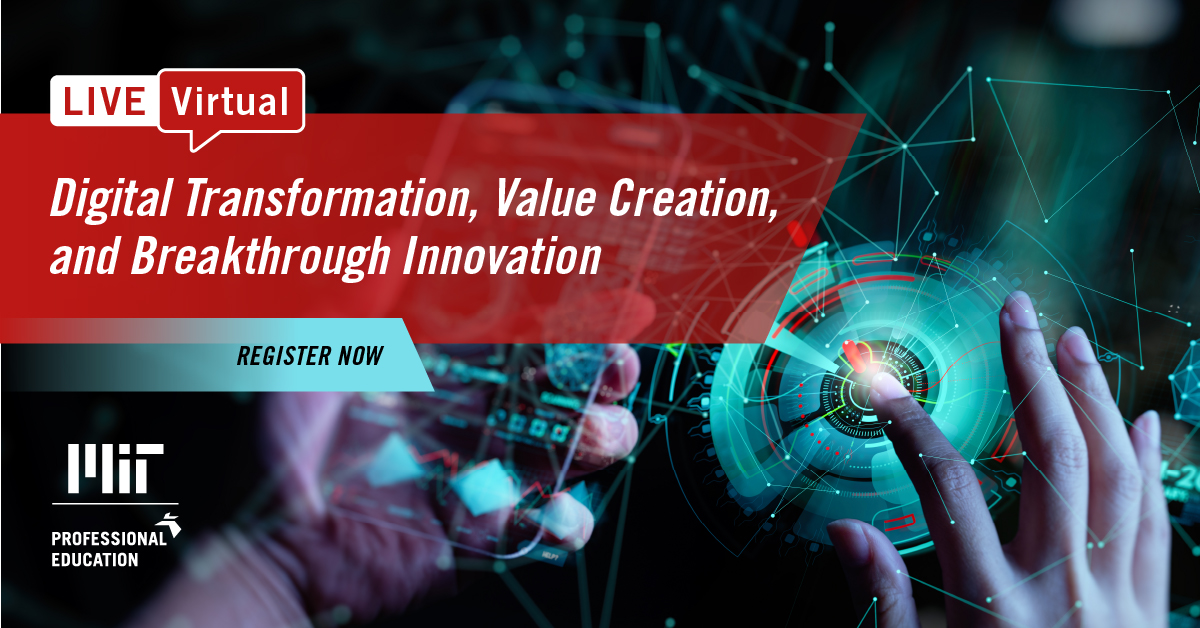 Harness the latest digital technologies—from the Internet of Things to artificial intelligence—to create new customer experiences, compelling products and services, and dynamic business ecosystems. In this course, MIT Senior Lecturers Michael Davies and Blade Kotelly will provide participants with two key lenses: insight into what is currently happening and foresight to anticipate how things will change. Through an innovation-centric process, you'll discover how to develop breakthrough innovations, gain valuable insights into consumers' needs, and influence key stakeholders. in related topics, including:
Understand and manage the complex network of stakeholders involved in any project
Conceive new user experiences in areas where there is no prior solution to leverage
Overcome organizational obstacles and gain the traction to drive implementation
Build a business that fosters mutually beneficial partnerships to create robust ecosystems, develop new products, and enhance the user experience
Apply advanced Design-Thinking techniques to create breakthrough innovations
Participants in this MIT short course will walk away with a clear understanding of innovation and a plan for implementing digital technologies to drive their own transformation. These technologies are transforming the economic landscape, so being able to innovate effectively is vital not just to survive, but to thrive.
Learn more: https://bit.ly/2TVla8p