Designing Tomorrow's Cities (MIT Professional Education)
When:
26th July 2021 – 28th July 2021
all-day
2021-07-26T00:00:00-04:00
2021-07-29T00:00:00-04:00
Where:
Live Virtual - Short Course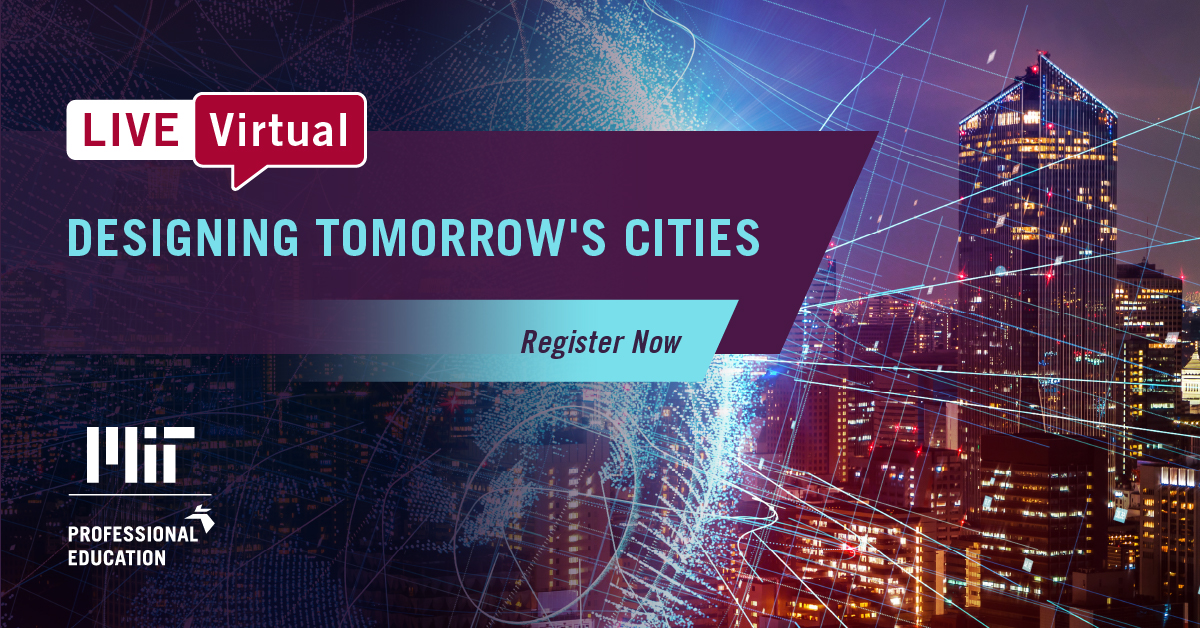 In this innovative smart cities program by world-renowned architect and MIT Professor Carlo Ratti and his colleagues at the Senseable City Lab, you will learn how to design digital-based solutions and experiences for future cities and human environments. You will explore how urban centers enable digital transformation during this three-day live virtual short course, using numerous technologies from robotics to the Internet of Things (IoT) to artificial intelligence (AI). In addition, you will learn design thinking principles applicable to prototyping of new experiences using digital technologies at both human and urban scale in related topics, including:
How to design integrations of sensor and actuators architectures learn the fundamentals of IoT & AI to develop data-driven applications.
How big data analytics can be of use to decode the behavior of large-scale systems and urban dynamics.
Obtain a primer on big data visualisations and communication principles for both scientific and general consumption purposes.
 Get to know "senseable cities"
According to Professor Ratti, in the midst of rapid urbanisation, the concept of "senseable cities" that utilise technology to better respond to people is emerging. "As a result, many aspects of urban life are being rapidly transformed: From energy to waste management, from mobility to water distribution, from city planning to citizen engagement," explains Professor Ratti.
In Designing Tomorrow's Cities, you'll explore how these transformations are being made in cities worldwide and how you can join the senseable cities revolution. With Professor Ratti's expert guidance, you'll feel more prepared than ever before to help improve people's lives.
The future of metropolitan living starts here. Register today. https://bit.ly/3zQDKyR