When:
18th October 2019 – 23rd October 2019
all-day
2019-10-18T00:00:00+02:00
2019-10-24T00:00:00+02:00
Where:
Brussels Expo
Belgiëplein 1
1020 Brussel
Belgium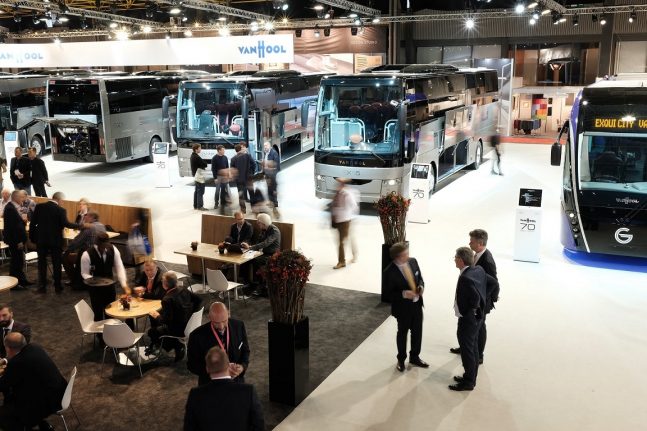 The biggest bus and coach-only exhibition in the world celebrates its 25th edition
Busworld Europe (Brussels), the biggest B2B bus and coach exhibition in the world, was organised for the first time in 1971. From the start, it has always been an exhibition dedicated to buses and coaches alone: no other commercial vehicles (like trucks, vans,…) or other modes of public transport (like tram, train, metro…) are allowed.
Vehicle manufacturers, body builders, component manufacturers and accessorists show their latest products and services during 6 days, from Friday 18 October to Wednesday 23 October 2019 in Brussels Expo in Belgium.
International audience
In 2017, Busworld Europe welcomed 376 exhibitors, coming from 33 countries. They were visited by more than 37,000 visitors, coming from 118 countries. Busworld is the ideal bi-annual international networking platform for all professionals in the industry. And on top of that: it's fun.
2019, the relocation to Brussels
Due to the continuous growth of the Busworld show, it was decided to move to a bigger exhibition centre: Brussels Expo. The surface of the show grows in 2019 with almost 50% from 40,000 sqm to 58,000 sqm net.
Brussels, the capital of Europe, has a lot of advantages for an international bus and coach festival. It will fully meet the requirements of all exhibitors and visitors of Busworld Europe. Busworld offers its exhibitors and visitors free public transport within Brussels during the show.
The Busworld team is also relocating the typical 'Kortrijk atmosphere' to Brussels. Since the people and the vision of Busworld remain identical, the atmosphere will follow too. The show will stay the same, only bigger and easier to reach with more hotels in the surroundings.
The 25th edition in Belgium and 1st edition in Brussels looks more than promising. Tickets are available on the website www.busworldeurope.org. The complete exhibitor list can be consulted on that same website.