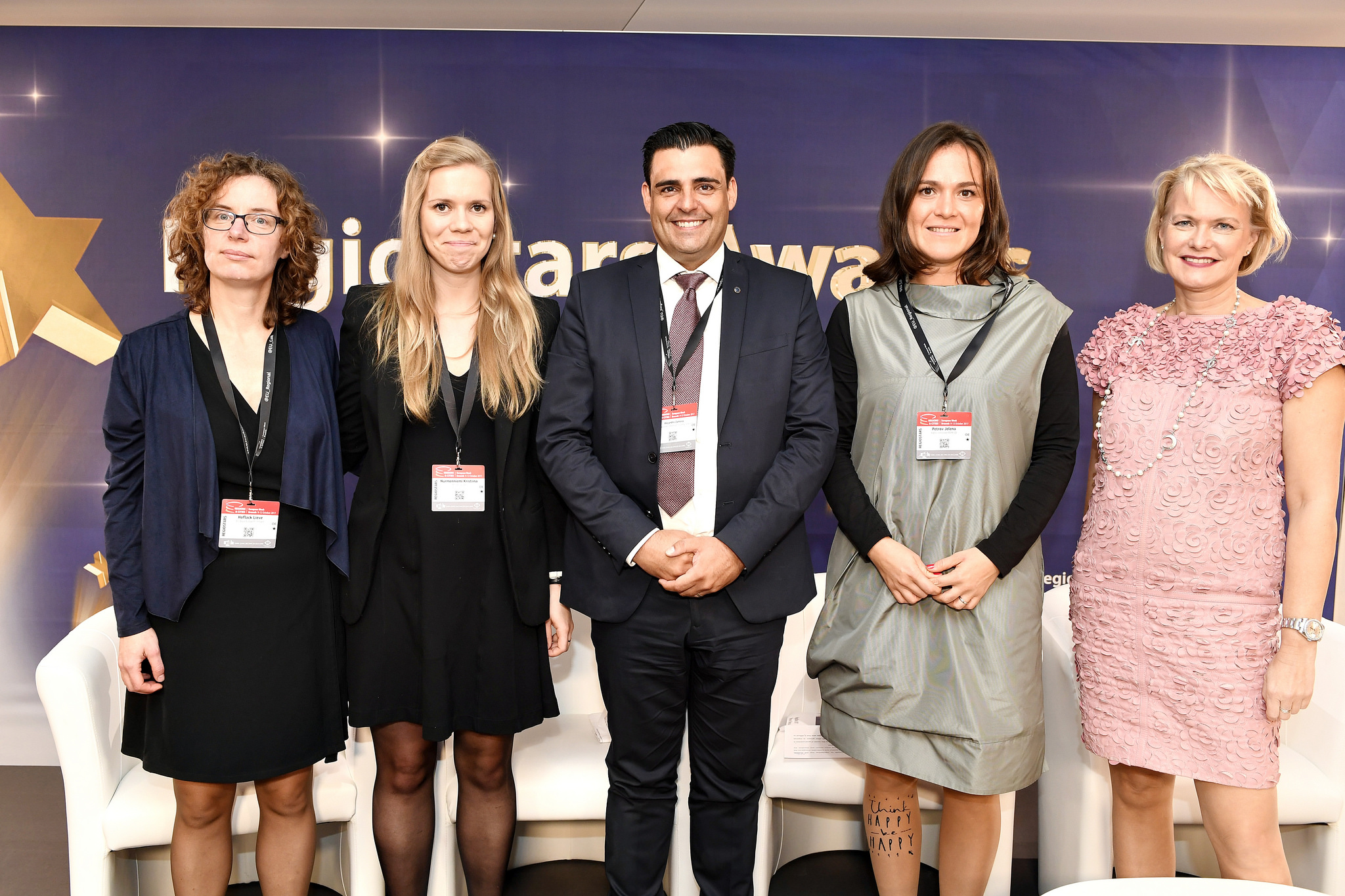 The European Commission has announced the winners of the RegioStars Awards 2017 at a ceremony that took place in Brussels as part of the European Week of Regions and Cities. The annual EU-wide competition puts the spotlight on the most innovative EU funded projects and illustrates, through real-life examples, how Cohesion Policy supports people's lives through the creation of economic growth and jobs at a regional level.
"This is a great moment to showcase projects that really meet the targets set by the European Union, to be innovative, engage people, bring together partners and contribute to an inclusive society that grows," said Lambert van Nistelrooij, Member of the European Parliament and RegioStars Jury President. "It is vital to inspire others by highlighting our best projects and their results, and is something that we could be doing better."
Out of 103 applications, 24 finalists were first shortlisted an independent expert jury, before selecting five winning projects to receive the RegioStars trophy. This year, the submitted projects competed in five categories: Smart Specialisation for SME innovation, Energy Union: climate change, Women empowerment and active participation, Education and Training, and CityStars: cities in digital transition.
The winners:
Bio Base North West Europe
The Bio Base NWE project supported the increased commercialisation of innovation to make North West Europe a leading player in the emerging bio-economy by replacing non-renewable resources. This was possible with the cooperation of partners from regions in Belgium, Germany, Ireland, Netherlands, and the United Kingdom.
In a bio-based economy, biomass replaces non-renewable resources used for fuel, energy and materials that go into manufactured goods. Moving away from fossil fuels is a huge opportunity for sustainable green growth based on innovation, but it takes a concerted, long-term investment to achieve.
"The project acted as a change agent, providing financial, technological, training, networking and political support, especially to SMEs active in the sector," said Lieve Hoflack, Project Manager at Bio Base Europe Pilot Plant. "The main support was giving access to a scale-up facility, the Bio Base Europe Pilot Plant. The project sends a clear message to European innovators that a shared state-of-the-art pilot facility, in combination with an easily accessible voucher system, empowers SMEs to turn research into investments and jobs."
InnoHiili – Innovative Low-Carbon Public Services
The city of Ii in Finland cut its CO2 emissions by half between 2007-15, the fastest rate in the country. The InnoHiili project is helping the city reach the Finnish Environment Institute's target of an 80 percent emissions cut by 2030. But Ii plans to do it 10 years faster thanks to cooperation with all citizens.
An emphasis was put on finding energy-efficient and eco-friendly solutions to the problems facing the citizens. Traffic contributes to about 40 percent of all the CO2 emissions in Ii, compared to an average of 28 percent in Finland. Following on from an electronic survey, to which almost 500 people responded, the decision was made to build the first cycle path proposed by the citizens.
"We involve citizens in service design because ordinary people's activities are responsible for 68 percent of greenhouse gas emissions," said Kristiina Nurmenniemi, Project Manager, Micropolis Ltd. "We do it through co-design and co-production, which means listening to people, digging below the surface and observing how the perceive a good life."
Empowering victims of gender-based violence in Murcia
A network of centres in Murcia, Spain has been set up to support female victims of gender-based violence and provide training to improve their chances of getting a job. The project aims to improve coordination and ensure more personalised support and a single point of contact.
Around 3,356 women in Murcia have so far attended the Regional Network of Gender-Based Violence Intervention Centres and Murcia's courts issued 1,761 protection orders in 2016.
"The women receive the necessary support and counselling when they enter the centres and are encouraged to seek economic independence from their partner by getting a job," said Alejandro Zamora López-Fuensalida, Director General, Murcia's Regional Service for Employment and Training. "Each woman is given a plan tailored to her specific circumstances in order to identify the approaches that best suit her individual needs. Over 50 percent of the participants have already found jobs, and around 223 women are receiving training each year."
EkoBiz – Promotion of Youth Entrepreneurship in the Organic Agriculture Sector
The EkoBiz project in the largely rural Split-Dalmatia region of Croatia is showing young people that they do not have to move to the city to enjoy a bright future. The initiative is aiming to attract more young people to organic entrepreneurship by raising awareness of the local opportunities in the industry. It is providing concrete training and business support to young organic entrepreneurs, and promoting the consumption of organic produce in the local community.
EkoBiz has also encouraged 10 schools and 10 nurseries to develop small-scale projects related to organic farming and agriculture.
"Although the Split-Dalmatia region offers a number of growth opportunities for Croatia's organic farming sector, it has one of the highest rural youth unemployment rates in the country," said Jelena Petrov, Senior Advisor, the Public Institution for the Development and Coordination of Split-Dalmatia County. "This initiative has exceeded its expectations to train 25 young people in organic farming practices, with more than 70 people ending up taking the training and helped to develop viable business plans."
Smart Service Power
The Smart Service Power project has developed an Internet of Things platform–mainly accessible via natural language assistance software–for use with internet-connected sensor technologies to help the elderly live independently at home for as long as possible, and take the pressure off hard-pressed care workers and health providers.
The platform can remotely monitor a person's condition in real time, predict any deterioration in their health, detect a medical emergency, and alert healthcare emergency services if help is needed. The technology assures users that medical help will be provided when they need it.
"The project team believes that the 'smartification' of a person's home through internet-connected technologies has the potential to fill some of the gaps due to the shortage of nursing staff, support the desire of many elderly people to stay at home longer, alleviate relatives' concerns about their parents' care, and cut costs for municipalities and healthcare services," said Bettina Horster, Director of Business Development, VIVAI Software AG.