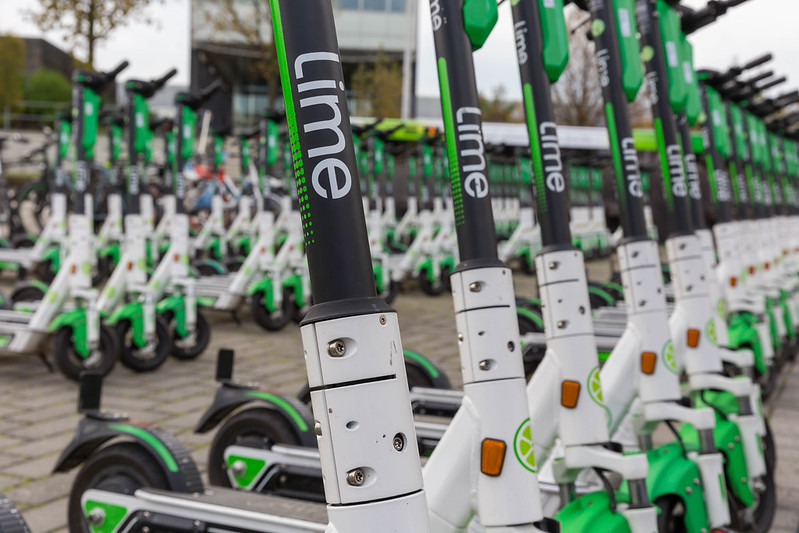 Photo: Marco Verch (Flickr)
E-scooters set to hit London streets
18 May 2021
by Christopher Carey
London's much-anticipated e-scooter trial is set to launch next month with three operators – Dott, Lime and TIER – selected to take part.
Transport for London (TfL) has confirmed that the 12-month trial will start on June 7, as part of the UK government's e-scooter rental trial scheme.
Riders will need a full or provisional car, motorcycle or moped licence to rent the micromobility devices and while wearing a helmet is recommended, it is not mandatory.
"We're doing all we can to support London's safe and sustainable recovery from the coronavirus pandemic and it's clear that e-scooters could act as an innovative, greener alternative to car trips," said Helen Sharp, TfL's e-scooter trial lead.
"Safety remains our number one priority and we will work closely with the e-scooter operators, London Councils and the boroughs to ensure rigorous standards are consistently met.
"This new trial will provide the data and insights we need to determine the longer-term role e-scooters could play in our strategy for a greener and healthier future for London."
The trial will initially operate in Canary Wharf and five boroughs – Ealing, Hammersmith and Fulham, Kensington and Chelsea, Richmond upon Thames and the City of London. Geofencing technology will be used to keep the devices within these areas.
Between 60 and 150  e-scooters will be available to rent in each area initially, with users able to move freely between neighbouring boroughs.
Riders will also be able to ride through, but not rent or park the devices in the Tower Hamlets borough.
Safety first
TfL has emphasised that safety will be at the core of the trial, and data shared by the operators will play a vital role in helping to shape future policy on e-scooters, including whether they will form part of  London's sustainable recovery from the coronavirus pandemic.
The safety standards set for the trial go further than those at the national level, by requiring: a lower maximum speed of 12.5mph (compared to 15.5mph nationally); lights at the front and the rear of the vehicles that are always on throughout any rental; and audible warning systems that can be used without adjusting the rider's grip of the handlebar.
Operators will also require riders to take an e-learning safety course before they hire for the first time.
Rob Whitehead, Director of Strategic Projects at think-tank Centre for London, said: "London has been slow to adopt e-scooters compared to elsewhere in the UK and around the world, so we're pleased that Transport for London is finally pushing forward with a 12-month trial of rental e-scooters from June.
"The next step must be for the government to work with local authorities and transport agencies to legalise privately owned e-scooters so they are used safely and appropriately, and develop a roadmap which encourages the use of lower carbon, small vehicles in London."
The use of privately owned e-scooters on public roads remains illegal in the UK, as does riding any e-scooter, rental or private, on pavements.
In London and other UK cities, the illegal use of private e-scooters on roads and pavements is widespread, however, and enforcement of the rules remains sporadic.
Image: Marco Verch (Flickr)