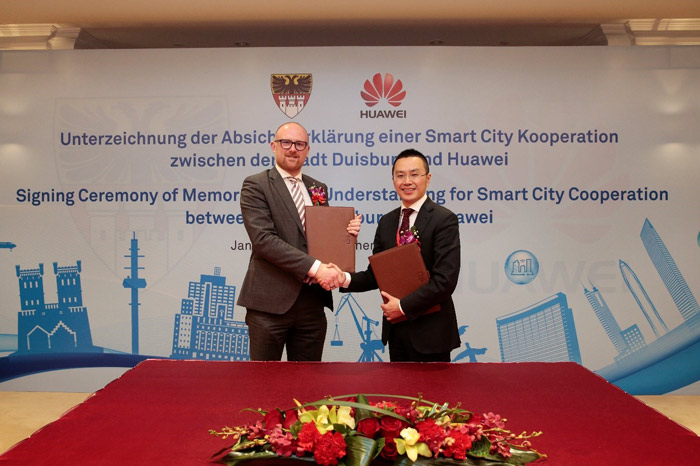 Duisburg, Germany has signed a memorandum of understanding (MoU) with Huawei to work together on smart city development. The MoU provides a framework for further discussion in which the two partners will commit to the city's priorities of expanding the Wi-Fi network, enhancing traffic management, and improving e-government cloud solutions for the city's services to the general public.
"Our goal is to make our city even more attractive for residents, business and investors alike," Sören Link, Mayor of Duisburg, told Cities Today. "For me, citizen participation is a key aspect and a firm fixture in our plans."
Link added that the overall level of investment by the city has not yet been set and will depend on the projects to be realised. These include expanding the city's Wi-Fi network to include the city zoo and public transport. In education, the focus will be on the 'intelligent classroom', with Wi-Fi and broadband connections for Duisburg schools.
Other plans under discussion range from intelligent street lamps, supply networks and traffic management, to cloud-based e-government solutions to make city services easier to access. To achieve this, Huawei will offer solutions such as 5G LTE technology and wireless broadband networks, which are required for autonomous driving, smart logistics and Industry 4.0.
For its part, the city will define a governance model to identify and access a project roadmap which is aligned with the local requirements of citizens, businesses, government and organisations.
Huawei also announced plans for a Joint Innovation Center for Smart City development in Duisburg, with the city to benefit directly from innovations developed at the centre.
"We believe it is a huge investment, to create a smart city ecosystem for Duisburg," a Huawei spokesperson told Cities Today. "Our expectation is to attract and invite other partners to invest and work together on the challenges we'll try to solve for the city, citizens and local business. Based on this, we are thinking of creating a place to work, and a place to inform citizens, potential partners and cities about the progress and the solutions."
The spokesperson added that Huawei has identified potential "quick-win solutions" which they are now starting to assess.