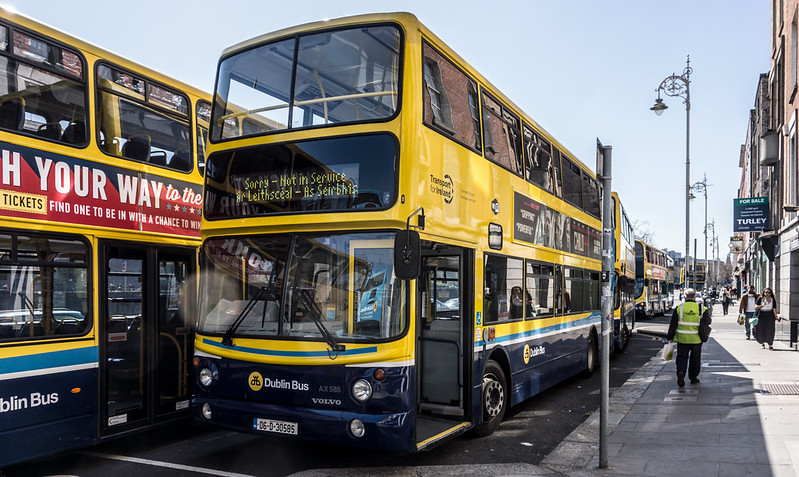 Ireland's National Transport Authority (NTA) has drawn up a revised overhaul of Dublin's bus network after it received a record 50,000 submissions following a public consultation on proposed changes, with residents in many areas complaining about a loss of direct bus services to the city centre and the impact on elderly and disabled passengers.
The initial scheme would have seen up to 15 percent of users lose their direct routes to the city–this has now been reduced to 5 percent. The updated BusConnects plan will now increase total services provided by 22 percent, according to the authority.
Speaking on the sidelines of the City Leadership Forum in Vienna, Brendan O'Brien, Head of Technical Services at Dublin City Council said: "Buses are our main workhorse as we don't have an underground at the moment–but they were getting slower.
"We needed to look at ways to improve the [bus] corridors to guarantee headways and journey times at peak hours."
Produced by the NTA, Dublin Bus and US-based transport consultant Jarrett Walker and Associates, the plan is a key component of the Transport Strategy for the Greater Dublin Area 2016-2035, which also includes the creation of 200 kilometres of segregated cycle lanes, along with an airport metro service.
The metro plan was first mooted in 2005, but shelved in 2010 due to budgetary constraints arising from the global financial crisis.
"Its actually an even better project now, there's a lot more interconnection with heavy rail," O'Brien added.
Other options aimed at revamping transit in the capital–including proposals to allow electric cars in bus lanes–are also being considered by the government, with the country's Prime Minister Leo Varadkar saying it was "definitely the kind of thing we're looking at."
Richard Bruton, Minister for Climate Action and the Environment, had a more cautious approach however, saying: "I think there are obviously constraints, in that the ambition of BusConnects is to dramatically shorten the journey time for people, and to use these very dedicated spines where motorists will be kept right out.
"It will have to be considered, but there are constraints on a proposal like that. You can see the obvious attractions in the short term but there would be constraints for public transport."
The government has set a target to have almost 1 million electric vehicles on Irish roads by 2030, in an effort to reduce Ireland's vehicle emissions.
As of 2018 however, there were only 4,825 electric cars in Ireland.