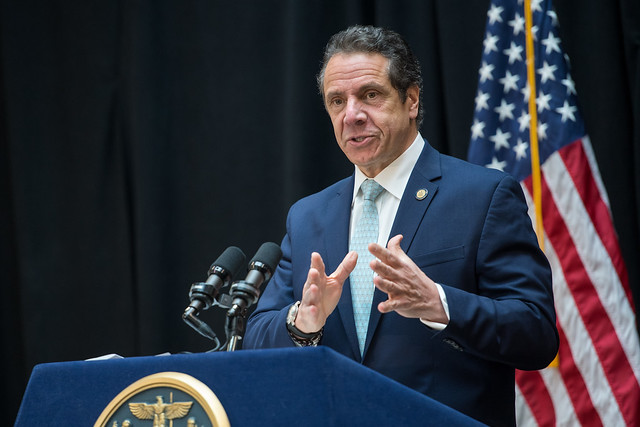 In April, New York became the first US city to adopt a congestion charge, which will be rolled out across lower Manhattan in 2021. Other cities such as Seattle, Vancouver and Los Angeles are looking at levying a fee for vehicles to enter a charging zone with the aim to improve the environment and raise revenue for mass transit. Christopher Carey looks at the evolution of congestion charging and the prospects for other cities in North America to adopt such measures
"There are $15 billion reasons to support congestion pricing. It's the solution we need to fund the MTA and reduce traffic gridlock in Manhattan."
So declared New York State Governor Andrew Cuomo in a Tweet in March this year heralding the launch of New York City's congestion charge scheme. The coming into force of that scheme in two years is the culmination of a dogged campaign by Cuomo to make the City of New York the first in the US to bring in congestion pricing.
New York has flirted with the idea of congestion pricing for many years. In 2008 the former mayor, Michael Bloomberg, attempted to introduce a charge, only for it to be scrapped at the last hurdle and attempts in 2015 and 2017 also failed.
Following this, Cuomo declared a state of emergency at the Metropolitan Transit Authority (MTA), the state authority that runs the subway, due to reliability and crowding problems. He then drafted an initial proposal, and a task force, Fix NYC was created to investigate and make recommendations. By January 2018 the task force's report set out the bedrock of a plan, which included a congestion charge.
Following much wrangling behind the scenes and a U-turn from the mayor, Bill de Blasio, both he and Cuomo jointly announced a plan in February 2019 that outlined ten steps to fix MTA operations–including the introduction of a congestion charge.
The final hurdle of incorporating the charge into the state budget was achieved in April when the state legislature approved the plan.
It is expected to raise an estimated US$1 billion annually, which when leveraged in the finance markets could bring US$15 billion into the MTA's coffers–money seen as crucial to modernising its decades-old subway infrastructure.
While the exact amount of the charge has not been set, past proposals have called for a fee of around US$12 for cars and US$25 for lorries, and a board has been set up to determine the figure.
The delay in its introduction to 2021 has had some unintended benefits however, as city planners have had time to think strategically and learn from other cities.
Bruce Schaller, former Deputy Commissioner for Traffic and Planning at the New York City Department of Transportation, says: "New York has learnt a lot, particularly from London and Stockholm. They looked at their systems and have absorbed all the positives, especially in terms of technology, we're now very advanced from that end."
London
When people think congestion charging, London is often held up as a blueprint for success. Introduced in 2003, it has been successful in cutting traffic, raising funds and diverting commuters to public transport.
It is a relatively simple system. If a driver enters a 21km² area of central London between 7am and 6pm on a weekday, they pay a flat daily rate of £11.50. Cameras track vehicles using automated license plate recognition (ALPR) and drivers who don't pay face a fine of £130 (reduced to £65 if paid within 14 days).
The congestion charge has risen gradually from £5 in 2003, to £11.50 today. Residents receive a 90 percent discount, disabled people a 100 percent discount, and cars that emit no more than 75g/km of CO2 can apply for a 100 percent discount. Emergency services, motorcycles and taxis are exempt, but private hire vehicles like Uber are no longer exempt partly because London has seen the number of such vehicles entering the zone double since 2010 before the regulations were amended in April.
"I think the other thing that New York has incorporated is that you have to keep at it and react," says Schaller. "What you see in London with the rise of Uber and more deliveries is that congestion can come back in other ways, so it's not a question of just putting it in place, walking away and being finished, it's a continuous process."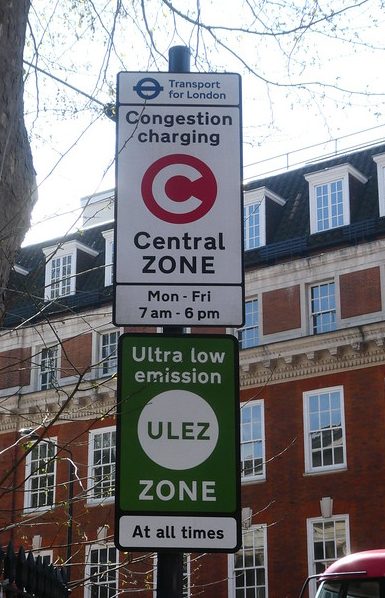 When first introduced by the former mayor of London, Ken Livingstone, the scheme was highly controversial. British press outlets were almost universally opposed, with many predicting chaos on the streets.
Yet in its first year the charge led to a 37 percent increase in the number of passengers entering the charging zone by bus during charging hours, and between 2002 and 2014, the number of private cars driving into the zone fell by 39 percent.
Paul Cowperthwaite, Transport for London's (TfL) General Manager of Road User Charging, says: "Over the last sixteen years the congestion charge has successfully reduced traffic and congestion in central London, which had reached severe levels, lowering the number of vehicles entering the zone by 60,000 per day."
He adds that along with investment in walking and cycling, increased capacity on the Tube and more reliable buses have helped deliver an 11 percent shift from car use to public and other forms of sustainable transport.
However, the rise in ride-hailing apps has seen trips by taxi and private for-hire vehicles such as Uber, increase by 9.8 percent between 2015 and 2016 alone–and 29.2 percent since 2000. Today, more than 18,000 different private hire vehicles enter the congestion charging zone each day, with peaks on Friday and Saturday nights.
One criticism levelled at the scheme is the limited hours of operation of the zone, with environmental activists and health professionals calling for a 24/7 charge.
Mounting pressure led to the introduction of an additional daily £10 toxicity charge (T-Charge) in October 2017, which was slapped on older more polluting cars travelling in the congestion zone.
This was expanded in April this year with the introduction of the world's first 24/7 Ultra Low Emission Zone (ULEZ), described by Sadiq Khan, Mayor of London, as "the toughest vehicle emission standards of any city in the world."
Drivers of older, more polluting vehicles now face a daily charge of up to £24 for travelling in central London–consisting of the £12.50 ULEZ charge and the £11.50 congestion charge.
The move was yet another sign of the tough line the city has taken towards air pollution, with Khan declaring London's "filthy, toxic air" a "public health emergency".  The ULEZ zone is due to be further expanded in October 2021 and will cover a larger area of the capital–everything inside the North and South Circular Roads.
Just weeks after the introduction of ULEZ, the think-tank Centre for London, released a report calling for the "complicated patchwork" of schemes (including ULEZ and the congestion charge) to be scrapped in favour of a per-mile charging scheme based on the environmental impact of journeys.
Under this model, costs would vary by vehicle emissions, local levels of congestion, pollution and the availability of public transport alternatives. Using digital platforms and a new app, commuters would be quoted a price before they begin their journey. As well as offering greater flexibility, this could greatly reduce implementation costs compared to license plate recognition for cities wishing to adopt congestion pricing or low-emissions zones.
Silviya Barrett, senior researcher at the Centre for London, says: "ULEZ is ambitious, and both it and the congestion charge are very much needed, but at the moment the geographical coverage is pretty limited. By the time it is expanded, things will have become more complicated, so why not make them simpler? We've got the technology."
Stockholm's experience
In 2007, Stockholm became the second European capital to introduce congestion pricing, following a seven-month trial and a controversial city-wide referendum.
The zone covers 35km², capturing two-thirds of the city's residents in a scheme with varying charge levels depending on the time of the day–the maximum daily charge does not exceed 105 Swedish Krona (US$11).
Jonas Eliasson, former Director of the Stockholm City Transport Administration. says: "After its introduction, traffic congestion was reduced by 20 percent, and it has freed up a lot of road space which has been used for bicycle lanes and sidewalks."
As with London, public support of the charge was initially unfavourable.
"When it was first introduced there was huge public resistance, it was extremely controversial," adds Eilasson. "Nowadays it's about as controversial as traffic lights, speed limits or zebra crossings…things that are a normal tool in the traffic planner's toolbox. People don't necessarily love it, but they understand that it has to be there."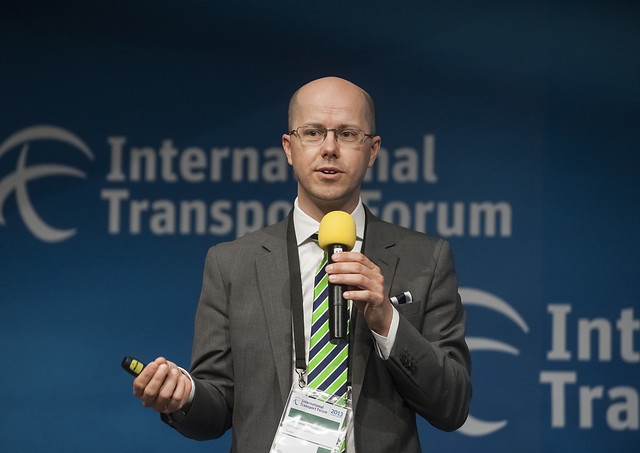 How will North America take to road charging?
City mayors and transport chiefs in the US and Canada will have their eyes firmly set on the Big Apple when it introduces its charge in 2021.
Getting the public to accept the charge may prove difficult, as the reaction from New Yorkers has so far been mixed. A poll by Quinnipiac University in April this year found that 54 percent of New Yorkers oppose the introduction of congestion pricing.
From a public policy perspective, the arguments against congestion charges focus mainly on the financial aspects; lost business within the zone, the high cost of setting up and policing the scheme, and the fact that it is in essence, a regressive charge–the rich can afford to pay while the poor are punished.
Those in favour argue that the benefits are obvious; it can reduce congestion, pollution, journey time, raise revenue for cities, and make city centres more pedestrian/cycle friendly.
London has already reallocated some of its road space to active travel–primarily cycle and pedestrian–but the mayor has grand ambitions. In his 2018 Transport Strategy, Khan set out the goal for four out of five journeys made in London to be by active travel or transit by 2041–today these transport modes only make up about 62 percent on average across London.
"I think it's [congestion charging] a necessary part of the solution, but for it to be really effective you need to look at it from all perspectives," adds Eliasson. "I can see congestion pricing spreading in the US, but it depends on the city. You need a somewhat compact city and decent public transport, and New York fits that model perfectly–not every American city does."
While most of the major US cities on the west and east coasts, like Boston, Washington and San Francisco, are suitable, cities like Atlanta or Houston, would be much more difficult because of the geography of their transport systems.
"The structure of European cities was shaped during a time when walking, cycling and buses were the natural modes of transportation," explains Eliasson. "If you look at European city centres, they were made for walking. Many American cities grew rapidly during the 1950s and 60s, and they are planned in a completely different way. Congestion pricing can still work, but from a transportation point of view they have much bigger problems than the coastal cities."
The key to a successful implementation not only relates to planning, choosing the right technology and being adaptable with tariffs and exemptions but also to people seeing investment in public services.
Cuomo has made promises: "Revenue from electronic tolling of Manhattan south of 61st Street will be placed in a lockbox for MTA capital needs, which include new signaling, new subway cars, track and car repair, accessibility, buses and bus system improvements."
New York's success or not with congestion pricing will ultimately depend on the voting public seeing such improvements and with medical evidence now showing the effects of air pollution on babies in the womb, it is not a PR campaign but a more sustainable and efficient public transit system that will decide if the policies spread to other North American cities.
---
Congestion charge snapshot
City                                Initial Investment         Annual Operating Cost              .Net Revenue
.                                             (millions)                           (millions)                           (millions)
London                                    £161.7                                £130                                   .£137
Stockholm                               £162                                   £8.1                                     £105
Singapore                                £114                                    £14                                      £85
Source: Tri-State Transportation Campaign 2017
---
Congestion charging has reached few cities
Internationally, congestion pricing has penetrated a relatively small number of major cities.
Singapore
Singapore was the first city in the world to test congestion fees in the mid-1970s. In 1998, it rolled out its pioneering current format, the Electronic Road Pricing System, known to residents as the ERP. and its model became an inspiration for Mayor Livingstone to adopt congestion pricing five years later.
In Singapore, vehicles are required to have an electronic unit with a smart card, which registers a fee whenever it passes under a network of more than 80 gantries concentrated in the main business district and along major highways. Dynamic pricing sees charges change depending on a number of factors. Charges are set by the Land Transport Authority and range from SGD$0-3 (US$2.20) daily, except on Sundays and public holidays.
Milan
In 2012, Milan introduced a congestion charge system, known as 'Area C'. The €5 charge is applied to all vehicles in a 8.2 km² zone in the centre, and operates on weekdays from 7.30am to 7.30pm (except on Thursdays, when it ends at 6pm).
The charge includes two hours of free parking in designated spaces for registered commercial vehicles and a reduction in parking fees at selected parking places for the rest of the vehicles.
Different fees apply to residents; and scooters, electric cars and disabled people are exempt from
the charge.
---