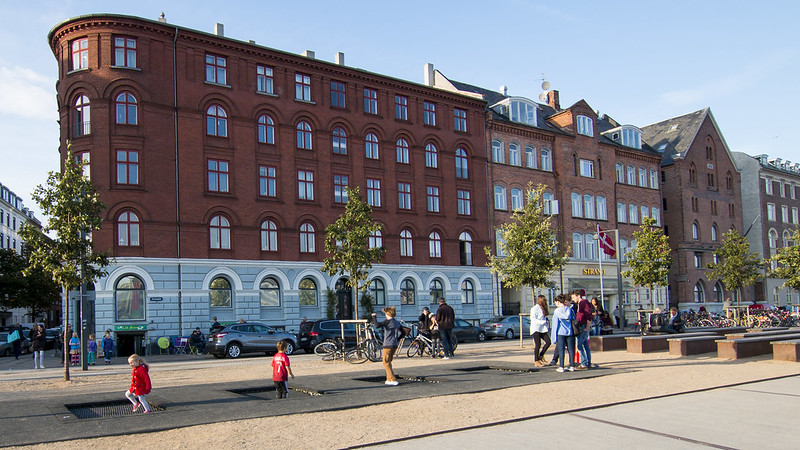 Photo: Hans Permana (Flickr)
Copenhagen removes parking spaces in city centre trial
14 June 2021
by Christopher Carey
Copenhagen's pedestrians and cyclists will have priority over cars on five historical city centre streets, as part of a pilot project aimed at transforming the Danish capital's medieval district.
Parking spaces will be replaced with trees and benches during the experiments, which run until the end of September.
The projects stem from a number of recommendations that a Citizens' Assembly presented to the City Council in 2019, and which the Mayor of Technology and the Environment, Ninna Hedeager Olsen, has also backed.
"It has long been a great wish for me and many Copenhageners to get as many cars as possible away from the street in the medieval city, where the narrow streets and cosy squares are not suitable for cars.
"By reducing car traffic to what is absolutely necessary, we can create a district that is much more attractive. With the experiments, it will become concrete, and I look forward to becoming wiser about how we can make it nicer to live and move around in the medieval city."
Parking removed
A total of 66 parking spaces will be removed during the trial period, with motorists encouraged to use the surrounding parking garages.
Throughout the project, the municipality will gather data and engage with residents, businesses and visitors in the area to learn how to incorporate findings into future planning.
The five projects will explore different outcomes based on each street's characteristics, with roads marked to indicate pedestrian priority.
Vestergade:  This trial focuses on nightlife and behaviour. It will investigate how the design of urban space can contribute to preventing and limiting noise from nightlife and cars in collaboration with the police, the Culture and Leisure Administration and local pubs. Up to 13 parking spaces will be closed during the trial period.
Skindergade: Examines how to strike a balance between pedestrians, bicycles and cars and the commercial and non-commercial use of urban space, with 13 parking spaces to be closed.
Dyrkøb: Investigates the possibility of using temporary trees and benches to create a sense of tranquillity in the square by the Cathedral, with 19 parking spaces closed during the trial period.
Klosterstræde – Hyskenstræde: Examines how to manage space between pedestrians, cyclists and goods delivery vehicles in a very narrow urban space while engaging with residents on the creation of a temporary green area. Twelve parking spaces will be closed during the trial.
Lille Kongensgade – Store Kirkestræde. Tests how a pedestrian priority street with limited driving could work, with cycling and resident car-use allowed as well as goods transport at certain times. Nine parking spaces will be closed during the trial period.
"I hope that many will engage in dialogue and contribute their views on what works and does not work. The experiments are precisely to make us wiser about how car traffic and the number of parking spaces can be reduced in a way that creates a good development for the medieval city," Hedeager Olsen said.
Hans Permana (Flickr)