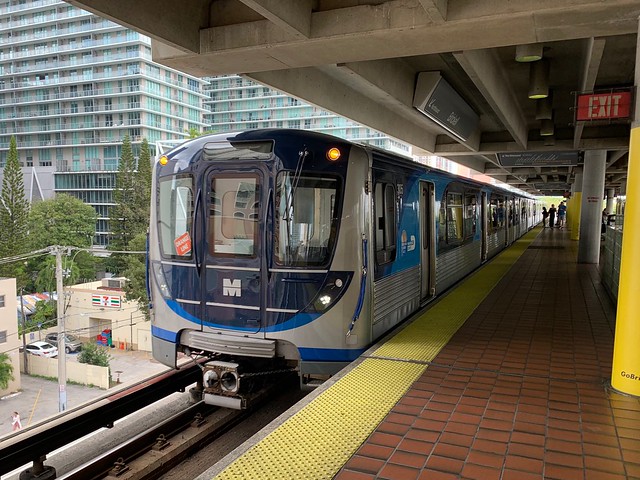 Miami has become the latest US city to integrate contactless payments into its public transit network.
Metrorail riders can now tap their contactless enabled American Express, Visa, Mastercard or smartphone digital wallets to pay at fare gates, eliminating the need to queue to top up their EASY card. Digital wallets accepted include Apple Pay, Google Pay, Samsung Pay and Fitbit Pay.
The service is due to be rolled out on the city's Metrobus fleet later this year.
Alice Bravo, Director of Miami-Dade Transit told Cities Today: "When I started [work] here I wanted to look at anything and everything that was changing in term of tech, in order to attract ridership. "We want to give people more benefits and eliminate hurdles."
Contactless payments will include a fare-capping feature, which guarantees a maximum cost of US$5.65 per day for unlimited rides on Metrorail.
Delivered in partnership with Cubic Transportation Systems, the new fare collection system draws on the company's experience implementing similar projects in New York, Chicago, Sydney, Vancouver and London.
In 2016 Miami-Dade County awarded Cubic a contract to modernise the EASY Card and provide 10 years' of back office cloud computing and support services.
In addition to making journeys more seamless, Bravo also spoke of future additional perks for riders using contactless.
"Through working with credit card companies we also have the opportunity to provide rewards to our customers–things like like sponsoring a fare-free day and getting discounts in stores. As these companies venture out more into being a provider for this type of system [contactless], they're also helping to promote transit."
Opened in 1984 the Metrorail is Florida's only rapid transit metro system, and has a daily ridership of almost 70,000.
As Miami prepares to host the Super Bowl early next year, cutting down on queuing times and making public transit a more seamless experience is high on the city's agenda.
The mayor of Miami-Dade County, Carlos A. Gimenez, said his administration was focused on "incorporating innovative technologies to make public transportation both hassle-free and appealing."
Credit card providers such as Visa and Mastercard have increasingly expanded their contactless operations in the US in recent years, looking to build on the success of the technology in Europe.
Linda Kirkpatrick, Executive Vice President at Mastercard said: "Transit is serving as an important catalyst to drive the use of contactless payments in the US".