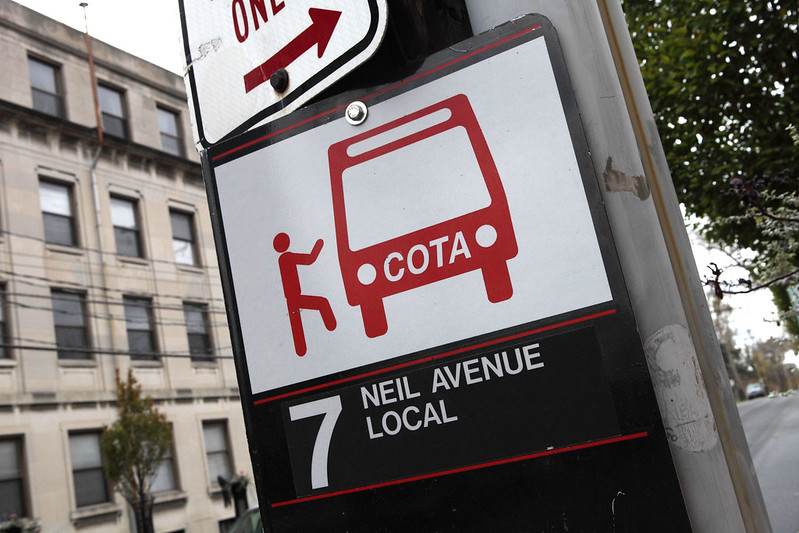 Photo: 8273240093_2c82e12141_c
Columbus extends free travel for downtown workers until 2025
17 November 2020
by Christopher Carey
The Central Ohio Transit Authority (COTA) has extended free travel for downtown Columbus employees until 2025.
Through its C-pass programme – a partnership between the transit authority, the Capital Crossroads Special Improvement District (CCSID) and the Mid-Ohio Regional Planning Commission (MORPC) – more than 450 downtown businesses and organisations have enrolled over 15,000 employees and residents to date.
The programme, first launched in June 2018 and funded by the CCSID and MORPC, has contributed to COTA recording a 31-year ridership high in 2019, and has more than doubled the ridership of the downtown workforce.
Eligible companies in the CCSID can register online and employees must work a minimum of 15 hours per week to receive the pass.
COTA President and CEO, Joanna M. Pinkerton, said: "Renewing the C-pass programme ensures thousands of downtown employees will have equitable access to transportation to work for years to come.
"This valuable programme and partnership serve as a model for other communities to consider; equitable access to mobility solutions will always be a crucial part of economic and workforce development."
All COTA fares are currently temporarily suspended due to the Coronavirus pandemic but when they are reinstated, the C-pass will automatically be reactivated for all enrolled members.
Smart Columbus
Since Columbus won the US Department of Transportation's US$40 million Smart City Challenge in 2016, the city has been on a path to transform its mobility ecosystem by reducing its dependence on petrol and diesel vehicles while improving the lives of its citizens through its Smart Columbus programme.
To date, the city has launched several initiatives, including: an electric vehicle (EV) scheme; an on-demand rideshare service; a multimodal transit app; and the Linden Leap self-driving shuttle – which was temporarily suspended following an incident weeks after its introduction in February, but later relaunched to provide a food delivery service to residents during the pandemic.
Columbus's wider goal is to move towards electric, shared and connected transportation in a bid to reduce greenhouse gases, which also helps to satisfy equity goals since polluted air disproportionately affects disadvantaged communities.
In September 2019, it became the first US city to meet federal ground-level ozone targets after previously failing to reach National Ambient Air Quality Standards (NAAQS) set by the Environmental Protection Agency (EPA), attributing its success to the public embracing the new mobility schemes.
Tech firm Continental recently launched its second Smart City Mobility and Transportation Hub in the city, integrating sensors, connectivity and intelligent software into the infrastructure at two busy intersections with high vehicle and pedestrian traffic.