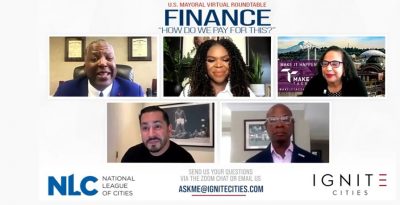 Photo: Finance roundtable
Cities weigh how to get the biggest bang for their 'Biden bucks'
29 April 2021
by Sarah Wray
The historic US$1.9 trillion American Rescue Plan Act (ARPA), which includes US$350 billion for state and local governments, is being hailed as a once-in-a-lifetime opportunity for investments which shape the future of US cities.
Mayors must balance easing urgent challenges which have been caused and exacerbated by the pandemic with ensuring they spend the money efficiently for long-term sustainable benefits.
Speaking on a recent online roundtable organised by consulting company Ignite Cities and the National League of Cities, Victoria Woodards, Mayor of Tacoma, WA, said: "We have an awesome responsibility."
Her city has been allocated US$63 million in ARPA funding.
The last year has been characterised by its fast-changing nature and the need for quick decisions in government, but Woodards said she won't be rushed on spending plans.
"I'm trying to get my city to slow walk and back up just a little bit, because there's going to be so much money coming to our cities, to our county and to our state," she said. "One thing that's really important to me is that we slow down just a little bit to make sure that we're using our ARPA dollars in a way that only ARPA dollars can be used."
Woodards said her strategy will be to understand all of the money that is coming in at the city and county level to best target spending and address Tacoma's priorities, which include affordable housing and homelessness, health, and jobs, with a focus on restoring basic services that were cut by the city's US$40 million deficit brought on by the pandemic.
Collaboration
Woodards also urged cities to take a collaborative approach, saying: "All of your neighbouring cities are getting money. If there are projects that cross the borders in each one of those cities, how are we working together?"
Similar to the approach she is taking with Tacoma's guaranteed income pilot, which is being funded through private donations, Woodards said she wants to go deep and fix big issues with the ARPA money, rather than doing lots of small things which don't add up to a major impact. She noted that balanced with this is the fact these are "one-time dollars", so cities must avoid starting large projects which they can't finish or sustain long-term.
"It's hard because people have been suffering for so long, and they want relief now," said Woodards. "But if we could slow down just a little bit, our impact can be so much greater than we ever imagined in the first place."
On top of the ARPA funds, cities are set to further benefit from President Biden's proposed US$2 trillion American Jobs Plan, although the infrastructure bill faces strong debate in Congress before it can pass.
Digital divide
Aja Brown, Mayor of Compton, CA is approaching the ARPA funding in a similar way to Woodards.
She said while there are many things the city needs to address, she is focused on a handful of issues "that otherwise we would not have the resources to do at one time".
A major one is closing the digital divide, with Brown noting it isn't just an equity issue but also one of economic competitiveness at the local and national level.
"We believe that broadband is just the right investment for our community at this time," she said. "Compton is a very young city, our average age is about 26 years old, so we really want to be able to strengthen this next generation and provide them with the tools that they need in order to be competitive in this new world."
Investing in connectivity is also an economic opportunity for the municipality itself which could generate revenue through city-owned broadband.
Compton is going through a rapid participatory process using surveys to get citizen feedback on spending recommendations. Other priorities include gap funding for a homeless shelter and support for small businesses and community organisations, as well as restoring basic services where staff numbers had to be cut during the pandemic.
Sustainable investment
Clarence Anthony, CEO at the National League of Cities, urged cities to start planning now.
"Don't wait for the money, engage the community stakeholders and get them involved," he said. "But when you do, make sure that it is managed in a way to leverage the investment, to make it grow quicker by partnering regionally, as well as [leveraging] private sector investments."
NLC has created a local allocation estimator where municipalities can find out how much money is coming to their community and a summary of provisions. Additional tools to help cities with developing their plans and tracking outcomes are in the pipeline.
George Burciaga, Managing Partner, Ignite Cities, said considering innovative funding mechanisms is a way for cities to make their money go further. This includes investing in solutions that generate efficiencies to free up budget, as well as those that generate new revenue.
Broadband is a good place to start because "it's the largest area of disconnect across most cities," Burciaga said.
Many cities are exploring municipal broadband which can generate efficiencies in terms of costs across different assets, address a pressing need for residents and create new revenue to drive back into services.
Burciaga said revenue could come from areas such as charging a small Wi-Fi fee for tourists or from services that use the connectivity such as smart parking or ads on smart kiosks.
He called on cities to "think outside the box" on procurement. This means opening up their requests for proposals (RFPs) to new funding mechanisms and working with vendors on a co-creation basis.
To deliver real change in this area, Burciaga said: "A mayor will also have to stand next to the opportunity, champion it and walk it through almost every stage of development."
Replay the roundtable: