Cities of Innovation: Barcelona
Key indicators
ICT Infrastructure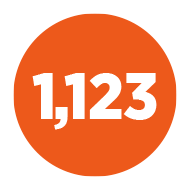 Public WI-FI access points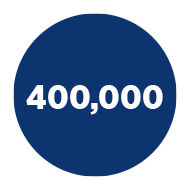 Jobs associated with industry 4.0
— Ranked among the top fifteen cities for digital equipment, technological maturity, social cohesion and institutions focused on the goal of sustainable development in the Networked Society City Index 2016
Local, national and international transport links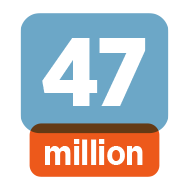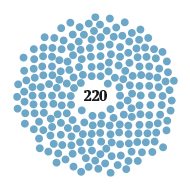 Flight destinations
— Barcelona El Prat Airport is the 6th busiest airport in Europe — Extensive highway network (more than 12,000 Km) connected to mainland Europe & the Maghreb
University links and access to talent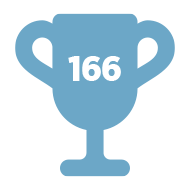 QS World University ranking (University of Barcelona)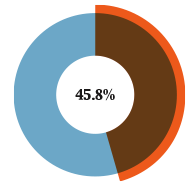 Tertiary-educated workers
— Three main universities: Universitat de Barcelona (QS rank 193), the Autonomous University of Barcelona (UAB) and UPF (Pompeu Fabra), seventh in the Times HES ranking of young universities — Barcelona attracts +23,000 foreign students, who account for about 12% of all students enrolled
Costs and availability of workspace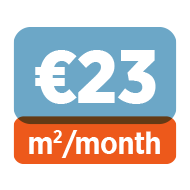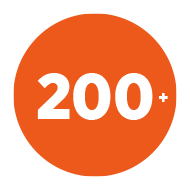 Co-working spaces
— Office rates (m2/month): · Periphery €11 · New business areas €20.25 · Business district €19.25
City support for start-ups and SMEs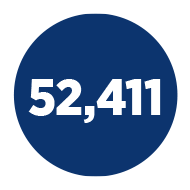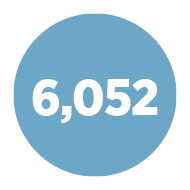 Companies assisted
— In 2017, Barcelona Activa, the municipal agency, assisted 52,411 people and 6,052 companies through more than 100 services and programmes — The Crosslanding Programme is aimed at foreign start-ups wishing to broaden their business activities
Financial support and access to investors & accelerators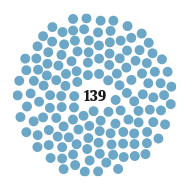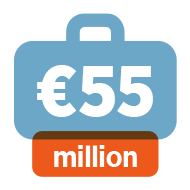 Total funding 2017
— BCN Commits, a subsidy programme to provide stable contracts to people who have difficulties accessing the job market, awarded 789 grants for a total of €6.5 million from its launch at the end of 2014 until June 30, 2017
Additional information
ICT Infrastructure
The copper network is being replaced by a fibre optic-based technology network that provides more access capacity with deployment of a FTTH (Fibre to the Home) network.
Local, national and international transport links
Barcelona El Prat Airport is located just 12kms from the city.
High-speed train connections to Paris, Lyon, Marseille, Toulouse, Madrid, Zaragoza and Seville are available from the city.
Port connections: Port de Barcelona is Spain's leading port in terms of turnover volume and goods value. It handles 23% of Spain's foreign trade, and is connected with 850 ports in the world, as well as 450 regular consolidated sea lines. It's also Southern Europe's main gateway for Asian container trade.
Multimodal travelling on all public transport operators in the wider Barcelona area is made with a single ticket: the single pricing system includes the metro, buses in the city of Barcelona and neighbouring towns, tramways, local trains (Ferrocarrils de la Generalitat), regional trains (Cercanías de Renfe), medium and long-distance bus lines, and even all night-bus lines. It covers a total of 201 municipalities in the Barcelona region and serves 4.5 million people. There is a continuous expansion of the metro network, extension of tram lines, increased frequencies of buses and remodelling of stations and vehicles, which makes public transport a reliable way to get around.
City statistics show that 50% of internal travel is made on foot or bicycle; the city's bike network covers more than 126 kms and has over 110,000 users daily. New methods of transport such as electric scooters are booming, and Barcelona is responding by bringing in regulations to insure safe integration into the existing traffic flow – it is the first city in southern Europe to do so.
Very recently The European Institute of Innovation and Technology (EIT) declared MobilUS as the winning team to set up the Knowledge Innovation Community (KIC) in Urban Mobility. Barcelona has been named as a key coordinating partner of the EIT Urban Mobility Consortium with the objective to ensure a greener, more inclusive, safer and smarter urban mobility system.
University links and access to talent
The University of Barcelona is 166th in the Quacquarelli Symonds (QS) global rankings.
The Times Higher Education has ranked the Catalan university system the 3rd best in Europe, only behind The Netherlands and Switzerland. There are three Catalan public universities (UAB, UPF and URV), among the top 50 universities under 50 years old in the world. They stand out among the best in knowledge transfer and internationalisation.
In total there are over 230,000 college students, 13,000 faculty members, 481 degree courses, 570 master's degrees, 33 research centres, 50 design schools, 6 business Schools, ESADE and IESE among them, which are in the top 10 European business schools for studying an MBA, according to the Financial Times.
There is a three-way collaboration between academia, industries and the public sector with the 22@ Innovation District started in 2000, which aims to regenerate urban areas, economic activity and social networks in the east of the city.
So far more than 9,000 companies have set up, with over 100,000 new employees. Around 200 hectares of land have been transformed over a 15-year period.
In 2017 the city council promoted the creation of new public-private initiatives aimed at rethinking the next phase of the project; where to maximize new investment opportunities, how to create new affordable housing, new employment and how to grow new booming sectors such as arts, culture and sustainable industries.
Universities are playing an active role in Cluster Dynamics – for example the Media Cluster in Barcelona's Innovation District involves the commitment of three universities, one private (UPF), and two public (UB, UOC), which set up new campuses. Over 20,000 students attend lectures next to the companies that could employ them in the future. Internships take place regularly, and companies have direct access to new talent – even offering special development programmes for students.
Tertiary-educated people in the workforce equate to 45.8%.
The key employment sector is knowledge-intensive services, comprising 50% of the workforce.
Costs and availability of workspace
—  €11 m2/month – periphery
—  €20.25 m2/month – new business areas
—  €19.25 m2/month – Businessdistrict (consolidated centre)
—  €23.25 m2/month – city centre
There are more than 200 co-working spaces through the association of Catalan coworking spaces in Barcelona. Through its web search, customers can adjust their needs and preferences to a wide portfolio of options.
City support for start-ups and SMEs
In 2017, Barcelona Activa, the municipal agency, assisted 52,411 people and 6,052 companies through more than 100 services and programmes, aiming to drive progression towards a new model of fairer and more uniform social and economic development. The following contains the main features of Barcelona Activa's activities in 2017.
Businesses
6,052 companies and 4,421 entrepreneurs received assistance through the services and company support programmes at Barcelona Activa.
In 2017, 2,927 shops were assisted within the framework of Online Commerce, a city-wide project started in 2016. The goal is to be able to geolocalise 6,000 local businesses in Google My business. In this second stage, the project is now open to all shops regardless of whether they are part of the collaborative network.
Three new support and accompaniment services have been rolled out for businesses: Industry Support Plan, Assistance Programme for CSR at companies and Neighbourhood Business Transfer Programme.
Two business subsidy programmes were released: BCN Commits, a subsidy programme to provide stable contracts to people who have difficulties accessing the job market. Since its launch at the end of 2014 until June 30, 2017, 789 grants were awarded for a total of 6.5 million euros. New in 2017 is the subsidy programme for fomenting quality jobs, 'Bona Feina, Barcelona!', with 3,5 million euros worth of funding.
In 2017, the first edition of the Urban Industry Programme was held. It consisted of 13 workshops on industry 4.0 and highly specialised areas to assist industrial SMEs in their strategic technological evolution. By the end of the year, 50 companies from the industrial sector had participated.
Entrepreneurship
14,395 people were given continued support for 2,126 new business projects. This initiative boosts collective entrepreneurship and social impact.
642 people received assistance through intensive programmes for starting a business.
In 2017, efforts were made to move towards a new assistance model for entrepreneurs. This model will be launched throughout 2018. It will have three main areas: the digitalisation of services, customisation and user connectivity.
This year, the new UX Lab was opened at the Incubator in Glòries. This lab is for companies to test their products and/or services with users or final users to reduce market launch risks.
There are 207 companies and 11 projects at the Barcelona Activa incubators. Including the Technology Park, Barcelona Activa's spaces for companies and business growth hosted 265 companies and 11 business projects in 2017. In 2017, MediaTIC Incubator began operating with a new model and adaptation process. This is a new incubator aimed at companies with a big technological impact.
Support plan for Sectors
Since January 2016, the promotion of strategic sectors has been part of Barcelona Activa's activity in the form of providing support to companies with the aim of incorporating a sectoral viewpoint in the various programmes and services. In 2017, efforts were made to boost the following sectors: technology, creative industries, sustainable energy and transport and advanced industry or industry 4.0. This included giving support to public and private initiatives such as 4YFN, MWC, BTravel, eShow, ItWorldEdu, BizBarcelona, Docs Barcelona, b'ARS, Sónar+D, International Logistics Exhibition, Expoelectric, Formula Student Spain, Big Data Congress, Smart City Expo World Congress, Circular Economy, Internet of Things Solutions World Congress and In(3d)ustry.
On the other hand, in the framework of providing support to business promotion associations and platforms such as 22@Network, CTecno, Eurecat, BCD, ACEGAL, PIMEC, College of Physicians, Clúster Nàutic, Clúster Audiovisual, or Plataforma LIVE, there were actions for generating and exchanging knowledge such as the Technological Sector Barometer in Catalonia, breakfast networking sessions organised by CTecno, business breakfasts and lunch talks organised by 22@Network and various actions to strengthen the business network in areas like LGTBI, navigation, design, audiovisuals, health,  logistics and sustainable mobility, promoted by different clusters, platforms and associations.
Financial support and access to investors & accelerators
Barcelona Activa has signed cooperation agreements with the main banking and financial institutions, so these can fund feasible business projects and microbusinesses with growth projects. The agency assesses the funding needs through an interview with the entrepreneurs, to choose the most suitable funding according to the features of the business project. The outcome delivered in 2017 was 54.89 million euros worth of funding that was raised for 139 start-ups.
How to set up a business: a quickfire guide
What are my options?
The choice of entity for entrepreneurs or subsidiaries of foreign companies that wish to operate in Spain with limited liability for shareholders is either the Limited Liability Company (SL) or a Public Limited Company (SA).
Requirements/steps for incorporation for both are:
a. Apply for a corporate name for the new company.
b. Open a bank account for the new company.
c. Draft by-laws.
d. Appoint Directors.
e. Sign the incorporation before a Public Notary.
f. Register the new company with the Commercial Registry.
g. Obtain regulatory approvals for certain activities if needed.
h. Grant a Power of Attorney to local legal advisors to carry out the necessary steps if the shareholders are not going to be present at the incorporation.
What do I need to set up a company?
— The minimum share capital required for an SL is €3,000 and for an SA it is €60,000.
— Public Notary and Commercial Register fees are between €500 and €1,000 (and accounting and legal advisory fees will be charged on top).
Foreign individuals/directors must obtain a foreign identification number (known as a NIE) and foreign companies seeking to set up a branch must get a local fiscal number (a NIF).
Time needed for the registration procedure
This depends on the structure chosen. An estimated timescale would be as follows:
a. 15-30 calendar days to obtain a NIE/NIF.
b. 7-10 working days for the company to be incorporated before a Public Notary.
c. 15 working days (from incorporation) for registration although the company can trade as soon as it is incorporated.
Entrepreneurs need to be aware of the following requirements after registration:
a. Accounting and payroll obligations.
b. Tax procedures (VAT and Tax on Economic Activities).
c. Occupational procedures (eg registration of the company for social security and employee insurance).
In addition, the company founders may have to file a declaration of ultimate beneficial owner (25% of share capital) at incorporation and a declaration relating to the origin of funds may be required depending on the country from where the company is funded.
Tax rates
A reduced tax rate of 15% is applicable for start-ups if they meet certain conditions.
Legal contact
RCD
Escoles Pies, 102 08017 Barcelona