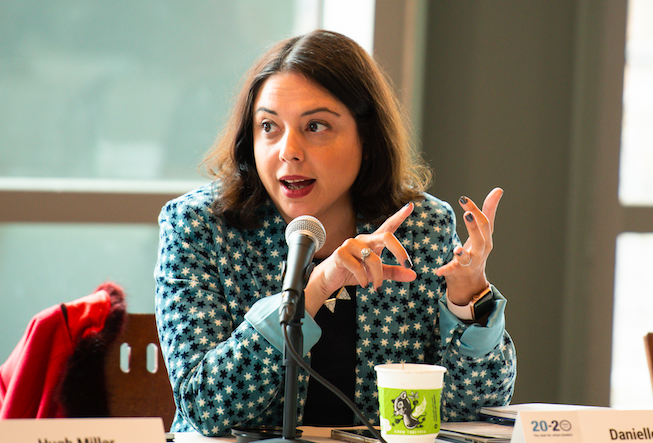 Danielle DuMerer has stepped down from her position as CIO and Commissioner at the City of Chicago's Department of Innovation and Technology to begin a new role as Vice President of Technology at Shedd Aquarium.
DuMerer began working at the city in 2008, becoming CIO in 2017. During that time she has helped modernise the city's 3-1-1 non-emergency management system, established Chicago's open data programme, issued a new IT governance policy, and expanded public access to the Internet and digital skills training.
"We not only improved the user experience by rolling out the CHI 311 mobile app, a new community portal at 311.chicago.gov, and new tools for staff, but also changed the way we design and implement digital solutions at the city," DuMerer told Cities Today, adding that another proud achievement of hers was publishing an open dataset as well as a read/write API for the 311 system. Earlier this year, the open data programme was expanded to include trip-level data from transport network providers, which she says is "critical to supporting mobility research and planning". A pilot over this summer has seen data feeds from e-scooter companies become publicly available.
She said that she looks forward to continuing to see the fruits of the department's close partnership with Commissioner Karen Tamley and the Mayor's Office for People with Disabilities and the work of the city's first Chief Equity Officer, appointed by the new mayor, Lori Lightfoot.
"Chicago is the first city in the world to pilot the G3ICT [The Global Initiative for Inclusive ICTs] and World Enabled Smart City Digital Inclusion Maturity Model, which aims to help city leaders and urban planners empower people with disabilities through technology," she said.
Stepping into the role of CIO will be Carleton Nolan, currently CTO and First Deputy Commissioner who has been with the city since 2006.
"Carleton brings a great deal of experience in managing critical programmes within the city, as well as managing technical operations," said DuMerer. "I know he will continue to improve digital service delivery in Chicago, and support the great team."
She added that her greatest honour has been to serve the people of Chicago to improve how residents interact with government by "creating more transparent, responsive and accessible digital services".