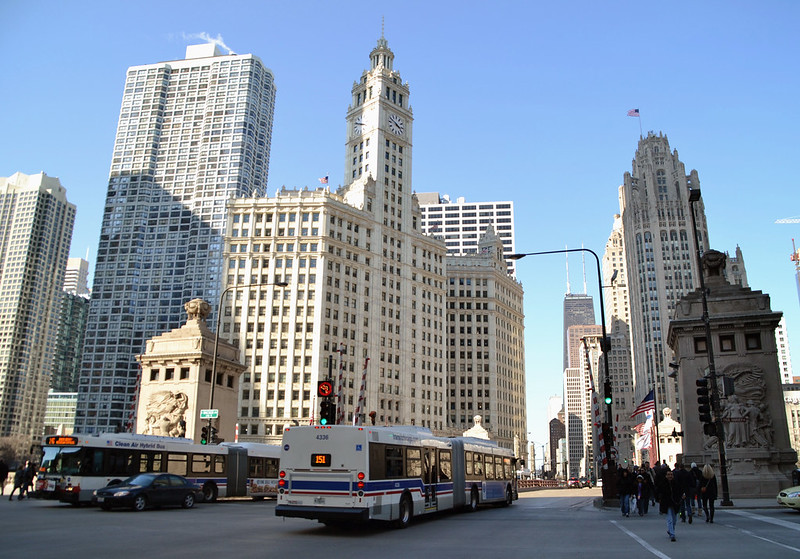 Chicago's mayor, Lori Lightfoot, has proposed a new tax for ride-hailing companies in the city to encourage a shift towards sustainable transport and reduce congestion.
The "downtown zone surcharge" of US$1.75 per trip for single rides and US$0.60 per trip for shared rides would apply on weekdays between 6am-10pm, and is expected to generate US$40 million in new revenues for the city.
Ride-hailing in Chicago has grown by a whopping 271 percent in the past four years and is projected to steadily increase, according to a 2015 city analysis.
"Our city has experienced skyrocketing congestion growth due in part to the rapid growth of ride-hailing companies, making it increasingly difficult for those who rely upon Chicago's streets for commerce or transportation, and plaguing our downtown," said Lightfoot.
Nearly half of all citywide ride-hailing trips begin or end downtown, and one of every three of those trips start and end there.
The majority of these trips are taken by a single customer.
Ride-hailing companies have reacted strongly to the plans, with Lyft's communications manager Campbell Matthews saying the mayor's proposals show a "total misunderstanding of what causes congestion and how Chicagoans are moving around the city."
The firm also accused the mayor of backtracking on campaign commitments not to pursue policies that would affect low-income residents.
An Uber spokesperson claimed the hike would amount to "the highest ride-sharing fee in the country" and "take money out of the pockets" of customers.
A portion of the US$40 million in revenue projected from the tax will be earmarked for the Chicago Transit Authority and Chicago Department of Transportation's bus priority zone programme–which focuses on seven of the busiest routes in the city's south and west sides.
Originally budgeted at US$5 million, the bus programme is to be expanded to US$20 million, thanks to US$17 million in funding from federal Congestion Mitigation and Air Quality funding, which was recently approved by the Chicago Metropolitan Agency for Planning.
The bus priority zone seeks to eliminate bus "slow zones" caused by bottlenecks along the city's busiest corridors.
Art Guzzetti, Vice President for Mobility at the American Public Transportation Association told Cities Today: "Chicago is a great example of a city that's giving strong attention to transit. They're rebuilding many of their [bus] lines, reinvesting and trying to make public transport as good a choice as it can be [for commuters].
"Because ultimately in the end people are going to take the option that works best for them."
UPDATE: The city council approved the measure on 26 November. Taxes on single-passenger trips will be raised to US$1.25, while shared rides will be taxed at US$0.65.
New surcharges will also be imposed on weekday rides in downtown.