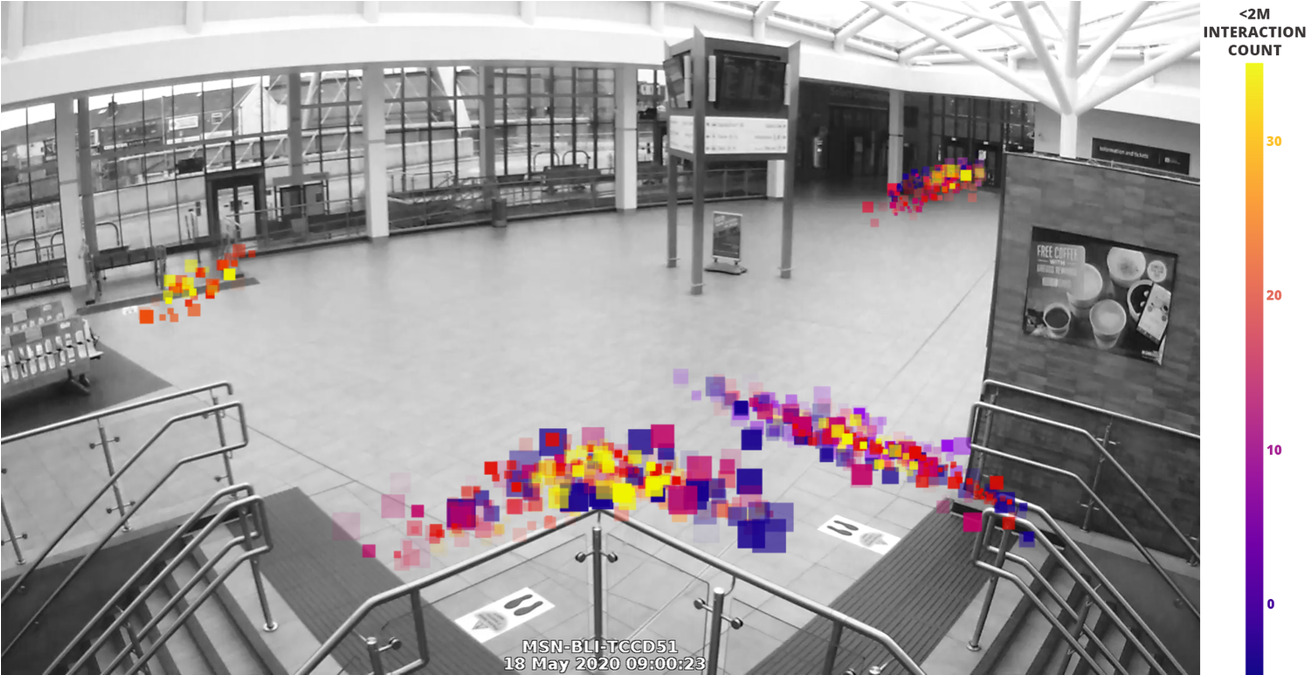 As part of its coronavirus response, Transport for Greater Manchester (TfGM) is analysing CCTV footage to understand social distancing behaviour and assess how infrastructure is used.
TfGM is using video analytics software from Humanising Autonomy to gather insights on pedestrian and passenger behaviour from video footage generated by existing CCTV infrastructure at two interchanges and a bus station. A dashboard will help TfGM understand situations where social distancing adherence is challenging and flag trends relating to groups gathering, dwell times and directional movement.
A spokesperson for TfGM told Cities Today: "The purpose of the analysis is to provide TfGM with behavioural insights of passengers moving through the interchanges. This will inform future designs and policies and enable TfGM to respond intelligently to coronavirus challenges. For example, adjusting the location of bus stands or passenger information displays if the current provision becomes frequently crowded. We recognise the value that data analysis can bring both to our coronavirus response and in the 'new normal'."
They added: "We have previously carried out pilots using mobile data, Lidar sensors and bespoke CCTV systems. However, the Humanising Autonomy solution enables us to maximise the efficiency of existing CCTV cameras without requiring any work 'on-site'."
Long-term planning
TfGM could also use the data collected over time to better understand walking and cycling capacity requirements and how space is used at transport interchanges.
The TfGM spokesperson said: "Most interchanges provide parking facilities for bikes and will see the addition of docked-bikes and perhaps even e-scooters – therefore, understanding the changes in how the space is used and identifying any points of conflict between different road users is becoming increasingly important.
"It can be a challenge to measure accessibility and it is often assessed through manual or user surveys. Therefore, having a constant source of information will enable TfGM to assess new measures and their impacts on the use of space. Humanising Autonomy's software has the capability to assess the different types of users and identify user categories. This is something TfGM could pursue in the future if a more granular analysis [is] required for monitoring and evaluation purposes."
Humanising Autonomy's software was first developed to help understand pedestrian behaviour to support safety in autonomous vehicles and advanced driver-assistance systems (ADAS).
Leslie Nooteboom, Co-Founder and Chief Product Officer at Humanising Autonomy, told Cities Today that longer-term, it could be used to better plan bus and cycling infrastructure, for instance.
He explained: "Think about bus routes – they're very static, and often buses have to stop where people might not want to get on or bus stops are serving areas that are not frequently visited, and that's a waste of resource. If you have an understanding of how people are using that infrastructure and when they might require certain public transportation, you can schedule those routes much more efficiently and reduce the amount of vehicles on the road. On the flipside, if you suddenly realise that certain areas are getting very crowded, you could send more buses or trains. It's a much more intelligent way of organising your transportation."
The company has worked with authorities in Tokyo on such initiatives,  as well as with public transportation bodies in Ann Arbor to understand how people were using buses.
Vision Zero
Nooteboom says Humanising Autonomy's analysis could also help cities understand more about safety issues such as near-misses.
"With our software we are able to predict what people intend to do – we have a model that is able to understand what people are currently doing but also we predict what they want to do in the future," he commented.
Infrastructure camera data could help cities and transport companies build a heat map of where near misses are happening so they can take actions such as adjusting the traffic management systems or introducing measures to improve visibility for drivers.
"These are the really exciting impacts that we can have in helping transportation authorities and city governments to achieve their Vision Zero goals much more intelligently than [through] haphazard experiments," Nooteboom said.
The TfGM project was awarded funding as a part of the Innovate UK COVID-19 Rapid Response Competition. Humanising Autonomy and TfGM stressed that: "Stringent data management and protection measures were specifically developed for this project." It is GDPR-compliant and does not collect names or contact information or identify passengers, they said.