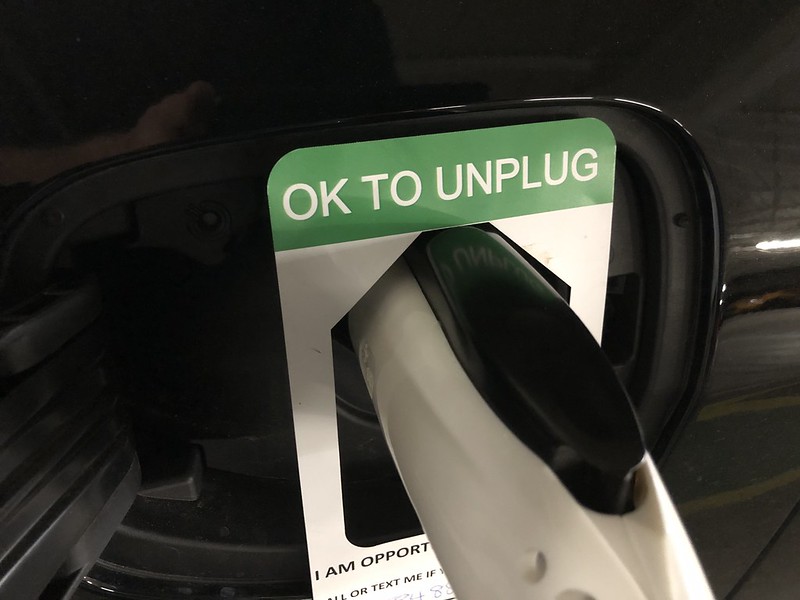 Photo: I am R. (Flickr)
Can US cities embrace the electric vehicle revolution?
22 July 2021
by Christopher Carey
With the environment a key policy issue for the Biden Administration, a sizeable investment in green technology was widely anticipated in transport circles.
In March, the President outlined plans for a US$174 billion investment in electric vehicles (EVs) which would establish grant and incentive programmes for state and local governments and the private sector to build a national network of 500,000 EV chargers by 2030.
The ambition was grand, but reality soon kicked in and following the bipartisan process, current projections are predicting a US$15 billion investment.
Despite the smaller figure, US cities will still receive an unprecedented boost in their efforts to electrify.
At a recent Cities Today digital roundtable, transport leaders discussed how these efforts are progressing, and what the challenges are in implementing projects on the ground.
Charging deserts
As EVs become more affordable and widespread, policymakers are analysing how the rollout of charging infrastructure in lower-income areas – which often don't have access to off-street parking – might take shape.
Samantha Bingham, Clean Transportation Program Director, City of Chicago, said: "Private entities have been investing in public charging in Chicago, and last summer we looked at what the landscape adoption is in the city.
"We found that 70 percent of the public charging stations are found in just three of Chicago's 77 community areas. There are vast charging deserts throughout the city, even though there are EVs registered in every single community."
Addressing these gaps in coverage will require an inclusive approach.
"We have US$800,000 to invest in charging infrastructure, but instead of just putting it out there as an RFP, we are taking a step back and doing some community level-setting first – going out to communities and making sure that they are with us on this, and making sure that we're listening to what they want e-mobility to achieve and what they want it to look like in their communities."
Engaging on a civic level and building a sense that charging infrastructure will benefit the entire community and not a select few will be crucial for cities going forward – with a recent spate of vandalism in California showing the need for increased awareness and civic-mindedness among the public.
Infrastructure damage
With the price of copper soaring to unprecedented levels over the past year, criminals have started targeting EV charging stations to extract wiring, causing thousands of dollars' worth of damage.
"One of the things we're challenged with right now is trying to provide public EV chargers, and install them citywide," said Ann Kloose, Sustainability Manager, City of Fresno.
Earlier this year, the Public Works Department installed 87 EV chargers across the city, but within two weeks 43 of them were severely damaged.
"They were vandalised to the point where in some cases the vandals had saws and dismantled the chargers," Kloose added.
Repairs of the units are almost complete, with measures being taken to prevent further thefts.
In addition to providing public charging, the city is currently reviewing how it can transform its municipal fleet to be more eco-friendly.
"We are going through the process of electrifying our bus fleets – that's been on the table for quite a long time," Kloose added.
"As far as EVs for our entire [municipal] fleet, in addition to our small pilot projects for testing out vehicles, we're going to be undertaking a project to hire consultants to help us plan and strategise what that looks like."
Testing the ground
As relatively uncharted territory for most US cities, the testing and trialling of EV initiatives will need an individual approach to adapt to the nuances of each transport ecosystem.
Joseph Barr, Director of Traffic, Parking, and Transportation, City of Cambridge, MA, said: "We've been working on developing a pilot programme where we have a charging station in an off-street parking lot, but we don't have anything on-street yet.
"Cambridge is a very dense, tight community with not a lot of sidewalk space or on-street parking, so some of the challenges we're facing are around allocating space for charging stations in general, keeping in mind other factors like meters, resident parking, loading or pick-up and drop-offs for TNCs, bike lanes and bus lanes.
"So just finding that space in the first place can be a challenge."
While there is no universal blueprint for EV infrastructure deployment, the private sector has been active in its engagement with cities.
William Baver, VP Smart Platform, NTT, said: "One of the things we focus on is how we interpret the data you're getting from all these different areas and seeing how it can be incorporated."
"So on the electrification and EV side of things, we want to see how it affects everything in the transport ecosystem – from the operators to the transportation agencies and other users within the city and – and really look at how the technology pulls all these different pieces together," he added.
Image: I am R. (Flickr)