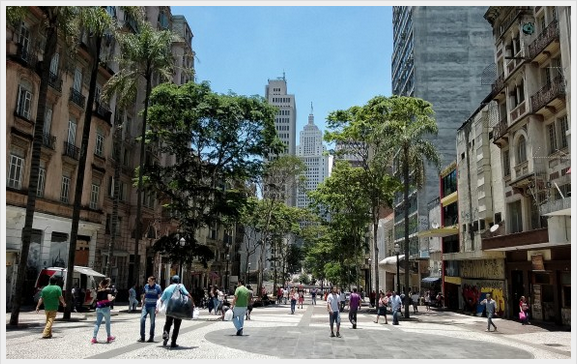 Photo: Diego-Torres-Silvestre
Brazil's largest city to eliminate minimum parking requirements
03 July 2014
by Richard Forster
Largely lost in the midst of the World Cup, on 30 June, São Paulo released its strategic master plan that will direct sustainable growth for the next 16 years and includes the most progressive parking policy of any developing megacity.
The city is set to become the first developing megacity to eliminate parking minimums that currently require developers to build a designated amount of parking to serve housing and commercial uses. Something in which the Institute for Transportation and Development Policy (ITDP) has ironically noted developers were loosing money on, as their supply requirement often outstripped market demand.
"São Paulo, like so many other cities, has been crippled by traffic congestion, so they understand that business as usual was not working," Michael Kodransky, Global Research Manager at ITDP, which advised the city over the past five years, told Cities Today. "If one of the biggest megacities and most important financial centres in the world, can muster the political will to get this [eliminating parking minimums] done, other cities will follow."
By reducing parking around transit corridors the city hopes to reduce traffic, improve street life, making it more pedestrian and public transport friendly.
According to the ITDP, 30 percent of traffic congestion in urban neighbourhoods is due to people searching for a parking space, turning cities into 'chaotic neighbourhoods'.
"Parking has been eating away at cities for nearly a century, taking up a larger and larger share of urban space, and people are starting to realise that if you provide more parking, you have less city," added Kodransky. "This could be a turning point in developing nations that will radically improve the quality of life for everyone."
Although largely praising São Paulo for its master plan and political will, the ITDP has some concern that not all developer fees will reach mobility projects such as BRTs and bike share schemes. "The overall mobility of the city may not improve as much as it could, even with a good parking reform policy," suggested Kodransky.
Other key parts of the plan include increasing building density along mass transit corridors, widening pavements, and promoting mixed-use developments. In addition, the plan calls for 10 percent of housing in these areas to be reserved for affordable housing.
—–
The ITDP's eight principles for better streets and better cities
Walk – develop neighbourhoods that promote walking
Cycle – prioritise non-motorised transport networks
Connect – create dense networks of streets and paths
Transit – locate development near high-quality public transport
Mix – plan for mixed use
Densify – optimise density and transit capacity
Compact  – create regions with short commutes
Shift – increase mobility by regulating parking and road use