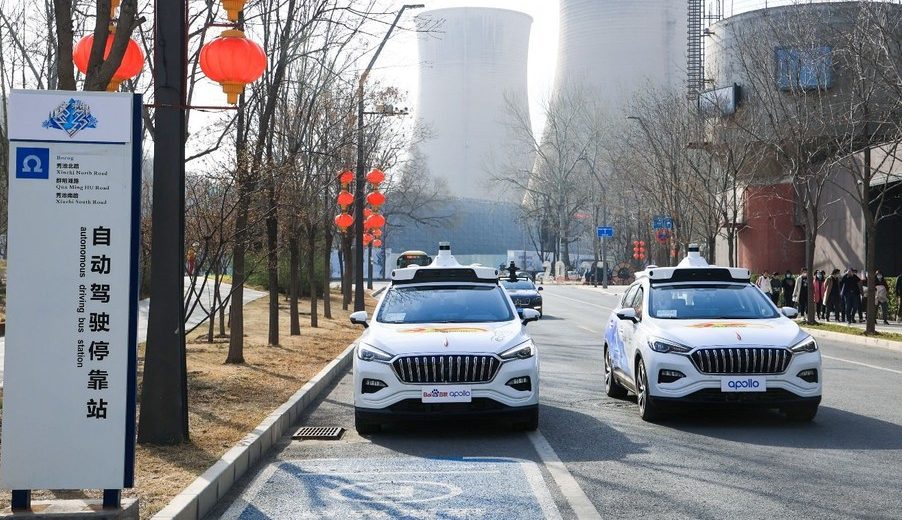 Photo: Baidu
Autonomous robotaxi service launched in Beijing
07 May 2021
by Christopher Carey
Chinese technology company Baidu has launched the country's first fully autonomous commercial taxi service in Beijing.
The Apollo Go robotaxis will operate at Shougang Park – an industrial park on the west side of Beijing which will be a site for the 2022 winter Olympics.
The firm says the taxis are fully driverless and will offer the first commercial service of its kind in China.
"Introducing unmanned services is an indispensable stage for the commercialisation of autonomous driving," Yunpeng Wang, Baidu's Vice President and General Manager of Autonomous Driving Technology, said in a statement.
"Today, we are opening the fully driverless robotaxi services in Beijing for the public, which we achieved only after conducting countless scalable driverless tests in many cities over a long period of time."
5G remote driving
Members of the public can request a robotaxi through the Apollo Go app.
The app will include virtual reality navigation while the vehicle will feature remote car honking, allowing users to easily locate it. To unlock the vehicle, users will need to scan a QR code and a health code on the side of the car for identity verification and COVID-19 prevention purposes.
Once inside the vehicles, users will press a 'Start the Journey' button. The car will then ensure the seat belts are fastened and the doors are shut before setting off.
While the vehicles do not have safety drivers behind the wheel, they do feature a 5G-enabled remote driving service that allows a remote operator to control them in the event of an emergency.
The robotaxis will initially transport users to sports halls, work areas, coffee shops, and hotels in the Shougang Park area, and during next year's Winter Olympics will provide transport for athletes and staff.
Each ride costs 30 yuan (US$4.60), and the service is open to passengers aged 18 to 60.
Autonomous testing
Baidu has been testing autonomous driving on open roads since last year, and its Apollo Go robotaxi service has carried more than 210,000 passengers in three cities across China to date, with plans to expand to 30 cities over the next three years.
Last October, Alibaba-backed tech firm AutoX began offering a free taxi service in Shanghai using a fleet of autonomous vehicles.
The trial was limited to a small section of the city and had safety drivers monitoring the vehicles at all times.
In July 2020, AutoX became the second company, after Alphabet's Waymo, to test a passenger vehicle on California's public roads without a safety driver in the front.
Image: Baidu