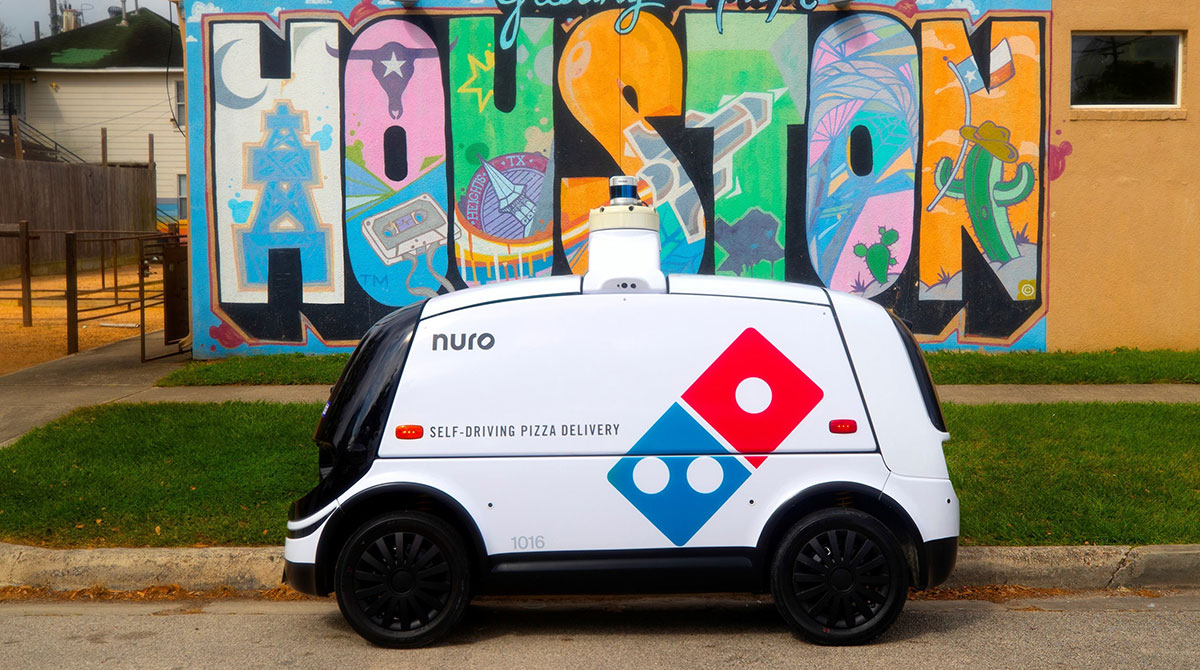 Domino's Pizza and robotics startup Nuro have announced the launch of an autonomous pizza delivery service in Houston, Texas to meet an increase in online orders during the pandemic.
Select customers who make a prepaid delivery order from the Domino's store in the Woodland Heights neighbourhood during certain dates and times can have their pizza brought to them by Nuro's R2 robot.
Customers receive texts with updates on the car's location and a numerical code that can be used to retrieve the order. Once the car arrives, the customer enters the number on the bot's touchscreen, and the car doors open to serve the food.
"Nuro's mission is to better everyday life through robotics. Now, for the first time, we're launching real world, autonomous deliveries with R2 and Domino's," said Dave Ferguson, Nuro Co-founder and President. "We're excited to introduce our autonomous delivery bots to a select set of Domino's customers in Houston. We can't wait to see what they think."
Nuro's R2 received regulatory approval from the US Department of Transportation in February 2020, and was the first driverless vehicle to operate on US streets without conventional driving controls, such as a steering wheel and brake and accelerator pedals.
Its vehicles are already being used for supermarket and pharmacy deliveries in Houston, and last April the firm deployed the devices to transport medical supplies around two California stadiums that were converted into treatment facilities for patients with COVID-19.
Founded by two former members of Google's self-driving car project, Nuro is one of the best-funded autonomous tech developers, securing US$500 million (£362 million) in a funding round announced last month on top of a $940 million round led by Softbank and Greylock Management.
Autonomous delivery space
In 2017, Dominos used a self-driving Ford Fusion hybrid to deliver pizzas to customers in Ann Arbor, Michigan, and in 2013 piloted pizza delivery via drone in the United Kingdom.
"We're excited to continue innovating the delivery experience for Domino's customers by testing autonomous delivery with Nuro in Houston," said Dennis Maloney, Domino's Senior Vice President and Chief Innovation Officer.
"There is still so much for our brand to learn about the autonomous delivery space. This programme will allow us to better understand how customers respond to the deliveries, how they interact with the robot and how it affects store operations."
Image: Dominos/Nuro